Ministering to act: Editorial on awarding Mamata for poetry
India is rich in politician-writers, or writers who slipped on the political robe and the list goes big with the inclusion of Shashi Tharoor and M. Karunanidhi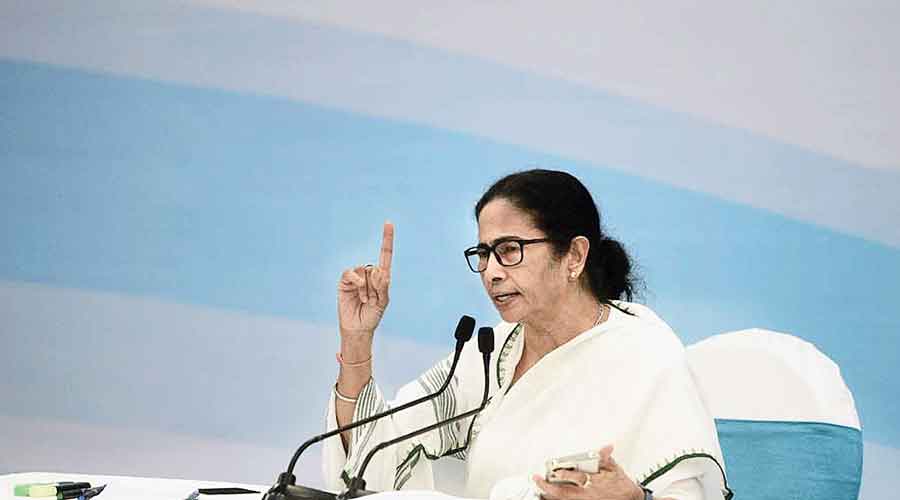 Mamata Banerjee.
File Photo
---
Published 14.05.22, 03:44 AM
|
---
For all Plato's strange dislike of poets in his ideal polis, the politician often turns out to be a creative writer. Or speaker. That politicians need to be truly creative in order to succeed is not difficult to understand; fiction is their birthright. It is only when the artist-statesman formally enters the literary arena — with acknowledged creations of stories, poems, screenplays — that he or she becomes a competitor for poets and writers for whom active politics is a distraction. India is rich in politician-writers, or writers who slipped on the political robe. Shashi Tharoor was only eleven when his adventure novel,  Operation Bellows, inspired by the adventures of the swashbuckling Bigglesworth, was published serially. Among his many accomplishments, his authorship of The Great Indian Novel is greatly known. M. Karunanidhi, formerly chief minister of Tamil Nadu, wrote plays — perhaps the more political among most literary forms. Be that as it may, politicians here and elsewhere have often dipped their pens in the blushful Hippocrene to come out with poetic pirouettes and fictional fantasies.
Winston Churchill did not even have to do that. He received the Nobel prize for literature in 1953 for "his mastery of historical and biographical description as well as for brilliant oratory in defending exalted human values". Quite. But the raised eyebrow is wasted — even over the exalted human values part — when power decides to take over literary judgment. In Australia, for example, the Prime Minister's Literary Awards are literally just that, with the prime minister deciding the winner after taking recommendations from the judges, in whose appointments, too, he has a say. As a writer remarked, to appreciate "the true scandal of this potentiality" it was necessary to imagine the queen choosing the governor-general.
That 'potentiality' can hover over any award, since that given by the Paschimbanga Bangla Academy to the chief minister of West Bengal for her book of poetry has prompted not just snide remarks and the return of an award by an earlier winner but also a statement by eminent citizens condemning the insult to Bengal's literary tradition and the misuse of the government's powers. It was not the queen choosing the governor-general, but the president of the Academy, a minister in Mamata Banerjee's government, announcing the new, special, literary prize to be given every three years to someone who serves literature while working tirelessly in another sphere of society and naming the chief minister, whose portfolio includes culture, as the first winner. But those busy carping — the award was for an author who has penned, astonishingly, 113 books — forget that some of the leading writers of Bengal formed the judges' panel. At least, such is the system of the Academy. And, to borrow a phrase off Shakespeare's Mark Antony, a candidate for the Nobel prize for 'brilliant oratory', just like the "honourable" Brutus, "So are they all, all honourable men".