Maratha quota: Reservations for a vocal and dominant group
This kind of singling out may be perceived as privilege rather than the righting of historical injustice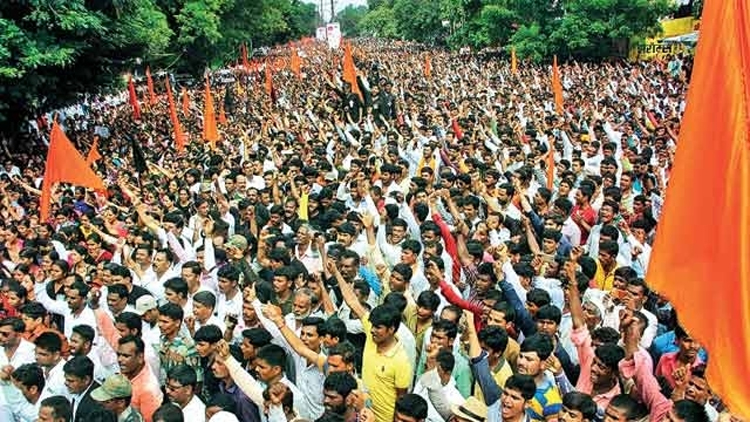 A march organised by the Maratha Kranti Morcha in Mumbai, Maharashtra (file picture). An expansion in the OBC quota could have been made to accommodate the Marathas' demand.
(Wikimedia Commons)
---
Published 03.07.19, 03:32 AM
|
---
The discourse on quotas is steeped in political correctness. No political party questions it, for reservations, constitutionally intended to right historical wrongs and create equality of opportunity, are now seen as the key to electoral advantage. The government of Maharashtra must be relieved that the Marathas no longer have reason to continue with their vociferous demand for reservations. The Bombay High Court has upheld the government's decision to grant reservations to Marathas in government jobs and education under the newly minted denomination of "socially and educationally backward class" over and above the quotas for scheduled castes, scheduled tribes and other backward classes. The high court restrained the government merely in the size of the quota: the state had asked for 16 per cent but the court agreed to 12 per cent reservations in education and 13 per cent in government employment. That does not prevent reservations in the state from exceeding the 50 per cent limit established by the Supreme Court. With the Maratha quota, Maharashtra would have 64-65 per cent reservations.
Reservations for a vocal and dominant group, however, may strain the benignity of the most politically correct consciousness. Besides, educational backwardness and the paucity of representation in government jobs are the principles governing OBC quota. An expansion in the OBC quota could have been made to accommodate the Marathas' demand. The invention of a new segment, the SEBC, with a single population group as its member, may appear to common sense to transgress the principles on which quotas for vulnerable segments are based. Instead of reservations for a disadvantaged group, this kind of singling out may be perceived as privilege rather than the righting of historical injustice. The high court, however, has supported the government's acceptance of the findings of the Maharashtra State Backward Class Commission on the backwardness of the Maratha community. According to the court, not having treated the group as backward forced it into increased disadvantage over decades. This is enough, it seems, to not only exceed the mandated limit of quotas for a state but also to have one group in a unique denomination. The Bombay High Court's ruling suggests that there may be regional needs unmet by broad principles. But transparency is an overriding requirement in a constitutional provision. The principle behind reservations may have to be articulated again in all its newly-acquired nuances.