The Elephant in the Room
Hinterland: Man-animal conflict is a complex phenomenon that needs immediate attention from policy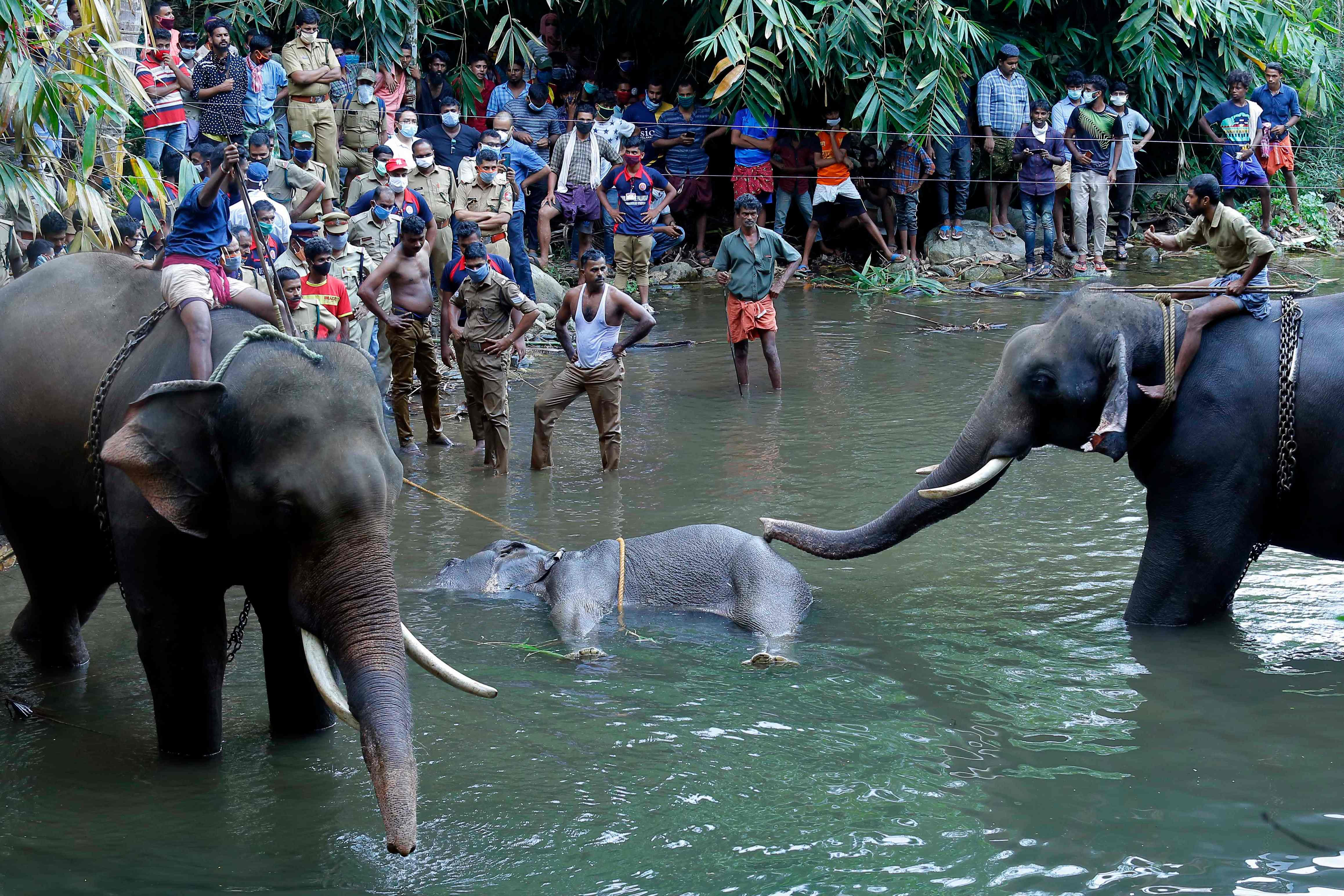 This May 27, 2020 photo show elephants standing by a 15-year-old pregnant wild elephant who died after suffering injuries, in Velliyar River, Palakkad district of Kerala.
PTI
---
Published 15.06.20, 04:43 PM
|
---
Earlier this month, the death of a female pregnant elephant in Kerala's Mannarkkad forest range in Palakkad evoked a public furore. Initial reports suggested a deliberate ploy to kill the elephant, but investigations revealed that local farmers had planted an explosive-laden trap as bait for menacing wild boars The hungry elephant accidentally ate the pineapple, sustained wounds in its mouth when the explosive stuffed in it exploded, and died in pain, videos of which went viral.

Social media warriors erupted in protest for two days until they got bored of it and moved on. For locals, however, the issue will continue to simmer.
Miles away in Vidarbha, Maharashtra's eastern region, five people have died in two months on account of tiger attacks. The number has been rising ever since the man-tiger conflict first broke out in the late 1990s. A fortnight on, the elephant story is dead and will soon be forgotten, like that of Avni.
Avni, who? The robust tigress had killed 14 people in Maharashtra's cotton-growing Yavatmal district in 2017-18 before being put down after one of the longest track-and-search operations to neutralize a beast. One of her cubs was captured; the other could never be found.
Alas, the Palakkad incident is the tip of an iceberg. Man-animal conflict is a complex phenomenon that needs immediate attention from policy. It is a manifestation of the conflict among diverse worldviews with regard to forest and ecosystem conservation. Hard line wildlife activists do not want humans in jungles. Rights activists, on the other end, do not want wildlife to be captured and evacuated. And governments want big-ticket projects to be cleared for development. The problem is that both wildlife and humans share forest landscapes and so must learn to co-exist. Very rarely do officials, wildlife activists or conservationists see local populations as partners in conservation, save for some exceptions.
The approach to see locals as beneficiaries of weird government doles, such as the distribution of petty cash or barbed wire fences or gas stoves to reduce the use of firewood, is obsolete. The alternative model is that of human-wildlife co-existence with regulations and incentives, and stakes for locals in conservation.
The collateral damage is burgeoning. Men and women get killed regularly, livestock losses are mounting, endangered and protected animals are being poached with striking alacrity, crop damages in some areas now account for over 50 per cent losses, higher than those caused by the vagaries of nature. Monkeys wreck alphonso mangoes in Konkan; blue bulls devour cotton balls in vast swathes of cotton country; wild boars destroy the farms; peacocks relish chillies… the list goes on. On the other hand, tigers, lions, leopards, elephants and a range of herbivores get killed frequently in retribution as a result of poaching or — worse still — in road accidents.
The overarching context, though, is this: India's protected forests are fragmenting; they are being turned into large zoos as we fell them to expand our infrastructure for mindless, destructive development. So when the minister for environment, forest and climate change, Prakash Javadekar, condemned Left-ruled Kerala for the elephant death and said that the incident was against our national ethos, his double-speak was quite glaring. During the lockdown, his ministry quietly cleared the way for over 30 projects that conservationists say would affect 15 tiger reserves, wildlife corridors, eco-sensitive zones and sanctuaries, including the Dehing Patkai Elephant Reserve in Assam.
If the Kerala incident is any indication, the man-animal conflict is an elephant in our living rooms that we do not want to acknowledge.