Missing Gandhi
The anti-colonial satyagrahi has been turned into a sarkari saint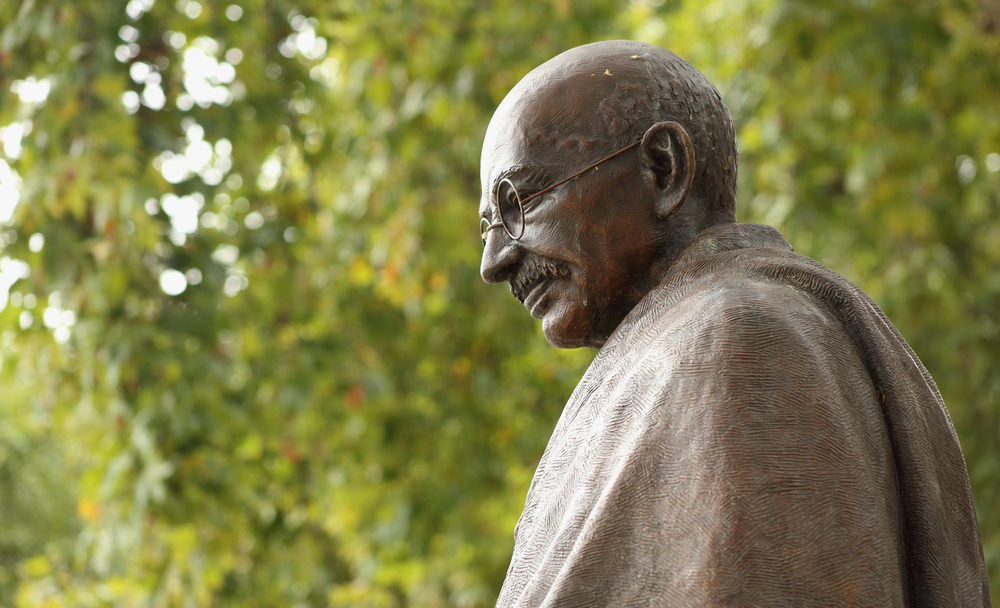 The bronze statue of Mahatma Gandhi in London, Parliament Square.
Shutterstock
---
Published 18.01.20, 07:14 PM
|
---
One of the slogans of the CAA-NRC movement, "Don't be silent, don't be violent", is a plain English rendering of Gandhi's principal campaigning method, satyagraha. The challenge faced by the CAA dissenters is an old one: how to create a powerful mass-movement without giving a trigger-happy regime the pretext of violent disorder. Gandhi spent his adult life trying to refine an answer to that question. His methods were studied and adapted by resistance movements in South Africa and the US with varying results, but his influence was explicitly acknowledged. But in the republic that he helped bring into being, where his experiments in civil disobedience might be expected to be an obvious source of inspiration, Gandhi is missing on the Indian street.
At Jamia Millia Islamia's Gate No. 7, where the stir began, hangs a banner with Maulana Mohammad Ali, Jamia's founder, in the middle and Mahatma Gandhi and Dr Ambedkar on either side of him. Ambedkar is, quite literally, the face of the movement. Larger than life posters of him pasted on to the massive concrete pylons of the Metro line that runs past Gate No. 7, look down benignly on the sit-in that occupies one half of the road. On one side of the gate is a huge blow-up of a photograph of Ambedkar; on the other side, stretched across the occupied half of the road, is a giant rendering of the Preamble to India's Constitution, the republic's founding document and this movement's chosen text. The Citizenship Amendment Act has called into being a movement powered by the claim to equal citizenship. When students in Jamia, in Ramjas College and elsewhere, recite, "We, the People of India…," it's clear that if the Constitution is their book, Ambedkar is their prophet.
But Ambedkar's pre-eminence is based on more than his standing as the architect of India's Constitution. The republic's principal law-giver has become, paradoxically, the face of street demonstrations and dissent. He has come to represent both the emancipatory promise of the Preamble and the republic's failure to fulfil that promise, its unwillingness to deliver justice, liberty, equality and fraternity to its most vulnerable citizens. In that tableau of protest in Jamia, Ambedkar is both Thomas Jefferson, who drafted the stirring preamble to the American Declaration of Independence, which declared, "…all men are created equal…," and Martin Luther King, who called out his country for failing to redeem that pledge.
Ambedkar speaks directly to the CAA dissident. Dalit politics, particularly the political achievements of the Bahujan Samaj Party led by Kanshi Ram and Mayawati, has vested Ambedkar with an oppositional relevance in contemporary India that Gandhi and Nehru lack. Nehru's political eclipse is partly down to his seventeen years in office as prime minister. It's hard to turn someone who has run a nation state for seventeen years with the realpolitik that it entails, into an emblem of dissent. It is even harder when the person in question is seen to have founded a political dynasty in a democratic republic.
Among the other historical leaders who have become iconic for this movement are Savitri Bai Phule, Bhagat Singh, Ram Prasad Bismil and Ashfaqulla Khan. Given Savitri Bai Phule's role in pioneering women's education for subaltern communities and her long friendship and association with her fellow educator, Fatima Begum Sheikh, it makes sense for a movement spearheaded by the Muslim women of Shaheen Bagh, to adopt her as a forebear. Bhagat Singh, Bismil and Ashfaqulla Khan represent a tradition of revolutionary derring-do that is likely to appeal to university students passionate about a cause. It's worth remembering here that Bismil, who was all of twenty-five years old at the time, vehemently opposed Gandhi's decision to call off the Non-Cooperation movement because of the violence at Chauri Chaura. The young gallantry of Bhagat Singh and Bismil and the ardour of protest anthems like "Sarfaroshi ki tamanna" and "Hum dekhenge" speak to the student vanguard of this movement in a way that Gandhi doesn't.
Gandhi's relative unimportance in the CAA-NRC protests has several reasons. For one, he has been so completely appropriated by the Indian State since his death that he has been reduced to a piety. Even as it promotes Sadhvi Pragya and other Godse-bhakts, the BJP is careful to pay ritual obeisance to Gandhi. Through no fault of his, Gandhi has become the mascot of Modi's Swachh Bharat Abhiyan. The chorus of official approval over the years has turned the anti-colonial satyagrahi into a sarkari saint. Also, the evolving critiques of Gandhi's attitudes towards Dalits, caste, race, and women, have, inevitably, called into question his position in the progressive pantheon.
Gandhi figures in some of the anti-CAA sloganeering, most notably the "azadi" chant pioneered by Kanhaiya Kumar, where he calls for "Gandhi wali azadi", but it is his death at the hands of Godse that seems to crop up more often than the political work that he accomplished in his long public career. And this is curious, because this is, in many ways, a quintessentially Gandhian moment. For example, the task of solidarity with a pan-Indian movement initiated by Muslims ought to bring to mind Gandhi's stewardship of the Non-Cooperation-Khilafat movement; not as a model for action, necessarily, but as an important precedent, even as a cautionary tale.
Similarly, the challenge of keeping an all-India movement of civil disobedience going should take us back to his experiments in political mobilization. The tasks of financing, organizing and sustaining protest, of planning for the future when confronted by an implacably hostile State, of knowing when to advance and when to duck, make Gandhi relevant simply because he was the first to ask these questions and look for answers. But perhaps the most important reason to revisit Gandhi is because he was assassinated by a man and an ideology that loathed him for his commitment to pluralism and his solidarity with the Muslims of the subcontinent at a time of genocidal violence. He died affirming the ideal that fired up and inspired the movement against the citizenship law: fraternity.
mukulkesavan@hotmail.com