Machine rule: Editorial on BJP's 'bulldozer' tactics
The disregard for due process and for the rule of law among those who run these machines is palpable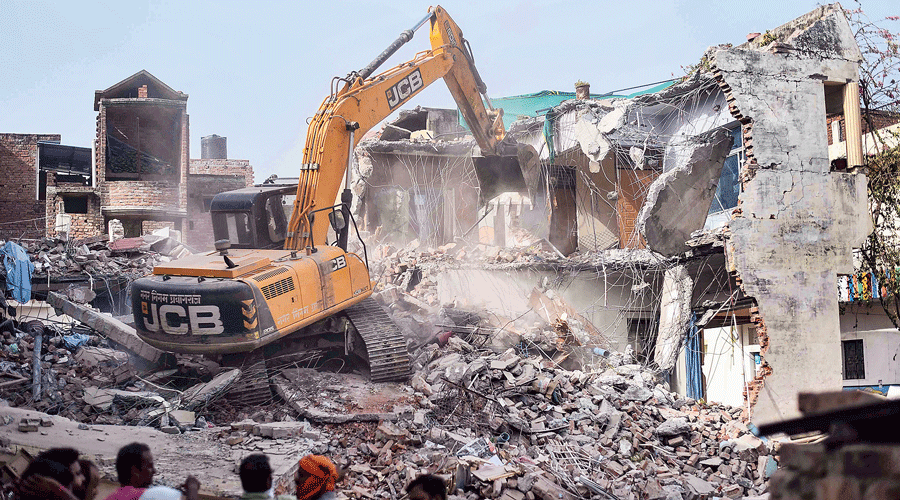 A bulldozer demolishing the allegedly illegal part of the house of Javed Mohammad in Allahabad on Sunday.
PTI
---
Published 15.06.22, 02:07 AM
|
---
None can raise a finger at the chief minister of Uttar Pradesh for not keeping his word when it comes to intimidation. Even before he was returned to power, Yogi Adityanath had assured that bulldozers — the Bharatiya Janata Party's new emblem? — would return. He has been true to his dire warning. Even though protests had broken out in several parts of the country against the intemperate remarks by a former spokesperson of the BJP against Prophet Mohammed, it is in Mr Adityanath's fief where protesters and opponents find themselves bulldozed, almost literally, once again. The dwelling of an activist, allegedly involved in the latest protests, was razed: the administration served a notice of demolition for 'illegal encroachment' barely a day earlier. Similar transgressions were reported earlier too and not just in UP: the poor and the minorities have borne the brunt in Madhya Pradesh and in Delhi. The disregard for due process and for the rule of law among those who run these machines is palpable. The State has not honoured the principle of appeal from the accused on most occasions. The vile intent seems to be to tarnish and target a particular community. It is not surprising that several petitioners have approached the court against this aggression. But they await justice. The irony is that the demolition is couched in a rhetoric of righteousness. Worse, there is significant endorsement for Mr Adityanath's purported template of strongarm justice within the electorate. It is indicative of the depth of the rot.
The BJP, unsurprisingly, seeks to milk the image of being a vigilante for political ends. Unfortunately, both the bluster and the vindictiveness seem to be selective. Why, for instance, have not bulldozers been despatched to the heated border in Ladakh? They could be useful in dismantling the formidable constructions that the Chinese are said to be building after encroaching on Indian territory. The blowback from West Asia — the source of remittances, oil and energy for New Delhi — after the controversial remarks also forced the BJP to suddenly discover the merit of respecting all faiths. The critics are perhaps too formidable to be bulldozed — allegorically speaking. The only edifice that appears vulnerable and, hence, irresistible is India's pluralist ethos.