Letters to the editor: Only 18 per cent Indians fully vaccinated
Readers write in from Calcutta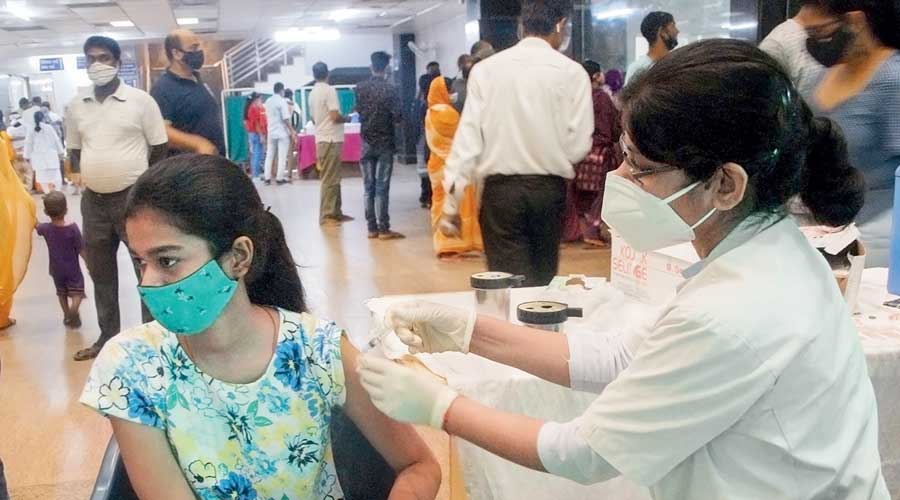 Representational image.
File photo
---
Published 11.09.21, 12:27 AM
|
---
Fatally careless
Sir — Just about 18 per cent of Indians are fully vaccinated. Yet, Indians are going about their business without a care in the world, not maintaining social distancing or bothering to wear masks as if the pandemic is over. What makes this situation even more worrying is that even full vaccination is no guarantee of protection from Covid-19. Not only is the virus mutating at an alarming pace — many of these mutations have outwitted the vaccines — but the frontline workers who had been the first to be vaccinated are also catching the infection. This shows that the efficacy of the vaccine is time-bound and that most people would ideally need booster shots. But how will a country where more than 80 per cent of the population hasn't even received a second shot manage to provide booster shots?
As usual, the rich will get the extra shots — either in India or abroad — and the poorest of the poor who do not have the luxury of staying at home or even social distancing at times will be the ones who will suffer. This is also the segment of the population without access to healthcare and those who will run pillar to post trying to arrange medicines and oxygen when there is a shortage. In the event of a third wave, it is the poor who will lose out the most when lockdowns are implemented.
The government must take preemptive action and see that precautions are followed in public spaces. Civic volunteers can be recruited from among the country's vast unemployed populace to assist the police in this. Fines and punitive measures for those who violate rules could be one way of dealing with the situation. Alongside this, proper masks, hand sanitizers, gloves and so on must be distributed among the public free of cost. The flimsy cloth masks that most people are sporting around their ears would not have been of much use even if they were properly worn. Yet, the masses cannot afford N95s or surgical masks. If the horrors of the second wave are to be avoided, the government needs to work on a war footing immediately.
Shabbir Mallick,
Calcutta
Sir — A visit to any government office will reveal that those working there are not bothering to wear masks properly. Given that government workers meet thousands of people every day, the risk that they pose when it comes to spreading the virus is immense. These workers may be vaccinated but it is becoming increasingly clear that the vaccines are only effective for a limited period of time. What is worse, fully vaccinated people who catch the virus may be largely asymptomatic, which means that they may not even be aware that they are passing the virus on to others. Government officials cannot be lax when it comes to safety measures.
Jolly Das,
Calcutta
Sir — It seems that only images of death and mass pyres can force Indians to wear masks. At the height of the second wave, people seemed to have finally grasped the importance of wearing masks. But all such lessons have now been forgotten.
Riya Ekka,
Calcutta
Mined truth
Sir —  The latest food fad to grip the world is that of Himalayan Pink Salt. This salt is touted to have health benefits and considered "healthier" than refined salt. But not only does pink salt have a steep environmental cost, in case of India, it may also be less healthy. The reason most refined salt in India is iodized is because surveys have shown that in India out of the 167 million people at risk of iodine deficiency disorder, 54 million suffer from goiter and two million from cretinism. Consuming pink salt may cause more harm than good where Indians are concerned.
Kuhel Das,
Calcutta