Letters to the Editor: Is sale of carbon credits enough for a greener future?
Readers write in from Calcutta, Bangalore, and Mumbai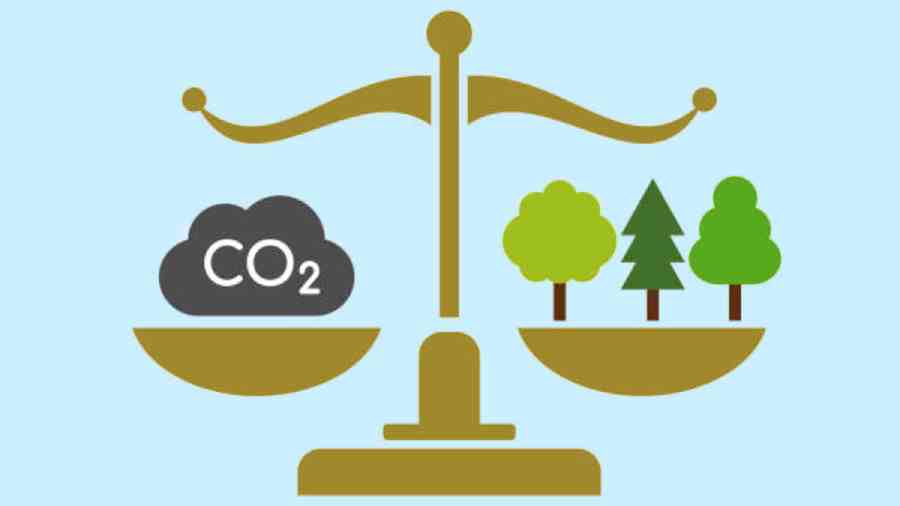 New businesses like Climes and Lowsoot are seeking to grab a share of India's growing sales of carbon credits bought by those who want to 'green' everything
---
Published 30.12.22, 04:00 AM
|
---
Tip the scales
Sir — There is nothing money cannot buy, including a better future for the planet. The rich and the famous are often chided for their lavish lifestyles and equally large carbon footprints. But now they can party and post pictures of it on Instagram without being criticised by climate conscious citizens. New businesses like Climes and Lowsoot are seeking to grab a share of India's growing sales of carbon credits bought by those who want to 'green' everything, from their travel to weddings and online purchases. But are such efforts actually effective in balancing out our excesses or just an attempt at 'greenwashing'?
Somdatta Roy, Mumbai
Dubious claim
Sir — In the latest episode of his radio broadcast, Mann ki Baat, the prime minister, Narendra Modi, asserted that the year, 2022, has been wonderful for the Indian economy, citing the fact that the country has become the world's fifth largest economy this year ("How green is my economy valley! Is it so?" Dec 28). This is misleading. It also seems like a desperate attempt to hoodwink people by hiding the government's failure to control spiralling inflation and provide ample employment opportunities. In fact, India's economy is significantly smaller when compared to those of the United States of America and China. Such falsehood only justifies the Opposition's charges against Modi's regime.
Fakhrul Alam, Calcutta
Sir — The claims made by Narendra Modi about India's stellar economic health reek of arrogance. These comments come at a time when India's sovereignty is repeatedly being challenged by China at the border. The Centre is simply ignoring the problems at hand.
P.T. Mallik, Calcutta
Gap narrowing
Sir — The repeated attempts by the saffron party in power to find scientific proof of Hinduism being the oldest religion in the world and the historical existence of Rama are disconcerting ("Bridge too far", Dec 28). Such inquiries are futile pursuits and a waste of resources. It seems that the gap between science and religion is increasingly closing owing to the whims of the ruling regime.
Anthony Henriques, Mumbai
Hateful comment
Sir — At a recent function in Karnataka, the Bharatiya Janata Party parliamentarian, Pragya Singh Thakur, urged Hindus to keep their weapons ready to retaliate against those who engage in love jihad. The police have registered a first information report against Thakur. But the FIR was registered on behalf of a Congress leader. The police should have taken action earlier according to the Supreme Court directive to act against hate speech without waiting for a formal complaint ("Cry: Police protecting hate-speech Pragya", Dec 29). The fact that the ruling regime has not yet condemned Thakur only proves its tacit approval.
S.K. Choudhury, Bengaluru
Sir — The comments made by Pragya Singh Thakur are heinous and should be condemned in the strongest way possible. This is not the first time she has made such hateful comments. Repeat offenders like her should be suspended from the Bharatiya Janata Party.
Shyamal Nandi, Calcutta
Code red
Sir — It was disheartening to read that the severe winter storm that has gripped the United States of America over the Christmas weekend has killed over 60 people ("Worst blizzard in 45 years freezes Buffalo", Dec 27). Contrary to the extremely cold conditions in the US, Calcutta experienced an unusually warm Christmas. Such extreme weather events only confirm the harmful effects of global warming.
Dyutiman Bhattacharya, Calcutta
Rights denied
Sir — A recent study released by a private research group suggests that the Centre's decision to stop sending funds under the Mahatma Gandhi National Rural Employment Guarantee Act to West Bengal has denied job opportunities to 30 lakh families in the state this year ("Central squeeze to cost 30 lakh Bengal families", Dec 27). It also led to the large-scale migration of rural labourers and a wage backlog of 2,744 crore rupees. This amounts to a violation of the right to life and livelihood of the workers. The Centre had stopped the funds owing to charges of their misappropriation by the Trinamul Congress government. This will have a bearing on the TMC's prospects in the upcoming panchayat elections.
Jahar Saha, Calcutta
Lost habit
Sir — The habit of keeping a diary in which people pen down their thoughts and memories used to be a universal thing. But gone are the days when the commencement of the new year would spark excitement to make a fresh entry in the new pages of a diary. Alas, with the advent of technology, diary-writing has given way to digital blogging. This is unfortunate.
Sourish Misra, Calcutta