Right and wrong: Arnab Goswami's arrest
Readers' Speak: OED removes sexist synonyms for the word 'woman'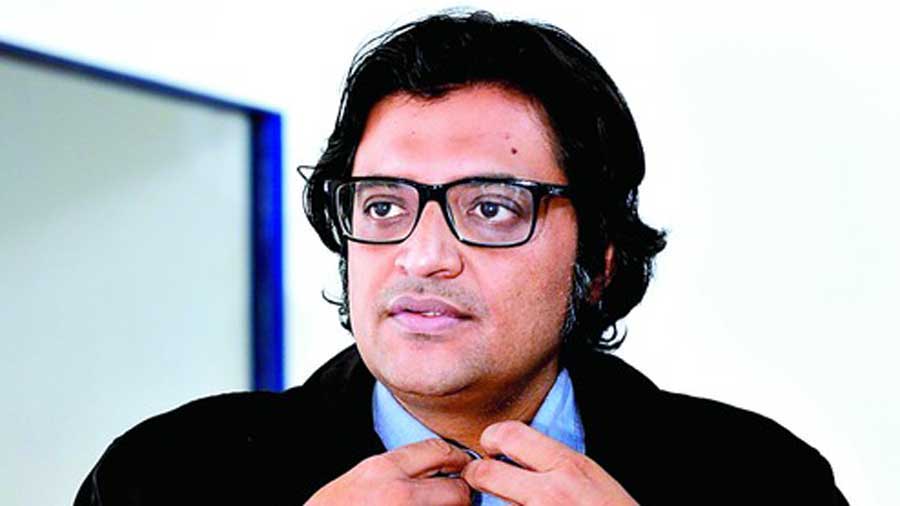 Arnab Goswami.
File picture
---
Published 10.11.20, 01:24 AM
|
---
Sir — The manner in which Arnab Goswami was arrested is shocking and condemnable ("Goswami arrested in suicide case", Nov 5). Goswami is not above the law, but was due process followed while arresting him? Many will not agree with Goswami's style of functioning, but like every other Indian citizen he is innocent until proven guilty and has the right to get justice. A video that went viral showed Goswami being unnecessarily harassed by the police. However, it is also undeniable that his hooliganism and his reckless undermining of others' free speech and liberties are the reasons many people refuse to sympathize with him.
Several Union ministers and Bharatiya Janata Party leaders compared the arrest of Goswami with the Emergency-era crackdown on press freedom and said that the abetment to suicide case had been raked up in order to harass Goswami. Unfortunately, such leaders kept quiet when thousands of journalists across the country were arrested and trumped-up charges under the Unlawful Activities (Prevention) Act or of sedition were registered against them. It is also a little ironical that just as Goswami had acted as judge, jury and executioner in the Sunanda Pushkar and Sushant Singh Rajput suicide cases, so too are people now sitting in judgment of him even though the charges against him are inconclusive.
The power of the State machinery must be unleashed with the greatest circumspection. Even if an arrest is made, custodial interrogation is seldom necessary. Thousands of people are languishing needlessly in Indian prisons, pending trial. More important, while people are quick to compare events to those that took place during the Emergency, none seems eager to revoke provisions that were used to tighten the grip of the State during that time.
Khokan Das,
Calcutta
Sir — While people may not agree on the need for and the manner of the arrest of Arnab Goswami for alleged abetment to suicide, the expression of outrage by Union ministers including the home minister, Amit Shah, is not only hypocritical but also most inappropriate with the potential to unduly influence the judicial process. Goswami has not been arrested for his journalism, but for alleged defaults in business transactions that are said to have led to the suicide of two people. None of these leaders are concerned about the freedom of the media when journalists across India are arrested. These ministers have betrayed their duplicity.
S.K. Choudhury,
Bangalore
Thy name is woman
Sir — Better late than never — the Oxford Dictionary has finally removed some sexist synonyms for the word, woman, in its latest version. It is a shame that it took a petition in 2019 and large-scale public outrage for the dictionary to carry out this exercise. It should know better than anyone else the importance of words and how they can implant subconscious prejudices in the minds of users. Unlike the Bard's opinion, a lot depends on what one is addressed as.
Roshni Sen,
Calcutta