Editorial: Imbalanced
One of the dangerous legacies of the BJP under Mr Modi's tutelage has been its perverse success in shifting India's political tenor towards the far-right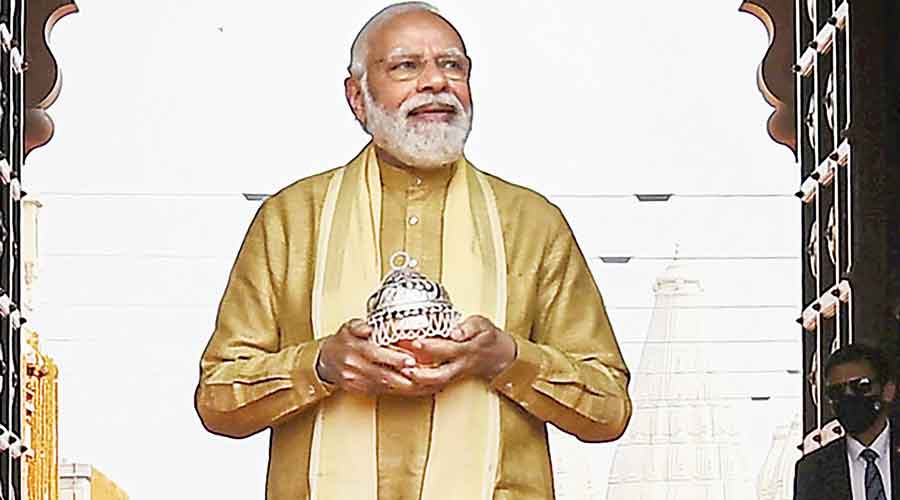 Narendra Modi during the inauguration of the Kashi Vishwanath Dham in Varanasi on Monday.
PTI
---
Published 15.12.21, 01:48 AM
|
---
The Church and the State seem to have met — in New India. While inaugurating the renovated Kashi Vishwanath Dham, the prime minister, Narendra Modi, suggested that under his stewardship, the country has managed to achieve a wondrous balance between disparate spheres: politics and religion, faith and science, and so on. For instance, today's India, he added, is proficient in building temples as well as medical colleges. Mr Modi's claims of vikas and virasat — development and heritage — would be tested, most notably in poll-bound Uttar Pradesh. That assessment lies in the future. What can be examined at present is the prime minister's perception of what balance is. As a civilization and, later, as an independent political entity, India had earned the respect of the world by embracing difference and, in the process, achieved a delicate balance among diverse cultures, religions, languages and ideologies. This fusion had been made possible by the foresight of India's founding fathers who embraced assimilation over exclusion. There is proof that Mr Modi's regime has been at work to introduce imbalances in this enchanting mix. Little wonder then that the prime minister of a secular nation does not think twice about making periodic polarizing references: the event in Varanasi was not an exception. The mounting strain on India's inclusive social fabric — the persecution of religious minorities has been documented by national and international fora — is perhaps the clinching piece of evidence that points towards political culpability in engineering divisions — asymmetries — for electoral benefit.
One of the dangerous legacies of the Bharatiya Janata Party under Mr Modi's tutelage has been its perverse success in shifting India's political tenor towards the right, indeed the far-right. The pusillanimity of the BJP's opponents has made such a transformation easier. The courting of overt religiosity is not limited to the BJP: this strategy has been emulated by several political parties that swear allegiance to a centrist vision. Rahul Gandhi's recent assertion — Hinduism cannot be conflated with Hindutva — assumes significance in this context. Two competing ideologies, one exclusive, the other humane, are in the political fray. There is no doubt about the fact that in the last few years, Mr Modi's template has been dominant. It remains to be seen whether a fragmented Opposition can remind Indians of their original tryst with destiny.