Hima Das is an inspiration for budding athletes across the nation
Her ultimate goal should be to qualify for the 2020 Tokyo Olympics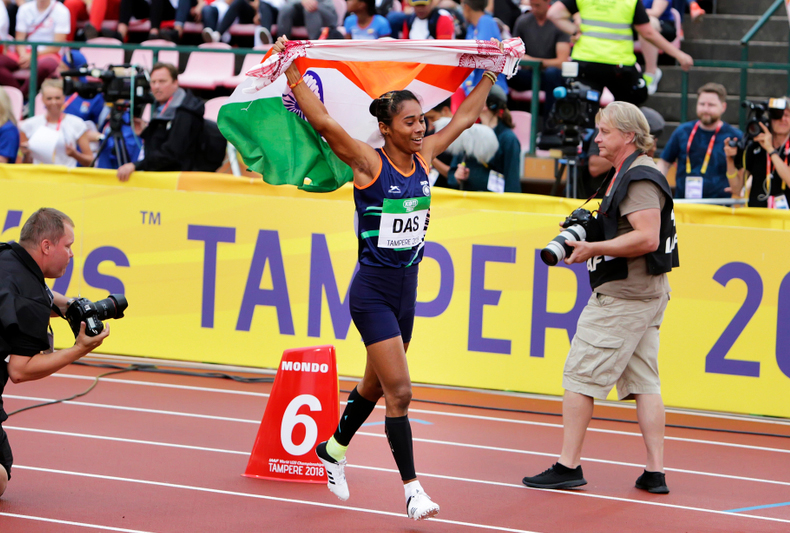 File photo of Hima Das winning the gold medal in the 400 m race at the IAAF World U20 Championship in Tampere, Finland, on July 12, 2018.
(Shutterstock)
---
Published 25.07.19, 01:48 PM
|
---
Sir — Hima Das, a sprinter from Assam, has made India proud by winning five back-to-back gold medals in about a month. She is an inspiration for budding athletes across the nation. Yet, it must be remembered that the path ahead of her is long and hard. Das is not yet in the top 100 in the world this year. One hopes that Das does not get dazzled by these victories and the subsequent media attention. Her ultimate goal should be to qualify for the 2020 Tokyo Olympics, for which she will have to work harder and improve her timing.
Shilpi Roy,
Calcutta
Lost charm
Sir — The passing away of the veteran politician, Sheila Dikshit, is a huge loss not only for the Grand Old Party but also the country ("Moderniser of Delhi", July 21). A lifelong Congresswoman, she held the position of chief minister of Delhi for three consecutive terms. Dikshit had an affable personality and was widely respected across party lines. She made notable contributions to national politics, and won many hearts owing to her strong administrative capabilities.
Her tenure as chief minister was a period of momentous transformation for Delhi. She worked hard towards developing infrastructure such as roads and flyovers, introduced air-conditioned metros, buses that run on CNG and reformed the power, health and education sectors. These changes that made Delhi a better place will be her legacy.
Ramesh G. Jethwani,
Bangalore
Sir — Sheila Dikshit personified an old world charm and a brand of politics that was progressive, yet unhurried and genuine. Amidst the current muscular political atmosphere, the world needs leaders like her, whose decisive leadership was tempered by grace. Just before the Lok Sabha polls there was hope that Dikshit would return to active politics and revive the sober ambience of past years. Alas, that was not to be.
R. Narayanan,
Navi Mumbai
Sir — The demise of Sheila Dikshit is a great loss for the country. She was a down-to-earth person, respected across party lines. When she first came to power, the National Democratic Alliance was ruling at the Centre. Yet, she managed to get a lot of developmental work done in Delhi. This shows she knew how to balance differences between the Centre and the state. Although her legacy has been marred by allegations of corruption, her contribution to the nation can never be forgotten.
Since the Congress is going through a crisis, it is time that the youngsters in the party follow in her footsteps and revive the fading glory of the Grand Old Party.
Jayanta Datta,
Hooghly
Wise move
Sir — The former captain of the Indian cricket team, M.S. Dhoni, has made himself "unavailable" for the forthcoming tour of West Indies as he is keen on taking a two-month break from the game to serve his paramilitary regiment ("Dhoni opts out of WI tour", July 21). This is a wise decision and will save the selectors some blushes. It would not have been a surprise had he not been included in the squad going to West Indies. But the selectors must remember that the fact that India won two world championships under him bears testimony to his skills and success. He should be allowed to play until the Twenty20 World Cup to be held next year. This would permit him to retire gracefully.
Vinay Mahadevan,
Chennai
Sir — It was prudent of M.S. Dhoni to make himself unavailable for the West Indies tour. This does not mean that his playing days are over. In fact, he is better than many a young cricketer in the Indian side. He can represent India in the shorter version of the game for at least another year before calling it quits. One hopes the selectors will allow him this opportunity.
N.V. Krishnan,
Chennai
Sir — M.S. Dhoni deserves a break. Those raising a hue and cry over his performance at the World Cup must not forget Dhoni's contribution to the Indian side. He has been known to single-handedly bring India back from sticky situations. One hopes Dhoni comes back from this break rejuvenated.
Kaveri Raj,
Ernakulam
Parting shot
Sir — The smuggling of cattle into Bangladesh is not new. But tying the animals to the trunks of banana trees and pushing them into the water to float with the currents is appalling ("Smugglers set cattle floating", July 19). The Border Security Force has rescued 261 heads of cattle in a recent operation and made three arrests. Such activities are not possible without the patronage of local leaders. Smugglers and those complicit in the crime must be brought to book.
Jahar Saha,
Calcutta