Hidden picture: Pulitzer Prize for 3 Indian photojournalists calls for celebration
Taken together, these photographs challenge the official — burnished — narrative of normalcy in the region that the Centre would like India and the world to believe in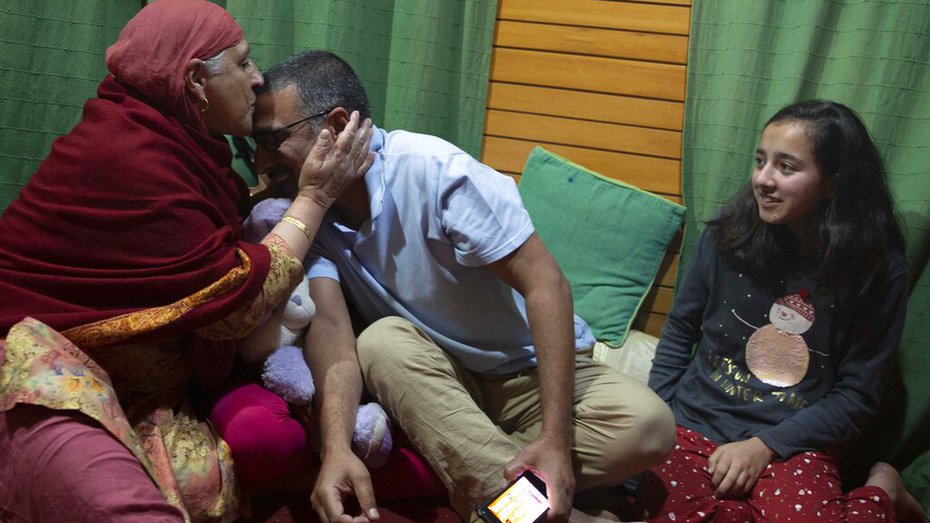 AP photographer Dar Yasin celebrates with his family at his home in Srinagar, Tuesday, May 5, 2020, following the announcement that he was one of three photographers who won the Pulitzer Prize in Feature Photography for their coverage of the Kashmir conflict.
(AP Photo/Rifat Yasin)
---
Published 07.05.20, 08:46 PM
|
---
What makes photography peculiar and powerful among the visual arts is its ability to freeze moments of time for posterity. A photograph is not merely a register of artistic sensibilities; an undoctored image can also be a powerful weapon of documentation. The news of this year's Pulitzer Prize for Feature Photography being awarded to three Indian photojournalists for their works in restive Kashmir must be seen as a reaffirmation of photography's potential to portray the reality on the ground. Some of the striking images that have won Dar Yasin, Mukhtar Khan and Channi Anand this rare honour — many of the pictures were taken during the clampdown that followed the revocation of Kashmir's special status and statehood — offer glimpses of grim truths. The theme that seems to cut across the diverse settings in the photographs is that of a sullen, besieged people. Taken together, these photographs challenge the official — burnished — narrative of normalcy in the region that the Centre would like India and the world to believe in. The global recognition is also a testimony to the stupendous potential and accomplishments of journalism. The restrictions on mobility and technology imposed by the administration — high-speed internet services are yet to be restored — as well as institutional intimidation had made it especially difficult for scribes to collect and transmit stories. That a handful of journalists remained true to their profession by choosing to retain their autonomy is heartening at a time when large segments of the Indian media are more than eager to march to the tune of the powers that be. Mr Yasin and his colleagues have set an inspiring example that should be emulated by members of the journalistic tribe in an age where authenticity has become a casualty of the post-truth ethic.
Three photojournalists winning the Pulitzer Prize should have been an occasion of celebration. But this is New India. The ruling Bharatiya Janata Party, unhappy with the text of the original announcement, has decreed that those in favour of recognizing this achievement are 'anti-national' elements. The shrill condemnation is understandable. The spin that had been given to the narrative on Kashmir has been threatened by this collection of searing images. Vilification is propaganda's way of getting back at emissaries of inconvenient truths. But photography, unlike politics, abhors falsity.