Editorial: Game's Afoot
Even though the LJP's political imprint has been on the wane, there is a possibility of political lines being realigned in Bihar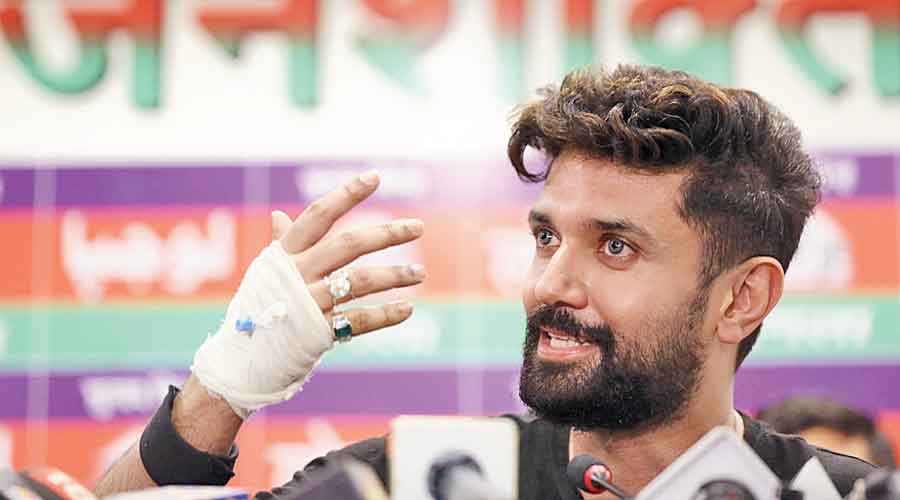 Chirag Paswan.
File picture
---
Published 18.06.21, 01:26 AM
|
---
Personal is often political in India. The fate of the leader of the Lok Janshakti Party, Chirag Paswan, would testify to this hypothesis. Five parliamentarians from the party raised the flag of revolt hoisted by Pashupati Kumar Paras — Mr Paswan's uncle and brother of Ram Vilas Paswan, the founder of LJP — and removed Mr Paswan from the post of national president. Mr Paswan has retaliated by cancelling the primary membership of his adversaries. The domestic tiff now threatens to implode the LJP and the word is that the man who is smiling is none other than Nitish Kumar. This political speculation has context. Mr Kumar is convinced that the poor harvest that his party reaped in the Bihar assembly elections — the Janata Dal (United)'s tally was a meager 43 seats — can be attributed to Mr Paswan's strategy of putting up candidates to undercut the political appeal of his party. So this, the political grapevine insists, is a moment of comeuppance for the younger Paswan and, equally, a moment of retribution for Mr Kumar.
Even though the LJP's political imprint has been on the wane — its electoral haul was a solitary seat in the state polls — there is a possibility of political lines being realigned in Bihar. What must also merit attention is the role played by the Bharatiya Janata Party in the drama. It is generally agreed that Mr Paswan's defiance towards Mr Kumar had the tacit approval of the BJP. A weakened JD(U), the BJP had calculated correctly, would put the reins of Bihar in its hands and Mr Paswan was identified by the BJP as its pawn in this game. Interestingly, Mr Paswan now finds himself abandoned by his shadowy patron. The BJP has chosen not to come to his aid as he battles for political survival and the reason is strategic. Narendra Modi's party cannot afford to ruffle Mr Kumar's feathers given the sticky wicket it finds itself on at the national level. Critical lapses in the management of a raging pandemic and an anaemic economy have been fundamental to the erosion in the public mandate in favour of the BJP: the result of the Bengal elections proves the point. The exit of the Shiv Sena and the Shiromani Akali Dal as allies from the National Democratic Alliance has cemented the JD(U)'s position in the coalition, handing it much-needed leverage as the BJP gets ready to face an acid test in the form of a series of assembly elections. Humouring Mr Kumar is thus a necessity, not a luxury, for the BJP.