Editorial: Gain and loss
New Delhi finds itself on the sidelines in the goings-on in Kabul; a common view on matters with the US could hand India much-needed leverage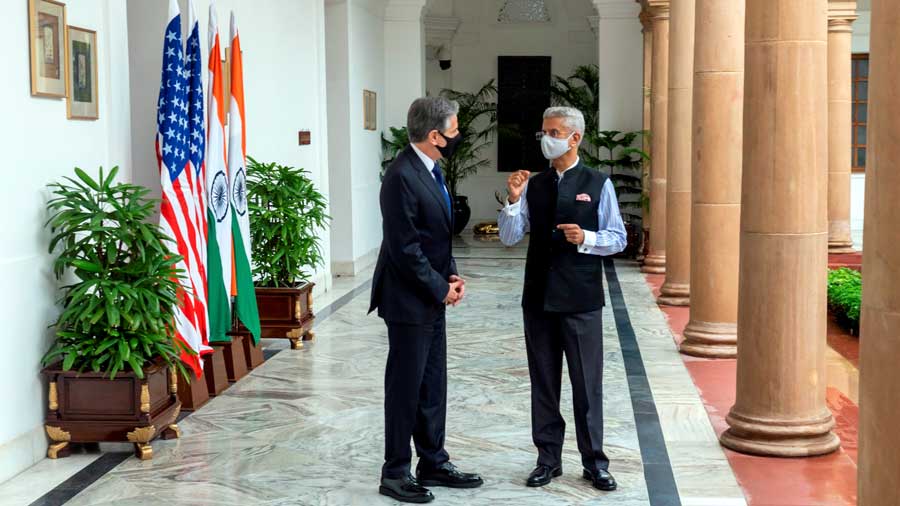 Indian External Affairs Minister Dr. S Jaishankar with US Secretary of State Antony Blinken during their meeting in New Delhi.
PTI
---
Published 02.08.21, 01:49 AM
|
---
New Delhi may have reasons to feel that the outcome of the recent visit of the secretary of state of the United States of America was a bit of a mixed bag. The convergence of views between India and the US on the unfolding situation in restive Afghanistan is reassuring. Antony J. Blinken made it unambiguously clear that the atrocities being inflicted by the Taliban on opponents and civilians are deeply troubling. Mr Blinken's view was echoed by the Union external affairs minister who said that the fate of that embattled country should not be decided by a show of force. The meeting of minds between the US and India could be an important diplomatic morale booster for the latter. New Delhi, unlike Islamabad, Beijing or even Moscow, finds itself on the sidelines in the goings-on in Kabul; a common view on matters with the US could hand India much-needed leverage. This is critical because developments in Afghanistan have a direct influence on New Delhi's strategic and security map.
Mr Blinken's deliberations, however, also unveiled an important point of divergence between the two democracies. There has been a general consensus in the international fraternity about the partnership between India and the US being predicated on such shared values as freedom, democracy, pluralism and so on. Yet, what is apparent today is a strange contradiction. Even though the US and India are cooperating closely on geo-strategic issues — their views on Afghanistan are one manifestation — gaps seem to be opening up when it comes to their commitment to uphold the architecture of democracy. The US under its new president has made noises about human rights violations around the world. That does not mean that the Joe Biden administration is blind to America's own challenges. Indeed, Mr Blinken's description of American and Indian democracies as 'works in progress' is an honest, welcome appraisal. The US continues to battle entrenched discrimination and racism. India, especially in recent years, has been accused of distancing itself from its constitutional legacy. Indeed, the US has led the world in voicing such concern: the United States Commission on International Religious Freedom, a federal entity constituted by the US Congress, has expressed its unhappiness with the state of minorities in India. The common strategic vision notwithstanding, New Delhi must not be smug in its belief that Mr Biden's administration would desist from the occasional rap on the knuckles. This could further dent India's international credibility as a bulwark against 'autocratic democracy', the rash that is spreading globally.