Fleeting joy in lives of ugliness
Defined by bold lines, Sanat Kar's Ariel-like creatures with saucer eyes huddle like friends who share each other's troubles and joys because they have so much in common.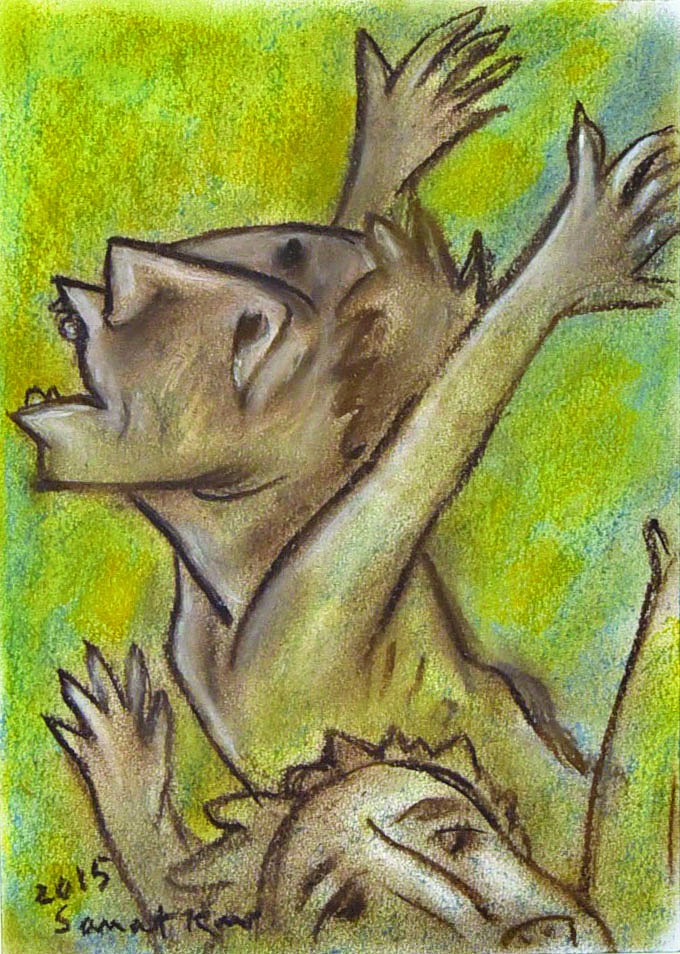 ---
---
Sanat Kar, who is better known for his prints, is holding a small exhibition (July 29-August 12) of his recent drawings - titled Pastels, using the eponymous medium - at Debovasha, a bookshop that doubles as a gallery and stocks charming Majilpur folk toys at 9/2 Fern Road. For years, this octogenarian artist has been creating Ariel-like creatures with saucer eyes simultaneously expressing fear and wonderment. Defined by bold lines, they huddle together like friends who share each other's troubles and small joys because they have so much in common. There is an intriguing one, of the heads of two women close to each other - one an extension of the other. They seem to have forged a kinship born of despair. Another creature is vanishing into thin air, as ectoplasm supposedly does. A sprite looks sadly at a dead bird lying at its feet. In soft and soothing shades, they are perhaps an expression of the artist's awe mixed with apprehension at the vicissitudes of life. These shades, for so they seem to be, have become hallmarks of this artist.
This exhibition is somewhat different, because here Kar expresses his fascination with the underclasses and ugliness that is so much a part of life. The most eye-catching of these is a portrait with distorted features that may have belonged to Quasimodo. But this wretched creature is admiring a flower that is a perennial symbol of beauty. So it is also a study in contrasts. The chromatic range is not very wide. It is quite in keeping with the scheme of this rather homely artist.
There is another image that reflects on moments of happiness in a life that has nothing much to offer. A wasted man, perhaps a beggar, raises his arms in joy as he opens his mouth, revealing the few remaining teeth, to let out a shout of merriment (picture). A viewer may be perplexed by the cause of his elation. But such are the mysteries of life. One must not try to read too deep a meaning in these drawings, but they are touching in their simplicity and may strike a chord with many.