Desi democracy indices
India has performed quite poorly on democracy and press-freedom indices in several studies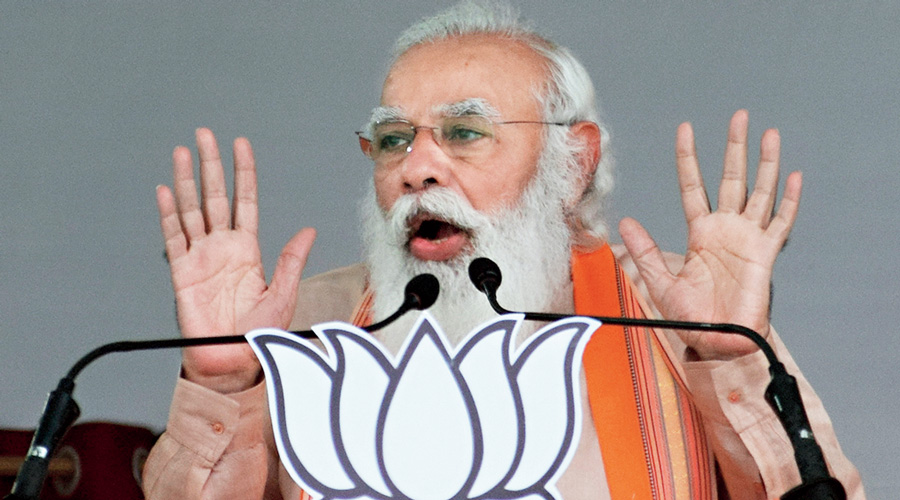 Narendra Modi.
File picture
---
Published 19.03.21, 04:18 AM
|
---
It is heartening to note that the foreign ministry is taking the prime minister's 'Make in India' slogan to heart. There is some speculation that the ministry is contemplating the formulation of a 'world democracy report' as well as a 'global press freedom index' with the help of an independent, indigenous think-tank. The issue assumes significance on account of some recent developments. Late last year, the Prime Minister's Office is said to have forwarded to the external affairs ministry a letter written by a former chairman of Prasar Bharati that New Delhi should frame its own parameters to define a democracy index in order to counter the critical assessment of India's freedom and democracy by international bodies. This response has a context. Since the genesis of this purported letter, India has performed quite poorly on these indices in several studies. For instance, the V-Dem Institute has downgraded the quality of democracy and described India as an "electoral autocracy". Its findings are not anomalous: the World Press Freedom Index ranked India 142 among 180 nations.
In spite of rubbishing these appraisals — the foreign minister rejected the reports, saying India has no need for tedious moral lectures — a touch of nerve — or is it nervousness? — is apparent. Growing international concern and condemnation could well energize efforts to create domestic, but curated, templates for measuring democracy. This is worrying on two counts. Such an intervention goes against the principle of objectivity, with the possibility of a think-tank enjoying the patronage of the powers that be playing judge and jury. Second, the proposal, if it were to take concrete shape in the future, shows that the Narendra Modi government remains unwilling to engage with censure. This irritation is typical of authoritarian regimes. Does not the collar of 'electoral autocracy' fit rather nicely then? Of greater concern is the Bharatiya Janata Party's understanding of the fundamental tenets of freedom. With the BJP as the political minder, India could be schooled into adopting a newer, desi model of democracy whose parameters are in conflict with the markers of liberalism that are cherished by the rest of the world. The stress on the creation of new benchmarks in the aforementioned note is particularly relevant. Perhaps the point made by Rahul Gandhi that elections take place even under totalitarian regimes needs to be studied carefully by the conscientious citizen.