Australia victory due to stellar work by several players
The momentum generated in Australia must be sustained if India seeks the title of the best Test team in the world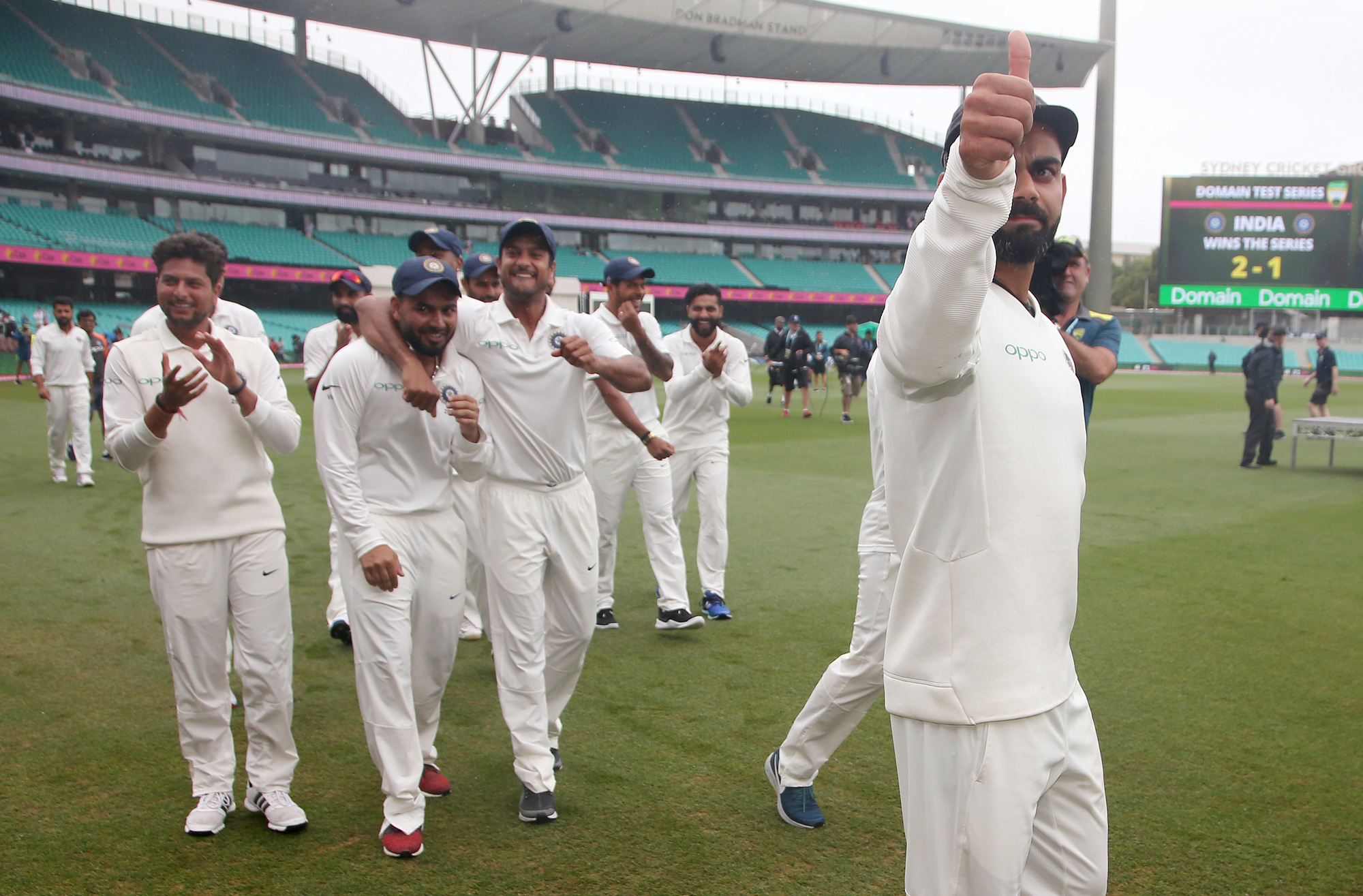 Captain Virat Kohli, right, celebrates with teammates after India's series win when play was called off on day 5 of their cricket test match in Sydney, Monday, January 7. The match was a draw and India won the series 2-1.
AP
---
Published 11.01.19, 03:39 AM
|
---
The final frontier has been conquered — finally. It has taken India 71 years and 11 tours to win a Test series on Australian soil, a fact that would make the triumph taste even sweeter for Virat Kohli and his players who have now accomplished this rare feat. The success can be attributed to stellar contributions from several individuals. Indian fast bowlers, once considered toothless, performed consistently. Cheteshwar Pujara, that refreshing symbol of orthodox temperament and technique, stood out among batsmen with three centuries while Mr Kohli led his young pack admirably. But India's victory does not stand on individual brilliance alone. The Board of Control for Cricket in India's vision about the game is, evidently, bearing fruit. Cricketers are better paid than before; the infrastructure has improved; international exposure has also enabled cricketers to acclimatize better on away-tours. Significantly, the Indian Premier League seems to have supplied the nation with exciting talent. Ranji Trophy, the original cradle of cricket in India, deserves the BCCI's attention and benevolence in equal measure. Along with the IPL, first-class cricket should be looked upon as Indian cricket's foremost capital.
But this cannot be a moment of complacency for Indian cricket. The momentum generated in Australia has to be sustained if India is to be looked upon as serious contenders for the title of the best Test team in the world. The outcomes of the series in England and South Africa last year showed that Mr Kohli's team, in spite of its showing Down Under, are yet to become the very best in the business.