Editorial: In charge
The Congress, a notoriously slow mover, seems to believe that transformations are best ushered in incrementally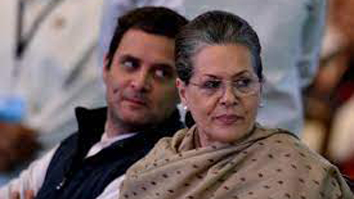 Sonia and Rahul Gandhi.
File photo
---
Published 19.10.21, 01:04 AM
|
---
Two signals emerged from the recent meeting of the Congress Working Committee. The first being that the Gandhis are by no means in a mood to yield ground to the dissenters. This is just as well since many of the leaders of the contrarian constituency — the so-called Group of 23 — that allegedly sees things differently do not wield clout or evoke confidence among dedicated Congress supporters or, indeed, India's voters. The Congress's rejuvenation is unlikely to begin at their hands. They would, deliberations at the CWC meeting indicate, have to be content with the concession of internal elections. By swatting away charges of indecision and absenteeism — Sonia Gandhi declared that she is a "full-time, hands-on" leader — the party president reiterated that the reins of power remain secure in her able hands. The second, equally important, signal is Ms Gandhi's endorsement — for now — of the existing dual power arrangement. At present, even though Ms Gandhi holds office, key organizational decisions are being taken by her son, Rahul Gandhi, the former Congress president. Be it Navjot Singh Sidhu's elevation at the expense of the old war horse, Amarinder Singh, the induction of Kanhaiya Kumar or Priyanka Gandhi Vadra leading the charge in poll-bound Uttar Pradesh, Mr Gandhi's stamp of approval continues to be clear. Ms Gandhi's nod to these changes is surely a signal to some senior leaders to fall in line.
The new party president is expected to take charge by September 2022. It is unlikely to be anyone other than Mr Gandhi. The Congress, a notoriously slow mover, seems to believe that transformations are best ushered in incrementally. It could also be that the Congress's performance in forthcoming state elections, especially in Uttar Pradesh, Punjab and Uttarakhand, would influence the passing of the sceptre at the top. The point, however, is whether this waiting period would further dent the Congress's credibility as the principal face of the Opposition. There has been some jostling for this space within the Opposition: the Trinamul Congress, buoyed by a massive electoral mandate in Bengal, has been eager to project Mamata Banerjee as the real opponent of the Bharatiya Janata Party. Mr Gandhi, who has a decisive say in most matters, should take charge at the earliest. That would energize not only the Congress rank and file but also ensure better coordination with Opposition parties before the big test in 2024.