By the people: India's Good Samaritans in the Covid fight
Is the Centre — it has fattened itself on delusion and hubris — ready to eat crow and join in?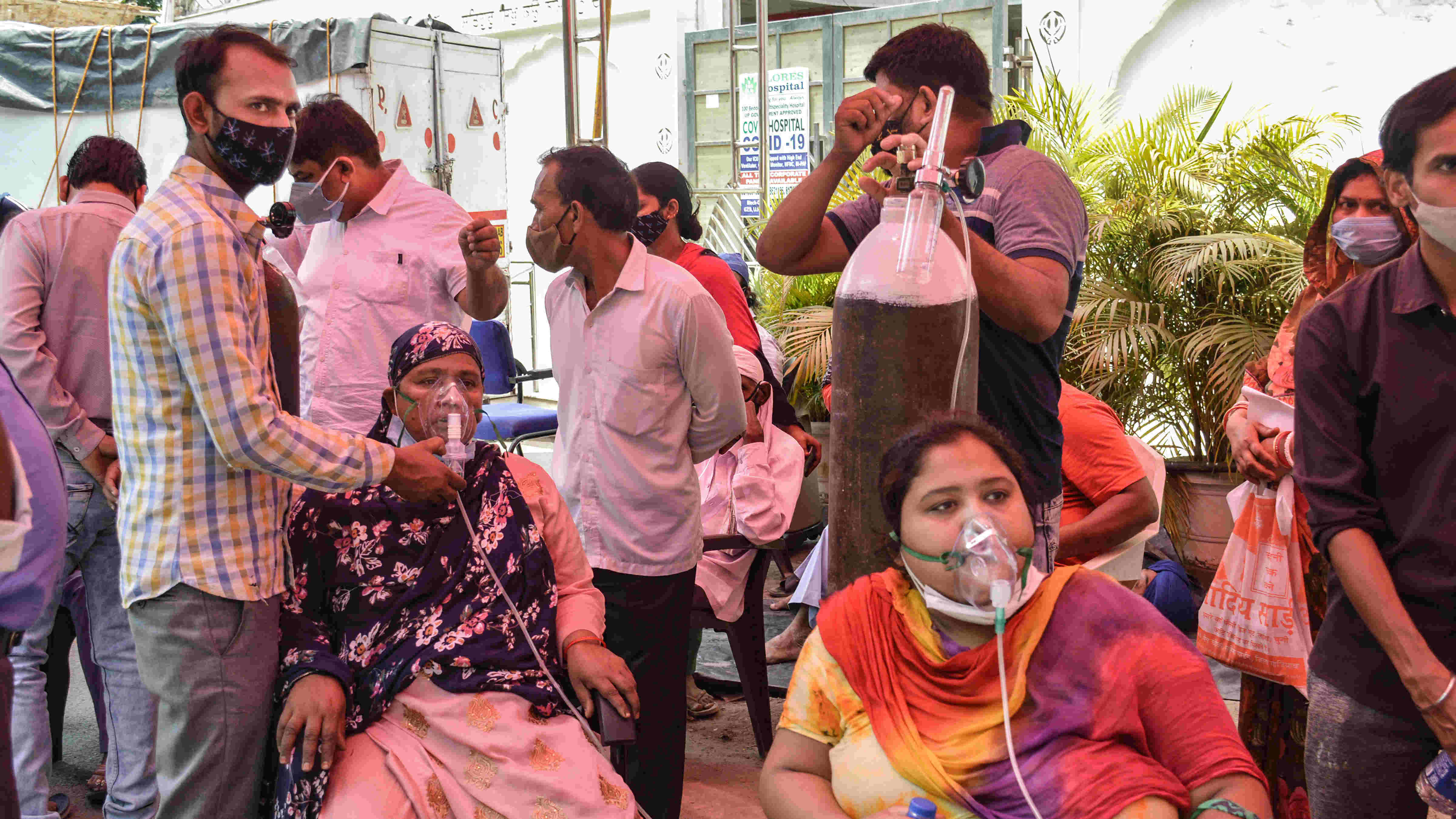 COVID-19 patients receive free oxygen, provided by a Sikh organization at Indirapuram Gurudwara, in Ghaziabad, Monday, April 26, 2021.
PTI
---
Published 28.04.21, 04:08 AM
|
---
Myopia, complacency and apathy on the part of an elected government have brought India to its knees against a deadly contagion. Hearteningly, the aam aadmi — India's faceless, forever besieged, but unfailingly generous fraternity — has stood up to be counted at a time when the Centre has committed monumental follies. Ceaseless grim tidings of the pain of bereavement, acute shortages in oxygen, medicines and hospital beds, the implosion of a nation and its healthcare system have been accompanied by snippets of unprecedented acts of kindness. Not all of India's Good Samaritans are, unlike the Centre, blessed with infinite funds and resources. Yet, a farmer from Madhya Pradesh did not hesitate to donate Rs 2 lakh — he had saved the sum for his daughter's wedding — so that oxygen — all of India is gasping for it — can be bought for Covid-19 patients. Another elderly, infirm man from Kerala — a beedi-roller by profession — donated his life's savings so that people can receive vaccines. Meanwhile, an unsung army of citizens continues to wage an unending battle — organizing hospital beds, arranging food and medical supplies, and providing comfort, with social media amplifying their efforts. These and many other acts of unadulterated altruism must be recognized in this hour of grief and helplessness. For they renew hope not just in humanity's ability to remain empathetic as a species but also in the ability of Indians to rise above the divisions — the politicians can certainly claim credit for creating these chasms — during a mortal crisis. Ordinary Indians have redeemed the nation even though they have been failed by the very government that they elected to serve them.
This spirit of sacrifice and cooperation needs to be emulated by politicians. It is doubtful whether Narendra Modi's government would be receptive to the idea. Any suggestion of cooperation with political opponents is usually met with scorn by this regime. But the Opposition seems to be making the right noises. Sonia Gandhi and H.D. Deve Gowda, two of India's senior-most leaders, have underscored the need for building consensus across the political spectrum. Such a collaboration, if it were to come to pass, would certainly augment India's abilities to unitedly defend itself against an invisible speck. But is the Centre — it has fattened itself on delusion and hubris — ready to eat crow and join in?