Burning bright: Editorial on the practice of book-burning
Banning, however, or withdrawing a book from libraries or schools, is now the more favoured method of stifling an author's voice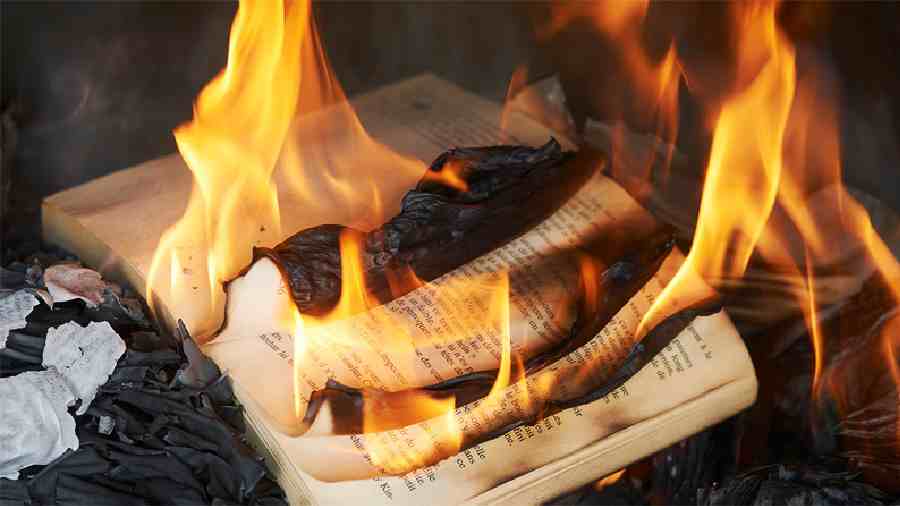 Representational image
Twitter
---
Published 29.05.22, 02:54 AM
|
---
The image of Margaret Atwood with a flamethrower in her hands in a short video cannot but evoke scenes of book-burning from the two film adaptations of Ray Bradbury's 1953 novel, Fahrenheit 451, the first by François Truffaut in 1966 and the next by Ramin Bahrani in 2018. Bradbury may have written a futuristic novel, in which firemen who once put out fires enjoy igniting every book they find, but book-burning is an old pastime. While one library after another in different parts of the world was set alight by invaders earlier, the Nazis excelled in burning books in more recent times. Banning, however, or withdrawing a book from libraries or schools, is now the more favoured method of stifling an author's voice, although James Joyce's Ulysses was burnt in the United States of America, Ireland, Canada and England between 1918 and 1923. Attempts to destroy artists' and thinkers' freedom of expression continue unabated. Ms Atwood's decision to produce an 'unburnable' version of one of her most challenged and banned novels, The Handmaid's Tale, is a symbolic protest against such efforts to obliterate any work that undermines the prevalent structures of political, cultural or social power.
Ms Atwood's novel is futuristic too, describing a region where women are turned into 'handmaids' and forced to produce children for the 'Commanders', whose wives are unable to do so. Why challenge, withdraw or ban the novel — or any novel? It is a bit funny that fiction can frighten those in power by laying bare, through fantasy, fable, satire or comedy, society's hypocrisies, a culture's cruelties and the hidden springs and sinister potential of power. As countries swing more to the Right, or grow more rigid in their beliefs, the more heavily do they come down on independent thinking and unfettered creativity. Each country is touchy in its own way, uncomfortable with the way race, class, gender or sexuality is presented. India, for example, jumps fiercely down the throat of any artist who does not bow to the ideas of religion or nationalism imposed by the ruling regime. Historians and biographers may be as 'disobedient' as novelists, playwrights, artists or film-makers. The war is against knowledge as power.
The solution lies in preventing thought, the root of this evil. Undermining the education system and guiding learners towards the thoughtless absorption of set ideas may help. A movement away from classes in schools or colleges towards coaching institutes to learn fixed answers to fixed questions would be successful. As in Bradbury's dystopia, books will become dispensable. They might be burned, in case somebody reads them. Without a project to save them, maybe like the people in Truffaut's film who hide from the firemen and learn books by heart, the most precious volumes may gradually disappear. But Ms Atwood's protest also symbolises hope. Books are 'unburnable'; thought and creativity will always find routes to freedom — they can never be 'burnt'.