Sir — Air pollution is a matter of great concern in India. In Delhi, pollution reaches dangerous levels as Diwali approaches. The country has a high rate of deaths caused by asthma and other chronic respiratory diseases. This is a national health crisis, and requires urgent action. The first step towards countering this environmental and health hazard would be to phase out the vehicles that cause the most pollution — old trucks, buses, tempos — and to use LPG for electricity generation. For this to happen, the Central, state governments and municipal corporations have to act immediately.
M.J. Alhann,
Hojai, Assam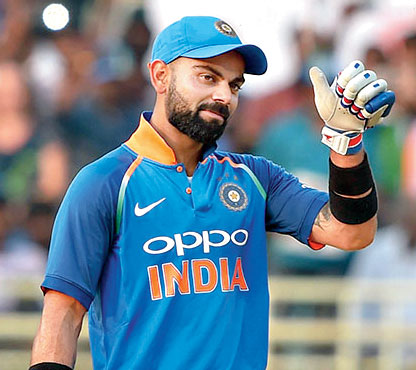 Skipper Virat Kohli reacts after completing his 10,000 runs in ODI, during the second ODI cricket match against West Indies in Visakhapatnam on October 24. Kohli became the quickest batsman to touch the mark of 10,000 runs in ODI cricket. PTI
Greater heights
Sir — The captain of the Indian men's cricket team, Virat Kohli, must be congratulated for scoring 10,000 runs in one-day internationals. He has become the 13th member of the 10,000 ODI runs club. Ever since he made his ODI debut against Sri Lanka in 2008, Kohli has scaled newer heights and won many matches for India. With 37 centuries under his belt, he is the quickest to have reached this milestone — he did so in only 213 matches and with a healthy average of 59.62. This is indeed a stupendous achievement. He has also amassed over 6,300 runs in 73 Tests with 24 centuries.
The year, 2018, shall remain a special one in Kohli's career — he has scored the highest number of runs in all three formats of the game. If he is able to hold onto this sublime form, he may surpass more records in both Tests and ODIs. As a fielder, Kohli has taken 200 catches in all three formats. He has also done reasonably well as a skipper. One hopes he continues performing and leading the team well in the forthcoming tour of Australia. He is a deserving recipient of the Rajiv Gandhi Khel Ratna award.
Indranil Sanyal,
Calcutta
Sir — Virat Kohli is not only one of the most successful Indian captains but also an unparalleled batsman. He played brilliantly against the West Indies to make his 37th century. He proved why he is considered a world-class batsman. He has done India proud. One hopes he will continue to break records in forthcoming matches and tournaments.
Tariq Khan,
Mumbai
Sir — Virat Kohli is one of the most versatile batsmen in the world. It is no small feat to have broken the record of the former batsman, Sachin Tendulkar, in reaching the 10,000-runs mark in ODIs. Cricket lovers, and indeed all citizens, can take great pride in Kohli's achievements.
A. Zafar,
Calcutta
Sir — While cricket fans may have felt a little dejected after India's second ODI against West Indies ended in a dramatic tie, what lifted their morale was Virat Kohli's swashbuckling innings of an unbeaten 157 runs. With this century, which was his 37th in his 10-year-old career, the skipper attained the enviable distinction of having become the fastest ODI player to complete 10,000 runs in just 205 innings, pipping the likes of Sachin Tendulkar, Sourav Ganguly, Ricky Ponting and Jacques Kallis. This is a rare and proud moment for Indian cricket. In Kohli, the Indian men's team has found an unparalleled batsman and intelligent skipper who can inspire his teammates to excel in the face of adversity and truly challenge the opponent. Under his leadership, the team has gone from strength to strength. It is, at present, the number two ODI team in the world. He has a whole repertoire of strokes which he plays with utmost conviction.
The team's recent loss to England in the Test series may have taken the sheen off Kohli's captaincy, but that does not detract from his greatness as a batsman whose hunger for runs remains insatiable. Kohli still has a lot of cricket left in him; he will continue to demolish records both in Tests and ODIs and set new benchmarks.
Aditya Mukherjee,
New Delhi
Sir — Virat Kohli needed only 205 innings to break the record for the fastest 10,000 runs scored in ODIs. Sachin Tendulkar, whose record he surpassed, achieved the feat in 259 innings. Kohli reached the milestone while batting on 81 during the second ODI against the West Indies. He is an inspiration for the younger generation — he stands for proving one's capabilities with the help of dedication and determination, even in the face of hardships. He deserves to be lauded.
Mohd. Rahmani,
Delhi
Sir — October 24, 2018 was a good day for Indian cricket. Not only did Virat Kohli became the fastest-scorer of 10,000 runs in ODIs, the skipper of the Indian women's cricket team and one of the best players in the world, Mithali Raj, made an unbeaten 105 runs off just 61 balls in a Twenty20 match against Australia A. This is a record, for it is the highest score till date by an Indian woman in T20 cricket. Both these players are incredible, and deserve accolades for their brilliant feats.
Sourish Misra,
Calcutta
Sir — Virat Kohli's 37th century and his 10,000-run milestone show why young cricketers around the world aspire to play like him. He is an asset to the nation and to Indian cricket.
Mohd. Tariq,
Mumbai
Sir — Now that he has joined the 10,000-runs club, Virat Kohli is well on his way to becoming a legendary player. He is now in the company of cricketing maestros such as Kumar Sangakkara and Jacques Kallis. He has proved his dominance not only on Indian pitches but also overseas, which include tough conditions in Australia, South Africa and England. In 2014, in Australia, he scored four Test centuries — two in Adelaide, one in Melbourne and one in Sydney.
Kohli holds the distinction for the most runs scored this year in Tests and ODIs. This proves that he is in phenomenal form. With the upcoming Australia series, he will be aiming to do even better. Given the way he has been playing, there is every hope that he will excel.
Subham Nagar,
Howrah
Sir — It took 17 years for a batsman to break Sachin Tendulkar's record, but Virat Kohli finally did it. One hopes he continues this form in Australian conditions, which are known to be extremely tough.
Shalini Jaiswal,
Calcutta