Titli uproots trees, triggers rain; people panic, traders profit
The Bhubaneswar Municipal Corporation (BMC) received 11 complaints through its helpline numbers during the last 24 hours and attended all these effectively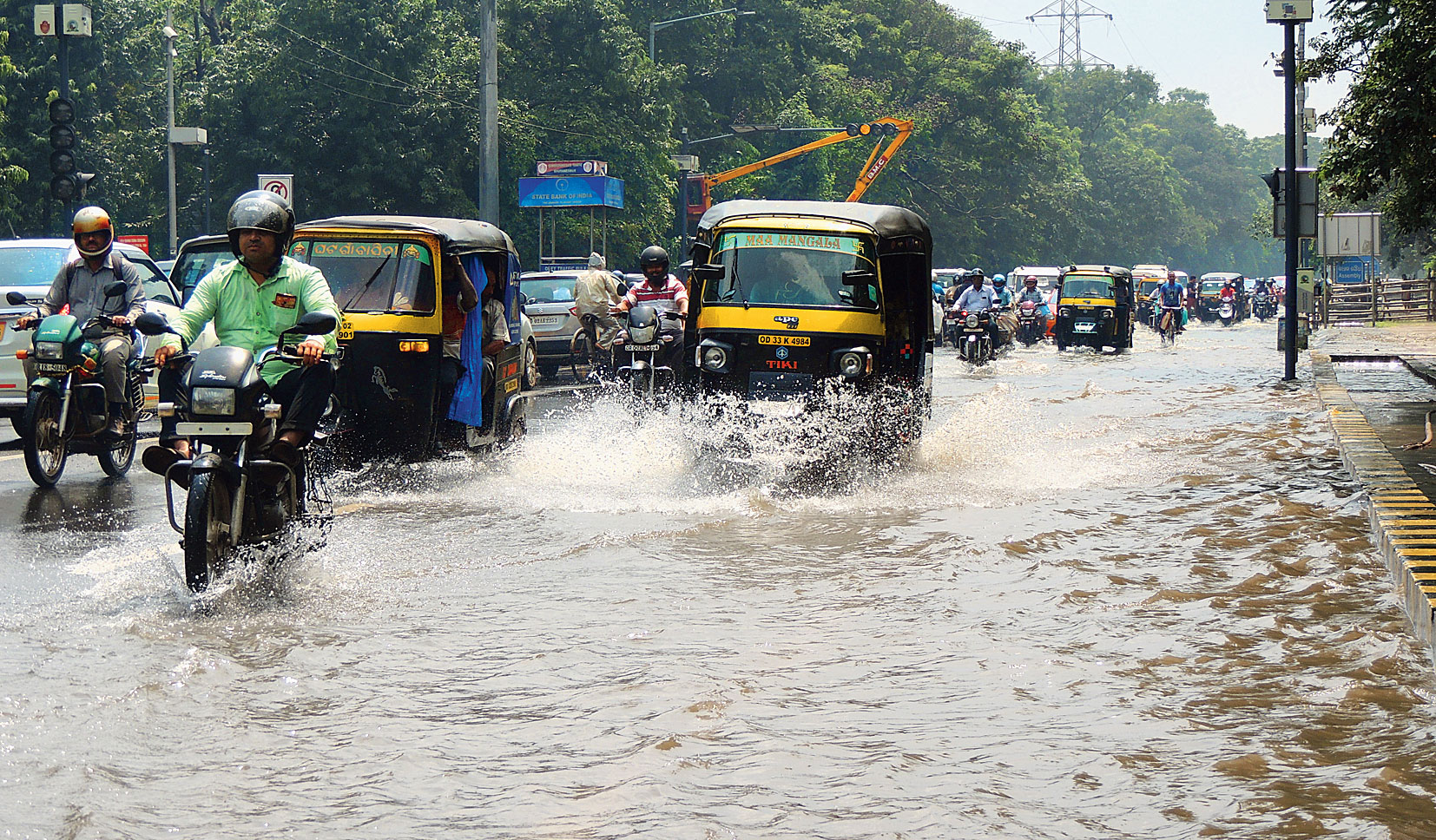 Vehicles move through a waterlogged road in Bhubaneswar on Thursday.
Picture by Ashwinee Pati
---
Bhubaneshwar
|
Published 11.10.18, 06:36 PM
|
---
Severe cyclonic storm Titli that made a landfall on Thursday morning has left behind a trail of uprooted trees and waterlogging in several areas of the city.
The Bhubaneswar Municipal Corporation (BMC) received 11 complaints through its helpline numbers during the last 24 hours and attended all these effectively.
"We had put our officials on alert and took the help of different line agencies to tackle the situation. Uprooted trees were cleared on Thursday morning, while pumps were deployed to drain out the water that had accumulated in certain areas," said BMC deputy commissioner Srimanta Mishra.
Sources said waterlogging problems were reported from Ahalya Nagar, Sriram Nagar, Gouri Garden, Jagmohan Nagar, Parijat Colony, Mancheswar and Nayapalli Behera Sahi near World Mall. According to the special relief commissioner, the city received 58mm of rain in the past 24 hours that was induced due to the storm.
"Rainwater remained accumulated outside our house since Wednesday night and we had to call up the helpline number," said Nayapalli resident Ritesh Mohanty.
The civic body was in a state of preparedness with special focus on several slum settlements, as they usually bear the brunt of heavy rain and winds.
The administration has also kept the Aahaar cheap meal centres open to provide food to the urban poor.
"Aahaar centres have been asked to remain open as in many places it would become difficult for the people to get food if the rain continues to lash the city severely," said mayor Ananta Narayan Jena.
Apart from waterlogging, citizens faced shortage of essential items as several shops had shut down apprehending a severe cyclone.
"I stocked essential materials as I had faced a similar situation in past," said Rasulgarh resident Bibhudatta Pradhan.
Several markets and shops were closed, while many traders jacked up prices of several products taking advantage of the situation.
"I bought eggs for Rs 8 per piece, which was till Wednesday sold for 5. It is nothing but loot," said Shampur resident Itish Jena.
The mayor said they had advised residents not to panic, as the weakened cyclone would not affect much of normal life. "The government had issued order for the markets to remain open and not to raise the price. The buyers can register their complaints if they want to," said Jena.