Naveen fields posers at Odisha investment meet
Health to tourism, CM answers all at Make in Odisha Conclave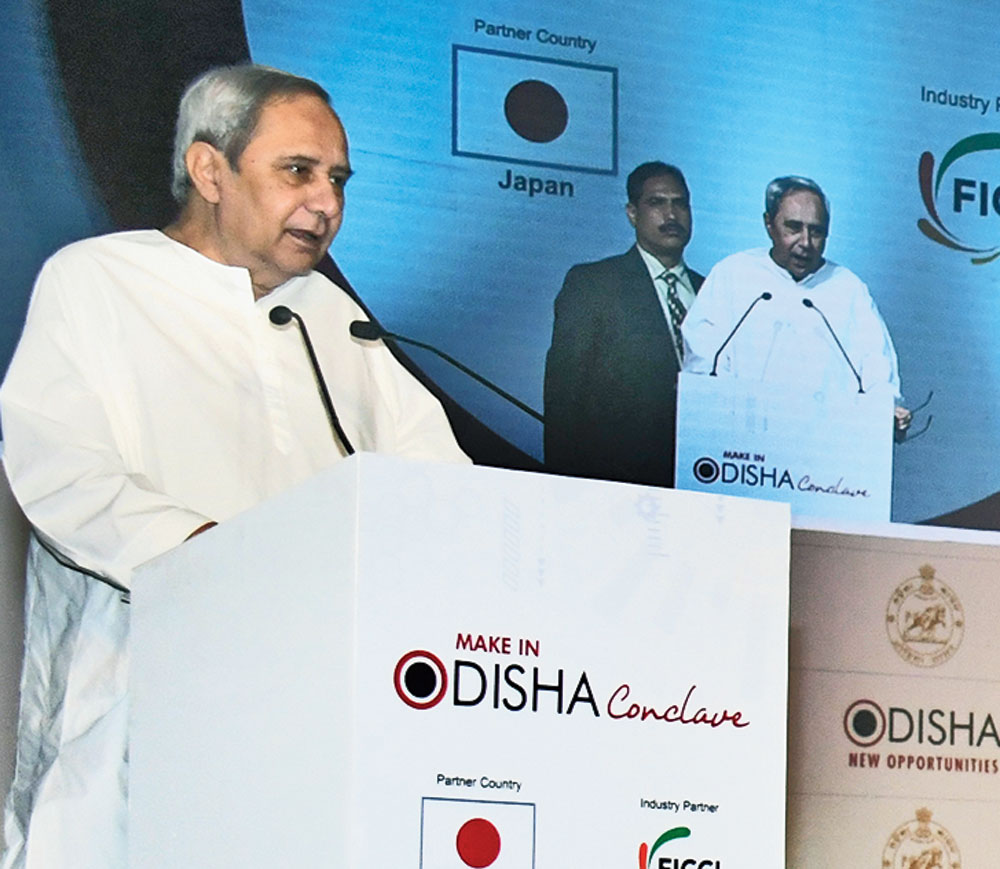 Naveen Patnaik addresses industrialists on Monday.
Picture by Ashwinee Pati
---
Bhubaneshwar
|
Published 12.11.18, 06:41 PM
|
---
Chief minister Naveen Patnaik on Monday sprung a surprise on the doyen of Indian industry, who had assembled here for the second edition of the Make in Odisha Conclave, by asking them to put questions to him.
A confident Naveen said he would be happy to answer their queries. When they kept silent for a while, he asked again: "No one would like to ask any questions?"
It was Vedanta Resources chief Anil Agarwal, who took the lead. He was followed by Reliance Industries Limited chairman Mukesh Amabani. The questions ranged from tourism to health and also on the skill sector.
Agarwal asked: "We talked a lot about industries. The state has beautiful places, including the Chilika lagoon. What is the state's plan to promote tourism?"
Naveen said: "We have a lot of potential in the tourism. We have huge temples, more than 500km coastal line. We have the great Chilika lake. We have wonderful beaches and wildlife parks. We are working hard in the tourism sector, and it will certainly come up very well." Ambani asked Naveen: "Can you share priorities of the state where you would like to see investment flow in the next three to five years? I have a second question. I know you are passionate about sports and education. Can you share with us how we the industries can contribute to your sports and education building, so that we link up with the youths of the state?"
Naveen replied: "We are focusing on the development of all sectors. Investments in sports is investment in youth, and investment in youth is investment in future. I must thank Kumar Mangalam Birla for setting up the shooting institute in the state. I hope this will produce Olympians here. All of you know we are hosting the Men's Hockey World Cup in next few days."
JSW chief Sajjan Jindal asked Naveen: "So much industrialisation is taking place. What is your vision of skill development?"
To this, Naveen said: "We have an excellent policy on skill development. We have a partnership with Singapore, to which almost 100 teachers went so far as skill development is concerned. We are working so hard, so that people would say that — are you skilled or are you skilled in Odisha."
Sangita Reddy, executive director of the Apollo Hospitals groups, wanted to know about the state's environmental and health policy. "We see the green city. The city is becoming greener and greener. A galaxy of Indian industrialists is here, and they are breathing happily. What is the government's environment and health policy?"
Naveen said: "So far Odisha is concerned, Odias are tree-loving people. Odisha is one of the few states where tree cover is more than the national average. Regarding the health policy, we have a new one, which is more of a kind of an health assurance. While the Union government's policy is for the people living below the poverty line, our policy covers all — it's more of universal in nature."