Green step to manage sewer in Bhubaneswar
Experts from the Central Pollution Control Board to judge the sewerage management practice of the city and suggest measures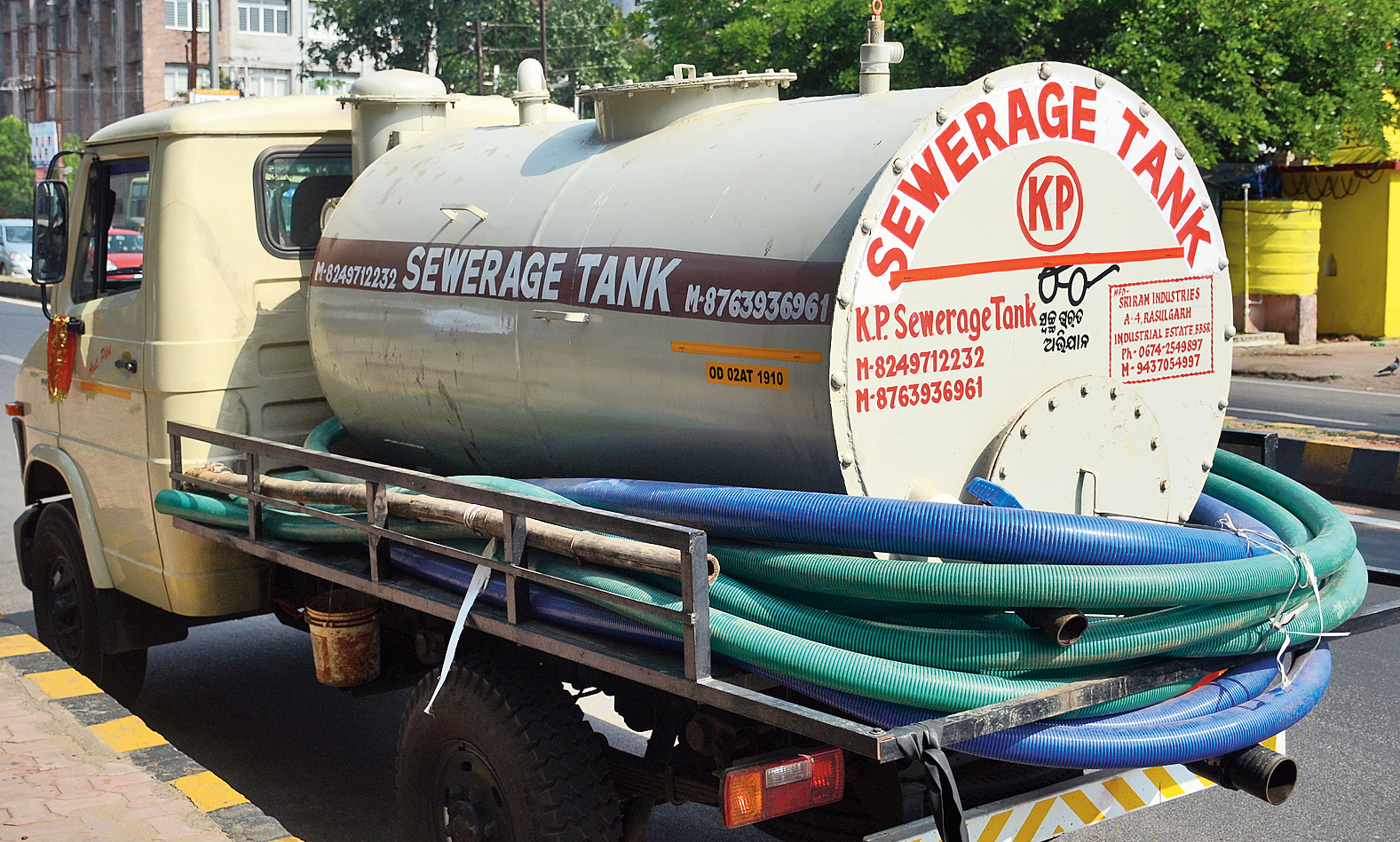 A sewage carrying vehicle on a Bhubaneswar street
Picture by Ashwinee Pati
---
Bhubaneswar
|
Published 09.12.18, 06:57 PM
|
---
To know the sewerage management practice of the state capital, the Central Pollution Control Board has directed the city administration to submit in details about its current status and upcoming plans so that it suggest measures to improve the service.
The board, which is in the process of creating an inventory, has provided a proforma to be filled up by the administration based on which experts at the central level will judge the sewerage management practice of the city and suggest measures that can be implemented here.
"Sewerage management is one of the priority areas where the state government is putting major focus. We have drafted a detail sewerage management guideline and are also in the process of constructing underground sewerage lines and sewerage treatment plants in the city," said an official of housing and urban development department.
He said that they had received direction from the central board and had asked local administration to submit the details. "The central board is creating an inventory of the sewerage management practice of all the urban local bodies. It will help compare the best practices in the field," said the official. Sources said that the present sewerage management practice of the city was not up to the mark. Through the guideline has been framed making it mandatory for the households to create soak pits, the civic administration has failed in surveying the households to find any kind of violation. Besides, in the absence of a proper sewerage line, the faecal sludge is being released into open drains triggering fear of outbreak for jaundice. The city, however, has only one sewerage treatment plan that was inaugurated last month, whereas there is need for four such plants, an expert said. "The city doesn't have enough sewerage treatment plants forcing the cesspool vehicles to release the sludge into open drains. Moreover, there is no mechanism to check the soak pits in households as well as the private cesspool vehicles that are releasing the wastewater into the drains," said environmentalist Alok Mohanty.
Mayor Ananta Narayan Jena said that their officials were making total efforts to have a safe sewerage management practice here.
"The construction of two more treatment plants is going on a war-footing. We are also penalising the private cesspool vehicles that are releasing wastewater into open drains," said Jena.