Bhubaneswar Unit-IV market to be overhauled
Plan to upgrade one of the biggest and most-visited markets under Smart City project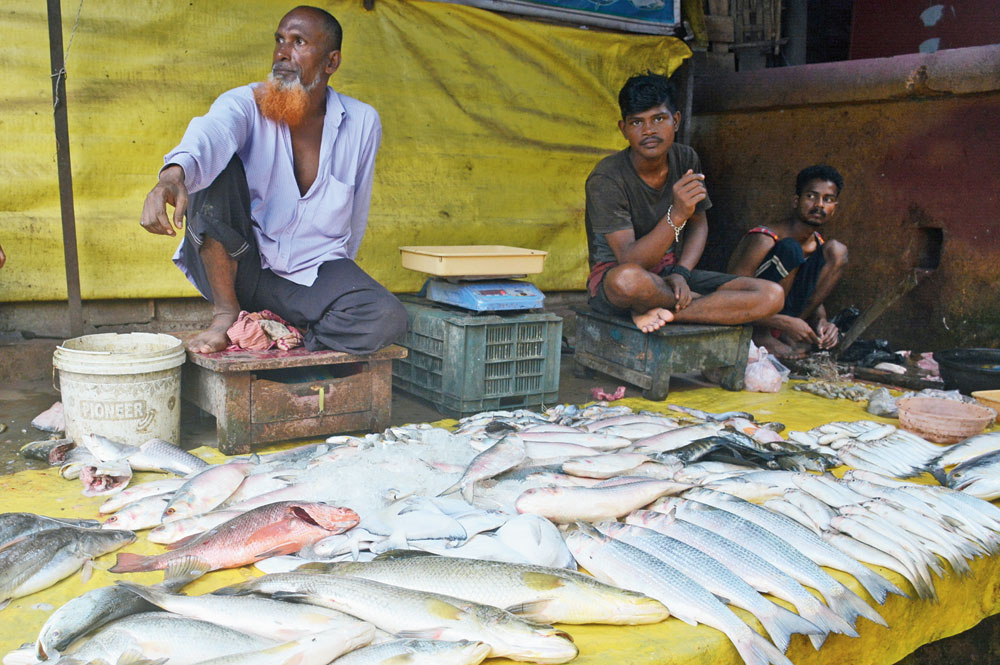 The fish market at Unit-IV in Bhubaneswar on Tuesday
Picture by Ashwinee Pati
---
Bhubaneshwar
|
Published 30.10.18, 06:48 PM
|
---
Authorities will upgrade the Unit-IV market in the city with state-of-the-art infrastructure to ensure a better experience for both shoppers and sellers.
Officials of the Bhubaneswar Municipal Corporation and Bhubaneswar Smart City Limited, the special purpose vehicle executing the smart city projects here, have started making plans for implementing the project.
The BSCL had proposed the plan, following which a meeting was called with top civic officials to decide on the project modalities.
Sources said a survey would be conducted to ascertain the existing infrastructure at the market after which a detailed project report would be prepared to give an overhaul to the market area. The consultants engaged with the smart city projects will be roped in to accomplish the task.
"We first discussed on the funding pattern for the project. It was decided to raise the funds through municipal bonds. The project report will also get prepared in consultation with vendors and other officials," said a smart city official. The market that is spread over 4 acres houses many vendors and is popular, mainly because of the availability of a wide range of non-vegetarian items, including meat, fish and other poultry items. It also has a vegetable market and other general stores.
At present, the vendors in the market have been categorised and provided with space for separate vending. One segment of the market is categorised for the vegetable sellers, while another is for non-vegetarian item sellers. There are smaller complexes where general stores were located.
But, the vegetable sellers have to sit on the floor to run shops, while the non-vegetarian product sellers do the same in an unhygienic and unsafe manner. The solid waste management system also remains in a mess here.
The market also has a multi-storey complex, which now lies unutilised because of certain administrative reasons. "We have already taken over the market complex at Unit-IV and start issuing the shops to eligible vendors. The existing multi-storey complex will be included in the upgrade plan. The shops at the complex will be auctioned online," said mayor Ananta Narayan Jena.
The market area also has one of the two meat markets of the city recently built to organise meat vendors and ensure sale of the non-vegetarian items mainly mutton and chicken in a safe and hygienic manner. The other specialised meat market is located at Ghatikia on the city outskirts.
"The Unit-IV market is one of the biggest and most visited markets of the city. It does have certain good infrastructure, but there is a need to upgrade the same. The plan will be ready in the next four to five months and we will go for the upgrade," he said.