Amish talks about rich Kalinga legacy
Literary festival kicks off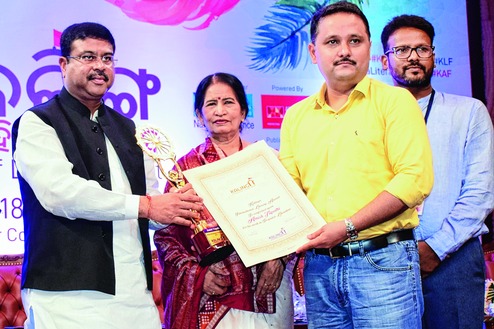 ---
---
Bhubaneswar: Book lovers from the state might get a chance to know about King Kharavela from the master storyteller Amish Tripathi.
Amish, the Indian mythological writer famous for his Shiva Trilogy, said: "Ancient Kalinga had rich legacy and was influential in not just east India but entire India. This legacy must be retold to the new generations. As I had lived in Odisha in my early childhood, it has become my duty to write about King Kharavela to showcase rich Kalinga culture."
Amish was speaking at the inaugural of the fifth edition of Kalinga Literary Festival that kick-started here on Friday in the presence of eminent personalities representing Indian literature, politics, media and public services.
Union petroleum minister Dharmendra Pradhan, who inaugurated the event, hoped the festival would ultimately become a platform for young budding writers.
"There must be an intellectual outcome after events like this which should inspire the society for generations to come," he said.
Eminent Odia writer Pratibha Ray said literature did not know any boundaries called language. "It is an open sky where each writer can paint his or her imagination without fear of being judged," she said.
During the three-day event, young writers and poets from several districts of Odisha will receive Kalinga Literary Youth Awards for their excellence in literary fields.
The festival will see more than 300 writers, poets, lyricists, journalists and public intellectuals speaking on the idea of a just society and how literature reflects this through the ideas of equality, equity and humanity.
The Kalinga Art Festival has attracted more than 40 artists from many states of India. There are dedicated sessions on understanding and appreciating art. The three-day festival will see more than 10 books released.
Mystic Kalinga multi-lingual poetry sessions will see senior poets reading poetry in Odia, Hindi, English and Bengali among others.