Women take protest path over new law
A large number of women from Assam have either participated or pledged their support to the ongoing protests movement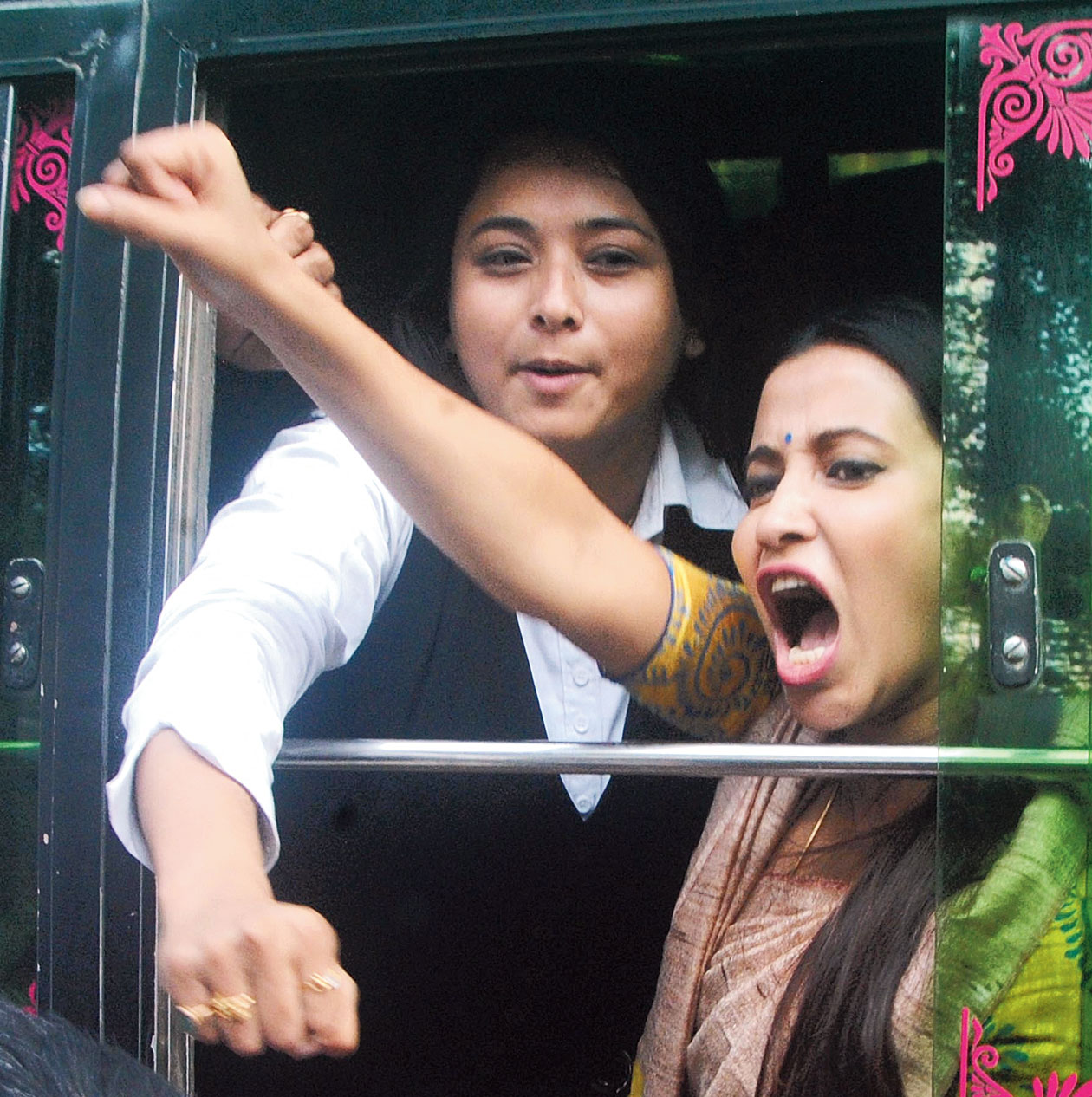 Actress Barsha Rani Bishaya after her arrest during the AASU satyagraha rally in Guwahati on Tuesday
Picture by UB Photos
---
Guwahati
|
Published 17.12.19, 08:51 PM
|
---
Fearing that implementation of the Citizenship (Amendment) Act will "affect" the demography and culture of Assam "in the long run", several young women from the city demanded that the act be struck down by the court.
From college girls to professionals and city residents to those working out of Assam, a large number of women from the state have either participated in the ongoing protests or pledged their support to the movement.
Abhijrita Phukan, 23, pursuing a master's degree in political science from Cotton University said: "The CAA is not acceptable to us."
Her elder sister, Anindrita, 29, a software professional, is equally apprehensive about CAA.
"I recently arrived in Guwahati and found my city under curfew and in the midst of a big turbulence. The Assamese have already fought a long struggle in early 80s, leading to signing of the Assam Accord. The way this CAA has been imposed on Assam, I am worried as an Assamese and also as a woman for the future generation," she said.
From Guwahati, the nerve-centre of the protests, to Jorhat, and Dibrugarh to Sivasagar, protesters, both men and women have been agitating over the Citizenship (Amendment) Act.
Mridusmita Das Bora, 32, an artiste, said: "Fear of the aggrieved Assamese over CAA are fairly valid."
Ashiyana Hussain, 30, another Guwahati woman who recently shifted to Ahmedabad after her marriage, echoed the apprehensions faced by most Assamese over the implications of the CAA.
"Guwahati is the gateway to Assam, and this city itself has very few jobs compared to the number of people who want employment. We have natural resources but we do not have much development. So taking additional burden of population from outside countries would only hurt our interests," she said, adding that CAA should be revoked.
Suman Nagpuria, 23, a student at a college in Guwahati, is waiting to write another paper, as her institution is closed due to the stir.
Belonging to a Marwari family, she was born in Jaipur and grew up in Guwahati, and proudly proclaims herself as an "Assamese girl" who speaks fluent Assamese. "I have mixed feelings about the issue. Immigrants who need help should be allowed, but then we are an independent, democratic nation and I do not know if it is constitutionally right to permit only those belonging to some particular religions," she said.