Replication of tactic tried out in UP during Hathras case
Two journalists returning from Tripura detained by Assam police
Samriddhi K. Sakunia and Swarna Jha work in New Delhi for the news channel HW News Network, and were gathering information on last month's communal strife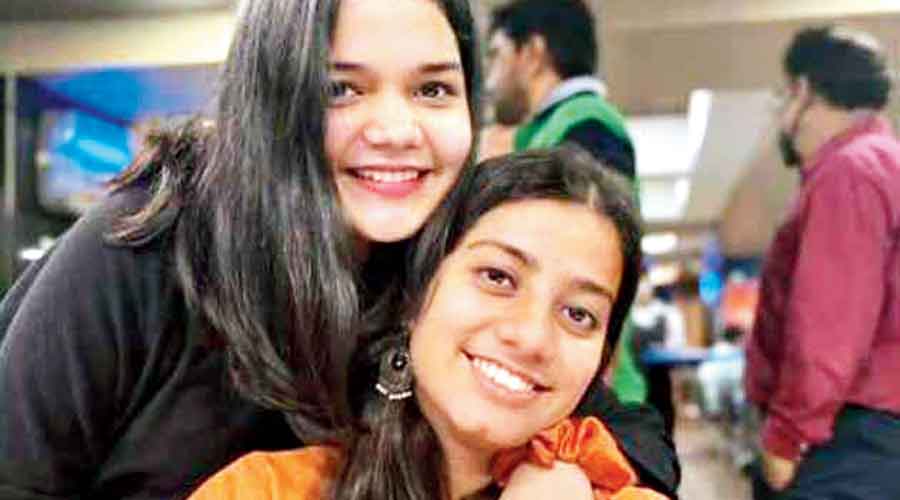 Samriddhi (left) with Swarna.
The Telegraph
---
Guwahati
|
Published 15.11.21, 02:32 AM
|
---
Two journalists returning from Tripura after gathering information on last month's communal strife there have been detained by Assam police on the advice of the neighbouring state in what looks like a replication of a tactic tried out in Uttar Pradesh during the furore surrounding the Hathras rape and murder.
Samriddhi K. Sakunia and Swarna Jha, who work in New Delhi for the news channel HW News Network, were detained on Sunday in Assam's Karimganj district after they were booked in Tripura on a complaint from a Vishwa Hindu Parishad (VHP) leader that they were spreading communal disharmony. Both Assam and Tripura are governed by the BJP.
The VHP has been accused of fomenting communal violence in parts of Tripura on October 26 while it was leading a protest against the Durga Puja attacks on Hindus in Bangladesh. The strife in Tripura is now being looked into by the high court there.
The Tripura government has steadfastly denied the media reports of violence and has cracked down on people for "spreading fake news on social media".
The two Delhi journalists, who reached Tripura on November 11 to gather facts on the events that unfolded in October, were held at Nilambazar police station in Karimganj before being shifted to a government shelter.
A senior Tripura officer told The Telegraph on Sunday night that a police team had gone to Karimganj to fetch Sakunia and Jha.
According to tweets by Sakunia, she and Jha have been booked under Indian Penal Code sections dealing with criminal conspiracy, intentional insult to provoke breach of peace, and promoting disharmony, enmity or feelings of hatred between different groups.
In Tripura, as many as 102 people have been booked under the anti-terror law UAPA for sharing "objectionable news items/ statements" about the violence.
Two lawyers booked under the UAPA, and a journalist, have moved the Supreme Court, which has agreed to look into the constitutional validity of the law.
The Tripura police action on Sunday has some parallels with what happened to Siddique Kappan, who was arrested on his way to Hathras in Uttar Pradesh, along with three members of an outfit that has not been banned but described by its critics as radical. Accused of trying to promote social disharmony and charged under the UAPA, Kappan has been in judicial custody in Uttar Pradesh for more than a year.
Unlike Kappan, the HW News journalists were travelling on their own and were returning after touring Tripura.
The FIR at Fatikroy police station in Tripura's Unakoti was registered on November 14 on the basis of a complaint by local VHP leader Kanchan Das, according to media reports from Agartala.
The reports said Das had alleged that the two reporters had delivered an "instigating speech" against Hindus and the Tripura government while meeting Muslims at Paul Bazaar.
Another FIR has been registered suo motu at Kakraban police station in Gomati district for allegedly creating hatred between religious groups, police sources said.
The two journalists had left Tripura after being handed copies of the FIR early in the morning and were travelling to Silchar district when Assam police stopped them.
In her tweets, Sakunia said: "We have been detained at the Nilambazar police station, Karimganj, Assam. We were informed by the officer-in-charge of Nilambazar PS that SP of Gomti District gave the orders for our detention.
"@Jha_Swarnaa and I, the correspondent at @hwnewsnetwork, have been booked under 3 sections of IPC at the Fatikroy police station, Tripura. VHP filed complaint against me and @Jha_Swarnaa. FIR has been filed under the sections: 120(B), 153(A), 504."
We have been detained at the Nilambazar police station, Karimganj, Assam. We were informed by the officer in-charge of Nilambazar PS that SP of Gomti District gave the orders for our detention.
Official statement by @hwnewsnetwork . @Jha_Swarnaa pic.twitter.com/l3JPKUq7kw

— Samriddhi K Sakunia (@Samriddhi0809) November 14, 2021
Sakunia also shared a statement from their employer, HW News Network. The statement said: "Assam police have said that they don't have any case against our journalists but Tripura police asked them to detain them."
HW News Network alleged that Sakunia and Jha had been served with a copy of the FIR at their hotel around 5.30am on Sunday by officers from Fatikroy police station. "However, after the due legal process, both the journalists were allowed to leave the hotel by the police," the statement said.
"Assam police says that our journalists will be taken back to Tripura for further questioning despite police allowing them to leave the hotel and giving 7 days' notice to record a statement.
"This is sheer harassment and targeting of the press on the part of Tripura police and Tripura govt to suppress us from reporting the facts of the case."
Karimganj press club members visited Nilambazar police station and urged officers not to hand over the two journalists to Tripura police at night on security grounds, among others. Nilambazar police station is 16km from North Tripura district.
The Tripura unit of the Trinamul Congress attacked the BJP government in Tripura with a tweet that said: "SHAMEFUL!"
Police statement
A media release issued from the office of the Tripura director-general of police, V.S. Yadav, claimed that the posts by Sakunia were not true and were promoting a sense of hatred between communities, PTI reported from Agartala.
"In this social media post, she posted a video of her visit to the half burned prayer hall damaged by mischievous fire in the house of one Rahamat Ali of Hurijala, PS Kakraban, on 11/11/2021 to claim that one holy Quran was burned in the incident occurred on the night of 19/10/2021, which refers to Kakraban PS Case No. 74/2021 U/S 436 IPC.
"This is contrary to the findings so far revealed in course of investigation as presence of no such damaged books/documents was brought to the notice of investigating officer and fire service staff who extinguished the fire," the police statement said.
The statement said that a team of lawyers, who visited the state earlier, had made a similar claim with a "questionable photograph".
It added that people with "vested interests" were trying to stoke communal tension in the state.