Tussle in Manipur, Nagaland BJP units
Sources say the power feud has been on since 2019 but Biren Singh has managed to stay afloat as he 'still enjoys the blessings' of the party leadership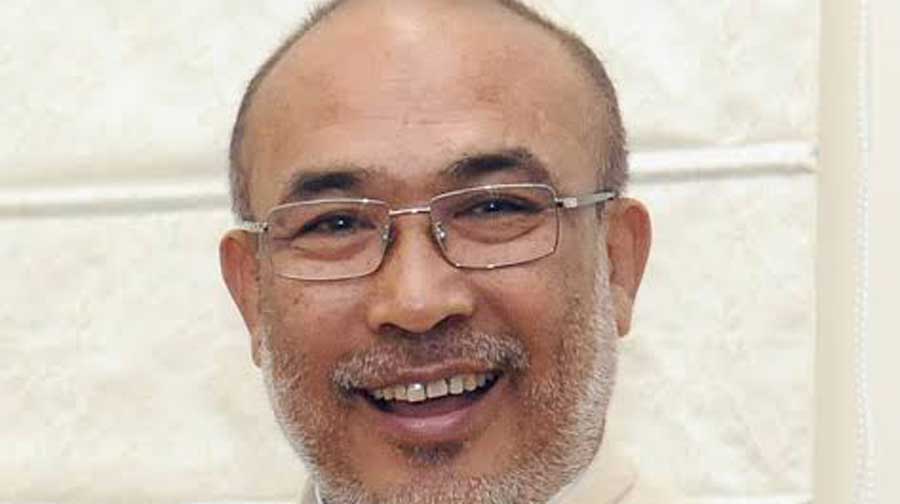 ---
|
Guwahati
|
Published 28.07.20, 01:28 AM
---
The Manipur and Nagaland units of the BJP are grappling with an intense power tussle.
In Manipur, a move is afoot to unseat chief minister N. Biren Singh, while Nagaland is witnessing a clamour to replace state unit president Temjen Imna Along, because of their "autocratic" style of functioning. Biren Singh and Along took charge in March and June 2018 respectively.
The restive atmosphere in Manipur became evident during the three-day visit from July 23 of BJP national vice-president Baijayant Panda and former Union minister Manoj Sinha to assess the situation and resolve differences.
Sources said they also interacted with leaders of the ruling BJP's allies in Manipur — the National People's Party and Naga People's Front. The duo returned on Saturday and will submit their report to the party leadership.
Their visit followed the July 14 Delhi trip of four state BJP ministers — Th Bishwajit, Th Radheshyam, V. Hangkhalian and Nemcha Kipgen — to "discuss development projects and brief" central leaders about the prevailing situation, sources said.
The quartet missed a recent cabinet meeting but met the central leaders who also interacted individually with MLAs and party leaders, including state unit president Saikhom Tikendra Singh and the chief minister.
Sources said power tussle has been on since 2019 but Biren Singh has managed to stay afloat as he "still enjoys the blessings" of the party leadership.
The government faced its toughest test when nine MLAs supporting the government withdrew support on July 17, two days ahead of the June 19 Rajya Sabha polls. However, Biren Singh managed to win the polls despite the Congress-led Secular Progressive Front's claim of having the numbers. July has also seen the Congress flagging a 2018 drug smuggling case to seek the chief minister's resignation.
In Nagaland, BJP president Along has been facing a call for his replacement ever since he removed the Phek district unit president on June 23. On June 26, 10 of the 14 district and organisational unit presidents wrote to Ajay Jamwal, national general secretary, seeking Along's replacement and called for implementation of one-man one-post policy as Along is also a minister in the Neiphiu Rio-led NDPP-BJP government.
In a separate letter to Along, the state BJP functionaries said if he removes anybody else they will tender mass resignation.
On July 12, a BJP team, led by deputy chief minister Y. Patton and three more ministers, along with an MLA, left for Delhi to meet the central leadership. They returned on July 17 after meeting senior party leaders, including party national president J.P. Nadda. Along is now camping in Delhi.
Along said he has taken all decisions in consultation with the party leadership and will abide by what the leadership wants.