Tripura BJP MLA asks party workers to attack visiting TMC leaders in 'Talibani-style'
Arun Chandra Bhowmik made the comment at a party function held to felicitate Pratima Bhowmik, new Union minister of state for social justice and empowerment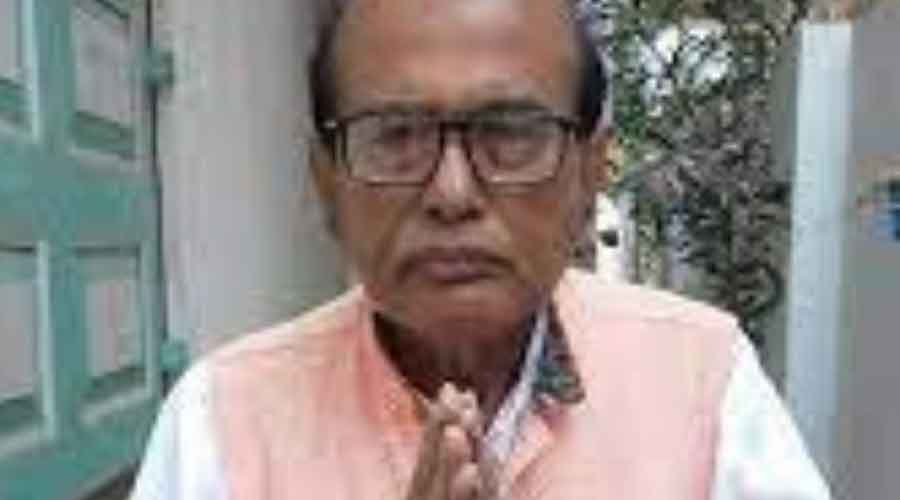 Arun Chandra Bhowmik.
File picture
---
Guwahati
|
Published 20.08.21, 12:06 AM
|
---
A ruling BJP MLA in Tripura asked party workers to attack visiting Trinamul Congress leaders in "Talibani-style".
First-time BJP legislator Arun Chandra Bhowmik made the comment at a party function held to felicitate Pratima Bhowmik, new Union minister of state for social justice and empowerment, on Wednesday evening.
"I appeal to you all to attack them (Trinamul leaders) in Talibani-style. If they land at the airport here (Agartala), we need to attack them in Talibani-style. We will protect our government (in Tripura) with every drop of blood," Bhowmik said.
The 1.02 minute video clip of Bhowmik's speech, in which he was heard suggesting Taliban-style attack on Trinamul, circulated widely in social media. Trinamul uploaded the video in social media.
The BJP, however, distanced itself from Bhowmik's remark. A BJP spokesperson underscored that the party was not in favour of violence and would never allow its cadres to take law into their own hands.
Asked what had prompted him to bring the Taliban reference, Bhowmik said: "The BJP ended the 25-year misrule of the Left Front in 2018 and our chief minister is doing a good job. I used the Talibani-style expression to motivate our party members to politically fight Trinamul … It was not meant to incite anybody. We do not have guns and tanks like the Taliban. We have to fight politically."
The Trinamul leadership in Tripura has demanded the arrest of the BJP MLA.
"We will file a police complaint against the MLA," said senior Trinamul leader Subal Bhowmik.
Trinamul leaders also alleged that the ruling BJP was "unleashing" terror on them to prevent them from making inroads into Tripura before the 2023 Assembly polls.