Tarun Gogoi for united front to defeat BJP
He said the Congress was ready to sacrifice its own interests to join such anti-BJP and anti-CAA organisations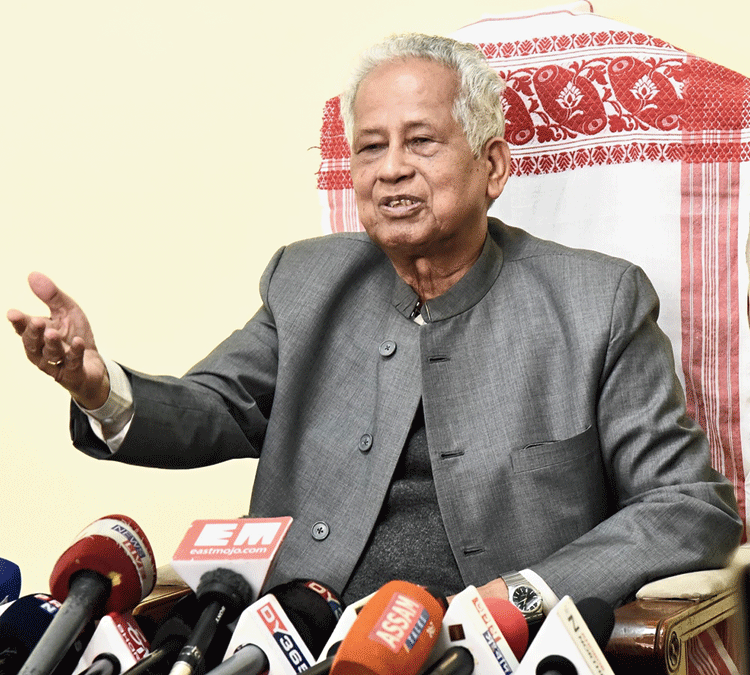 Tarun Gogoi speaks at the news meet.
Picture by UB Photos
---
Guwahati
|
Published 06.01.20, 08:35 PM
|
---
Former Assam chief minister Tarun Gogoi on Monday appealed to all anti-BJP and anti-Citizenship Amendment Act (CAA) organisations to remain united to defeat the ruling party in the 2021 Assembly elections.
"In the 2021 election, everyone should be united and defeat the BJP," Gogoi told reporters here. He said the Congress was ready to sacrifice its own interests to join such anti-BJP and anti-CAA organisations.
Gogoi supported the organisations heading the anti-CAA movement and said there was nothing wrong if they formed a political party to defeat the BJP.
Gogoi's observation came at a time when the All Assam Students' Union (AASU), one of the organisations spearheading the anti-CAA movement, hinted floating a third front which would be opposed to all existing political parties. Gogoi had earlier said a third front was impossible in Assam without the Congress on board. The comment also came at a time when BJP leaders have claimed that it would win over 100 seats in 2021.
The senior Congress leader also took a dig at the BJP's claim. "You claim you will win over 100 seats. I challenge you to hold the election within three months. Let's see if you can win even 25 seats," he said, pointing to the people's anger and dissatisfaction against the BJP-led government over the Act.
The law will provide citizenship to persecuted non-Muslim communities from three neighbouring countries, who entered the country before December 31, 2014, without valid documents.
Gogoi said the popularity of Prime Minister Narendra Modi was on the wane, for which one state after another was slipping out of the BJP's hand.
Gogoi also hit out at Union home minister Amit Shah's comment that the BJP would not budge an inch over the Act. "The entire country is opposing. Yet you are so proud. You should remember that you came to power with the votes of only 37 per cent people. The remaining 63 per cent are against you," he said.
Gogoi said the people of the country do not want the BJP version of Hindutva. He compared Modi with Muhammad Ali Jinnah, who had advocated the two-nation theory to divide India into two countries based on religion. "Modi has become the Hindu Jinnah of India. Because of it he is trying to turn India into a Hindu country," he said.
Gogoi said like Modi, the popularity of chief minister Sarbananda Sonowal was also on the wane. "Even AASU adviser Samujjal Kumar Bhattacharjya, who was once a friend of Sonowal, is accusing him to be a killer," he said, while referring to the five persons killed in alleged police firing during protests against the Act in the state.