Tale of dedicated mentor to students
Lifetime achievement award for teacher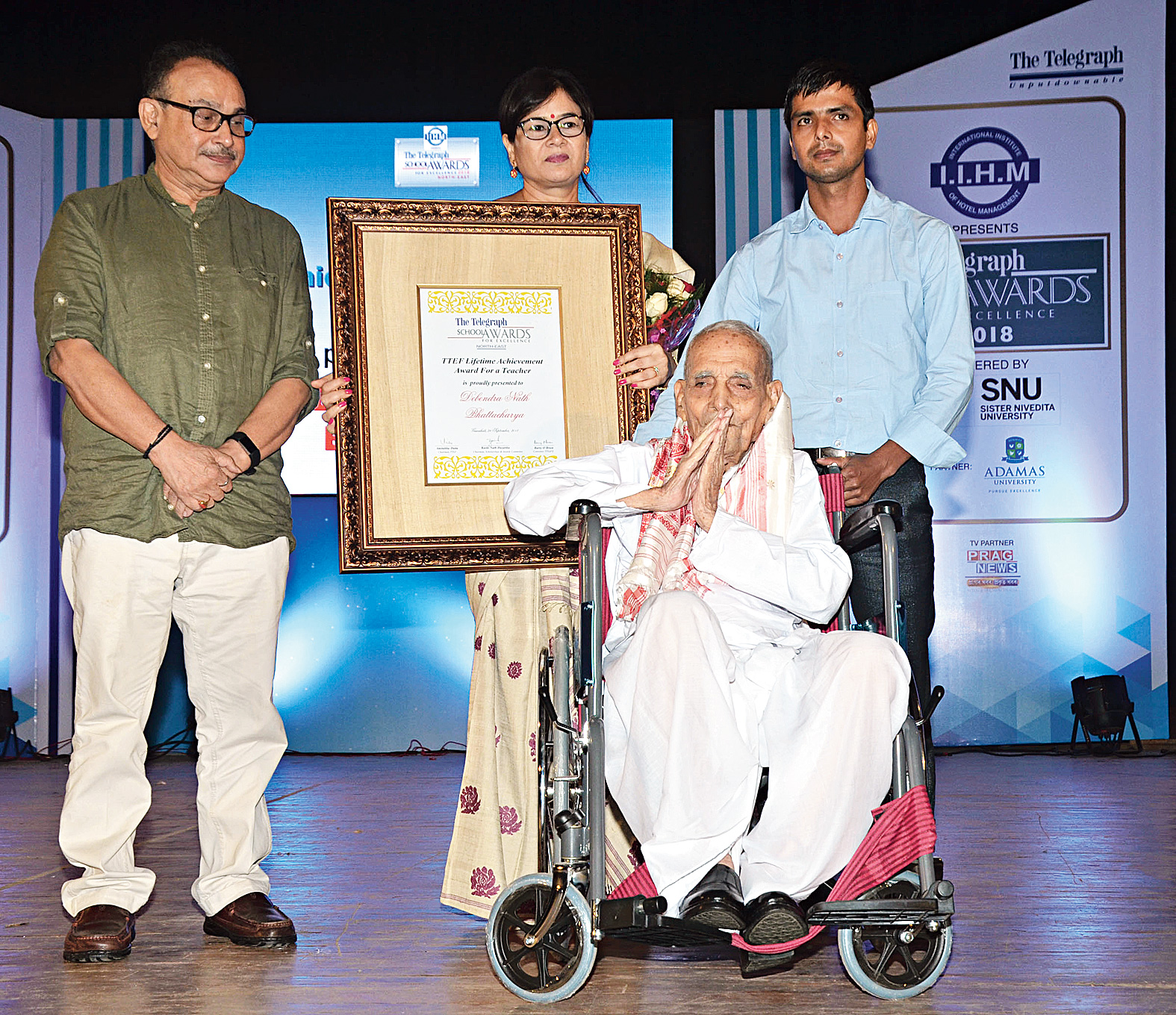 Debendra Nath Bhattacharya (on wheelchair) receives The Telegraph Education Foundation Lifetime Achievement Award for a Teacher from Bhupati Kumar Das (extreme left), professor emeritus, Dibrugarh University.
Manash Das
---
Guwahati
|
Published 08.10.18, 09:46 PM
|
---
 He is all of 97 and a storehouse of knowledge. He has lived and is still living a life which continues to inspire and mesmerise those who come into contact with him.
Debendra Nath Bhattacharya, born in 1921 in Nalbari (undivided Kamrup district) in lower Assam, was a teacher par excellence.
He dedicated his life to teaching by establishing himself more as an educator who had started an Assamese medium school first in Satrasal in Dhubri district, on the border with East Pakistan, in 1953.
Besides teaching in the school without any salary, he offered shramdan (labour) in setting up the school, which has now grown into a higher secondary school.
"Despite his advancing age and weak knees, his memory is still strong and we call him a dictionary. The struggle that he went through in establishing himself as an educator is inspiring for all," said his eldest son Apurba Kumar Bhattacharya.
The veteran teacher, who did his schooling from Gordon High School in Nalbari, was awarded the TTEF Lifetime Achievement Award for Teacher at the first edition of the IIHM Presents The Telegraph School Awards for Excellence 2018 Powered by Sister Nivedita University at ITA Pragjyoti Centre for Performing Arts in Guwahati. The awards, administered by the Telegraph Education Foundation, was first launched in Calcutta in 1996.
Bhattacharya taught at Gangapukhuri High School in Nalbari, Bezbarua High School in Golaghat and Cotton Collegiate School in Guwahati during 1953 to 1966. He did his higher education in Sanskrit from private institutions, while serving as a regular teacher.
Bhattacharya later joined Arya Vidyapeeth College as a lecturer in the Sanskrit department at the request of the then principal in 1966 and superannuated from this college.
"This was the kind of courage he showed, while leaving his permanent job of school teacher at the age of 40 with five full grown up children and joined a non-sanctioned post of college," said Apurba.
"It is quite encouraging that he was the eldest male member of a joint family at the time of his matriculation. Along with his own education, he taught in a number of schools and later in college to support the family, which would not be easy for today's generation," Apurba added.
A senior general manager at Numaligarh Refinery, Apurba said, "He is highly successful as he single-handedly managed to educate his sons and daughters, all of whom hold respected positions in various government organisations. He was also an author, who not only wrote novels, collection of stories, and books on Sanskrit, but also wrote a number of textbooks on English and Sanskrit grammar, besides doing translations."
His textbooks on English grammar came at a time when a new structural method was introduced in Assam during the early seventies, and the one for students from class V was one among the three textbooks on structural method of English grammar selected by Secondary Education Board of Assam (Seba) during that period, Apurba said.
Bhattacharya said after the awards ceremony, "My happiness at recognition by TTEF multiplies, when I saw the academically sound specially-abled children getting financial support, at the time they need it most, from The Telegraph."
Bhattacharya loves listening to old Assamese and Hindi songs and his love for reading still burns bright.