Subscriber base grows in Assam
The growth was spurred by Reliance Jio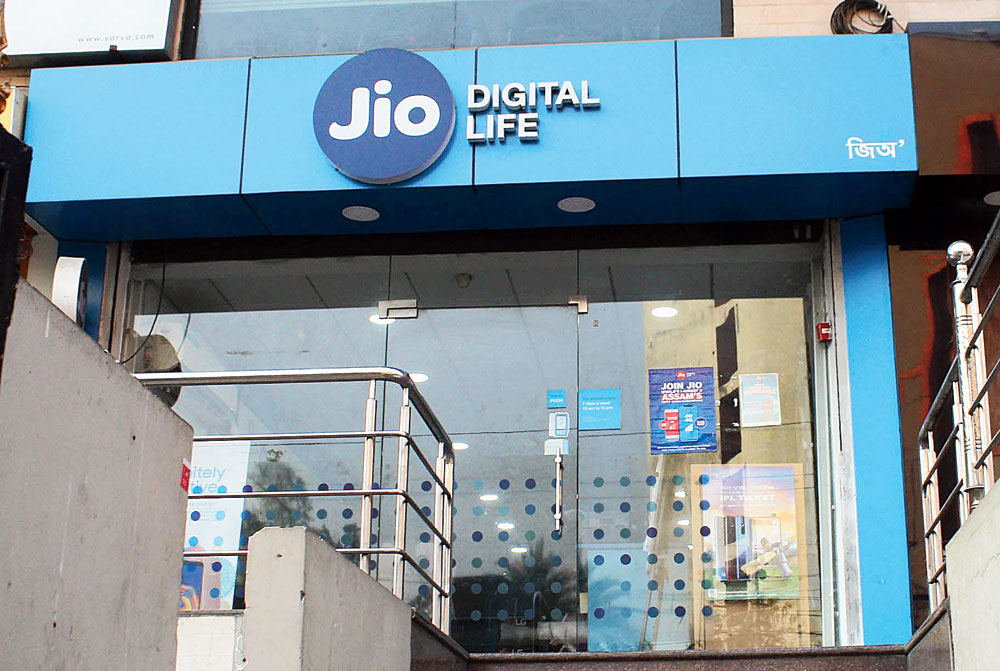 A Jio outlet in Guwahati
Picture by UB Photos
---
Guwahati
|
Published 25.04.19, 07:12 PM
|
---
Assam service area registered the maximum growth in wireless subscriber base of 1.08 per cent nationally in February.
The growth was spurred by Reliance Jio, with Bharat Sanchar Nigam Limited (BSNL) coming second but almost all other service providers showed negative growth.
The total number of subscribers in Assam till February end was 2,24,15,005 with Jio alone accounting for 60,31,027 of them, while BSNL has a total subscriber base of 25,02,807.
A Jio official told The Telegraph, "Jio is the only service provider with dedicated infrastructure in the rural hinterland of Assam. There are 157 Jio Points or local offices, servicing the rural customers across the state. We are also providing local recruitment opportunities to youths in rural Assam."
In February, all service providers together added 2,40,155 subscribers, with Reliance Jio enrolling the maximum number of subscribers at 1,78,647 with a share of 74.38 per cent, while BSNL added 84,248. During this period, the recently-merged Vodafone-Idea showed a decline of 25,537.
"We have achieved this increase in the number of subscribers despite rumours at the beginning of February about BSNL closing down. We scotched the rumours, explaining our strengths at the time and managed to retain people's confidence. BSNL's presence has prevented other service providers from overcharging. Our rates are reasonable and other players have to compete with us," said a source at the BSNL Assam circle office at Panbazar here.
Nationally, Jio added 7,79,3440 wireless subscribers and BSNL added a total of 8,99,866 in February.
However, there is a decline in the number of postpaid subscribers in Assam during the last fiscal year. While there is an increase of 6,84,415 subscribers in the prepaid segment, from 17,02,237 on March 31, 2018, to 23,86,652 on March 31, 2019, there has been a decline of 25,638 subscribers.
The total number of postpaid subscribers declined from 1,99,753 to 1,74,115 during this period.
Interestingly, Assam has an overall circle or state-wise tele-density of 67.22 per cent, compared to the national average of 91.86 per cent, according to a Telecom Regulatory Authority of India report published on April 18.
Assam has the second-lowest tele-density, with Bihar at the bottom of the table at 62.83 per cent. The overall tele-density in India increased from 91.82 per cent at the end of January this year to 91.86 per cent till February end. The monthly rate of growth across India was 0.14 per cent in this period.