Sikkim shutdown to tackle coronavirus
Sikkim had not reported any case of the virus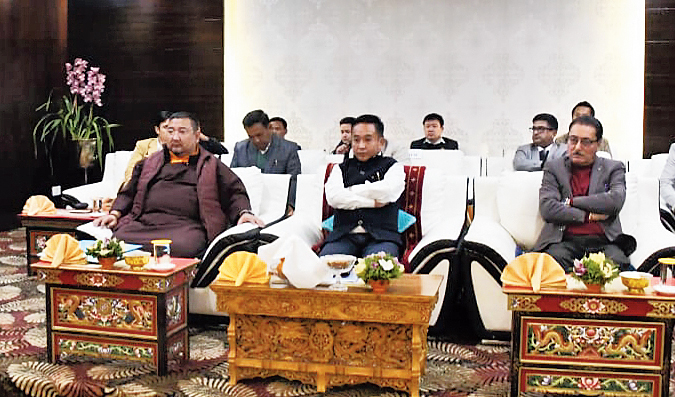 ---
|
Gangtok
|
Published 16.03.20, 09:49 PM
---
The Sikkim government on Monday decided to shut down all government and private educational institutions, cinemas, discos, gyms and casinos, besides extending the bar on the entry of foreign tourists to domestic visitors as well from Tuesday to April 15.
This was among a host of decisions taken at a high-level meeting on coronavirus involving various stakeholders which was chaired by Sikkim chief minister P. S. Tamang in Gangtok.
At the meeting, some other decisions were taken, which include setting up of task forces at state and district levels, procurement of testing equipment and emergency medicines, shutting down of three entry points to the state barring Melli and Rangpo and setting up of isolation wards at different locations.
An official release issued by the state said the chief minister expressed relief that Sikkim had not reported any case of the virus, but emphasised the need to remain vigilant.
"The chief minister appealed to the people of Sikkim to support the decision of the government. He said that life and health of people of Sikkim comes above all else," said the release.
The state's health department has also requested the students studying outside the state to fill up self-declaration forms at the check posts on their return home.
"The parents are requested to monitor the health status of their children for the symptoms of Covid-19 and ensure that they avoid social gatherings. If any symptoms develop over that course of time, we request you to inform the nearest facility or call our helpline no. 104," said sources at the department.
In Bengal, the North Bengal State Transport Corporation decided to take precautions to protect passengers. The NBSTC will put a notice on every bus which says any passenger suffering from cold, cough and fever should consult a doctor before travel.
"We want to keep each bus clean and sanitised. Also, the drivers and conductors would be provided with masks and gloves to avoid any infection during travel," said Dipankar Dutta, the divisional Manager of NBSTC in Siliguri.
At the North Bengal University, the authorities were busy in handling another problem.
"The final exams of the undergraduate courses are scheduled to commence on April 7. But we have come across some fake notices which are being circulated in the social media and mention that the exams have been cancelled due to coronavirus infection. We want to reassert that there hasn't been any change in the exam schedule. A complaint has been filed with the cybercrime police station to take steps against those who have posted such fake notices," said Debashish Dutta, the controller of examinations at NBU.
In North Dinajpur, a woman of a village on the outskirts of Raiganj town, was admitted to Raiganj Government Medical College and Hospital on Sunday after she showed suspected symptoms of coronavirus infection.