Sikkim parties rue lack of exemption
Amit Shah had said that the amended Citizenship Act will not be extended to Sikkim without the consent of the state Assembly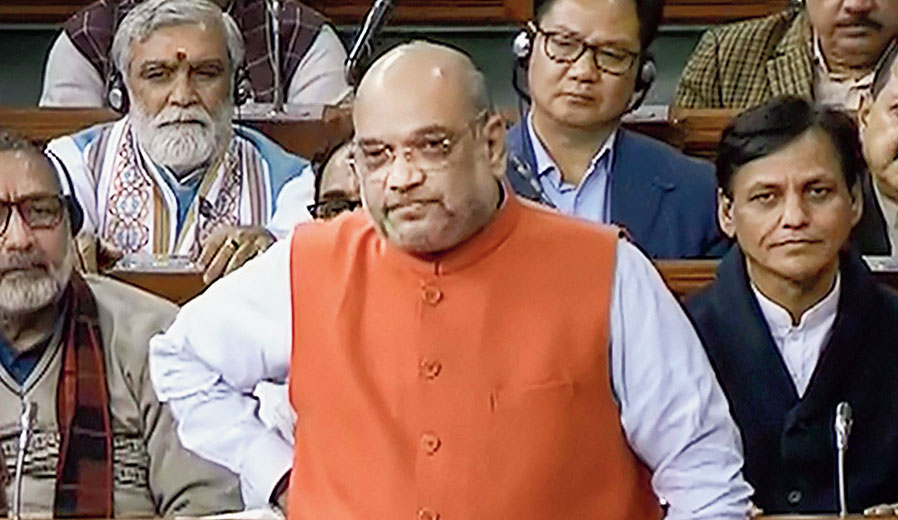 ---
|
Gangtok
|
Published 13.12.19, 09:07 PM
---
Opposition parties in Sikkim have expressed their dissatisfaction with the Himalayan state being denied exemption from the Citizenship (Amendment) Act, 2019, on the basis of the special Constitutional status enjoyed by it, and said they were not willing to accept the assurance given in this regard by Union home minister Amit Shah.
The Sikkim Republican Party (SRP), Hamro Sikkim Party (HSP) and the Sikkim Sangram Parishad (SSP), were unanimous in their views that the denial of exemption would dilute the special status enjoyed by Sikkim under Article 371F of the Constitution since the state had already had its own law on citizenship.
Union home minister Amit Shah had said in the Lok Sabha on Monday that the rules of the amended Citizenship Act will not be extended to Sikkim without the consent of the state Assembly since Article 371F provides special protection to the state. Sikkim chief minister P.S. Tamang (Golay), whose party voted against the Bill in the Lok Sabha, had expressed his gratitude to Shah for his assurance.
The opposition parties, however, contended that Shah's assurance would be reduced to finding a mention in the proceedings of the Lok Sabha since they had not been reflected in the Act.
"Our demand is whatever the home minister said in Parliament must find mention in the Act. If Sikkim is not excluded (from the purview of the Act), it will open the door for influx, from which Sikkim is already reeling," said Bhaichung Bhutia, the leader of the HSP.
K.B. Rai, the president SRP, said apart from Inner Line Permit, there were two other options for Sikkim to get exemption from the Act.
They, according to him, are: granting Scheduled Tribe status to all left out Nepali-speaking communities, which would turn Sikkim into a tribal state, and second; invoke clause f of 371F and reserve seats in the Assembly for all Nepali-speaking communities.
"If the Sikkim government moves ahead with these three options (in order to secure an exemption), we will all come together in its support," assured Rai.
Kamal Rai, the senior vice-president of SSP, said his party and the HSP would jointly approach the Union government and the President of India to secure an exemption.
"If those efforts fail, we are ready to knock at the doors of the Supreme Court," he said.