PIL in high court on Assam Accord
The petitioner thinks that the judiciary is the last resort for the people of Assam to make the historic Accord a "reality"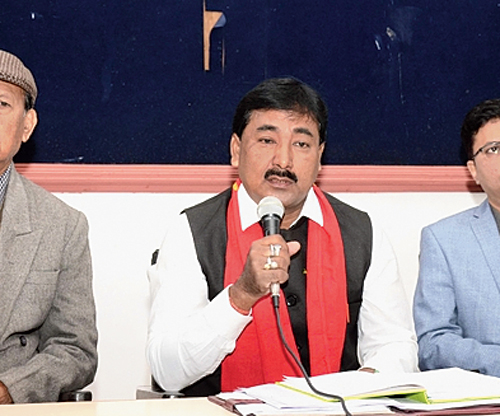 ---
|
Guwahati
|
Published 22.12.19, 08:10 PM
---
Amid the state-wide outcry against the Citizenship (Amendment) Act, 2019, which allegedly violated the Assam Accord, activist Sunil Rajkonwar filed a public interest litigation (PIL) before Gauhati High Court on Saturday, seeking the court's intervention in implementing the Accord in its true "letter and spirit".
The petitioner is of the view that the judiciary is the last resort for the people of Assam to make the historic Accord a "reality".
While the Accord identifies anyone who entered Assam before March 25, 1971, as an Indian citizen irrespective of his/her religion, the CAA seeks to grant citizenship to non-Muslims from Bangladesh, Pakistan and Afghanistan who entered India till December 31, 2014.
"The Assam Accord was signed in 1985 and even after more than three decades, it has not been implemented in its true spirit. Several political parties have ruled at the Centre and in the state, but no one has taken concrete steps to implement it. The BJP also came to power by promising the implementation of the Accord in letter and spirit, but now has taken a U-turn. The people of Assam now trust no party and their promises and that is why I filed the PIL," Rajkonwar said.
He has filed the PIL on behalf of a socio-cultural group named NE Hope. Rajkonwar, a former AGP member, is president of the group.
Besides seeking the court's intervention in directing the Centre to implement the Accord in totality, the PIL also prayed for the court's direction in granting inner-line permit (ILP) to Assam and total reservation of indigenous people in all government jobs.
Rajkonwar added: "In the PIL, we also demanded the court's direction for 100 per cent reservation of indigenous people in the Assembly, Lok Sabha and Rajya Sabha seats. We also sought cent per cent reservation of locals in panchayats and all central and state government jobs. "
Hitting out at chief minister Sarbananda Sonowal and AGP leaders in the ministry, Rajkonwar added: "All of them are products of the Assam Accord who became the state's leaders by assuring to implement it. Prime Minister Narendra Modi had also promised that he would deport all infiltrators but today instead of doing so, they are all up for granting citizenship to illegal settlers. Has the PM forgotten his promise?"
In 2014, during an election rally in Bengal, Modi had said illegal "Bangladeshis" would be deported if he came to power.
"You can write it down. After May 16, these Bangladeshis better be prepared with their bags packed," Modi said in Serampore in Bengal, which shares a porous border with Bangladesh.
The high court is likely to take up the PIL in the first week of January.