Mizoram CM backs protests, bandh against Citizenship Bill
Zoramthanga says Bill harmful to states like Mizoram, where there is a large number of illegal Buddhist migrants from Bangladesh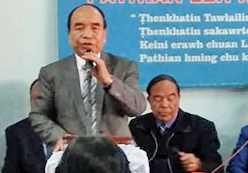 Zoramthanga in Aizawl on Monday.
(Henry L. Khojol)
---
Aizawl
|
Published 07.01.19, 08:21 PM
|
---
Mizoram chief minister Zoramthanga on Monday said the state government is strongly against the Citizenship (Amendment) Bill, 2016, and extended support to Tuesday's bandh in the Northeast called by the North East Students' Organisation (Neso) in protest against the Centre's bid to pass the bill in Parliament.
Addressing an inaugural programme of the party office here on Monday, Zoramthanga said the Mizo National Front (MNF) had been opposing the bill from the very beginning. He said the bill is an attempt to make illegal migrants eligible for Indian citizenship on the basis of religion.
The bill, Zoramthanga alleged, was against the principle of secularism and if passed, would be "harmful" to states like Mizoram where there is a large number of illegal Buddhist migrants from Bangladesh.
"We extend support to Neso and its members including the Mizo Zirlai Pawl (MZP) for calling a 12-hour strike in the Northeast on Tuesday to protest against the Centre decision to get the bill passed in Parliament," he said.
The Young Mizo Association (YMA), Mizoram's largest civil society organisation, also extended support to the MZP on the statewide total shutdown on Tuesday to protest against the bill. A statement issued by the organisation said it had strongly opposed the proposed bill "which seeks to grant citizenship to many foreigners".
The organization also said it had written to Prime Minister Narendra Modi and Union home minister Rajnath Singh informing them of its strong opposition to the bill.
CM's claim: Zoramthanga said Socio-Economic Development Policy, the state's flagship programme, would be implemented to cover every citizen.
He said ownership and transfer of land would also be implemented properly in accordance with the Mizo Peace Accord and power conferred by the Centre. Zoramthanga said that his government was acting swiftly to fulfil its poll promises.
He said his government had closed nine liquor shops run by government agencies and declared days between December 21, 2018 and January 14, 2019 as "dry days" to impose total prohibition.
As for privately run liquor shops, he said a legislation had to be passed in the Assembly and the state government would extend the period of dry days if necessary.
Zoramthanga that his government had also begun road repairs across the state.
He said his government would take massive effort to usher in speedier development.