5,000 members and senior leaders switch from Sikkim Democratic Front to Golay party
The new entrants were welcomed to the SKM by party president and chief minister P. S. Tamang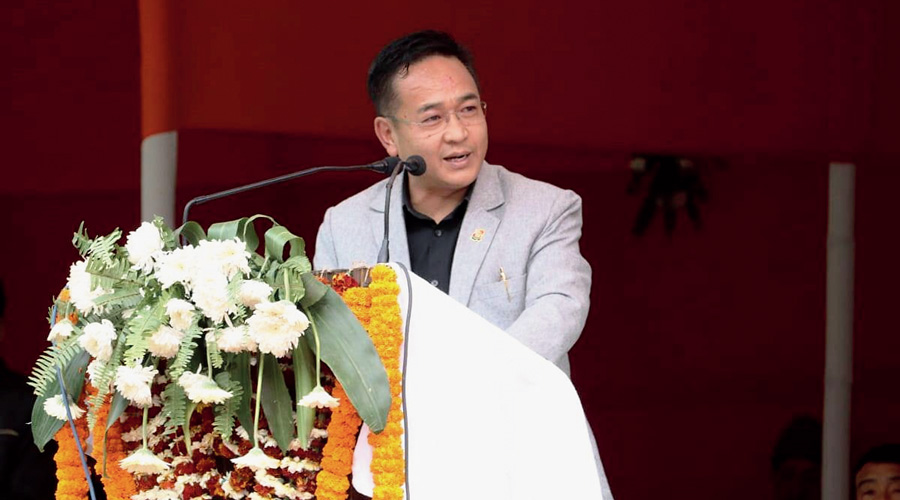 ---
|
Sribadam
|
Published 24.02.21, 01:29 AM
---
The opposition Sikkim Democratic Front received a massive jolt when about 5,000 members and senior leaders shifted their allegiance to the ruling Sikkim Krantikari Morcha at a mass joining programme here on Tuesday.
The new entrants were welcomed to the SKM by party president and Sikkim chief minister P. S. Tamang (Golay) by offering them khadas. Among the senior SDF leaders who switched to the SKM included vice-president (organisation) and former minister O.T. Lepcha, former minister Menlom Lepcha, former advisor of the urban development department Sher Hang Subba and former chairperson of Sikkim OBC Board and women's leader Bina Rai.
Golay said his party believed in turning foes into friends and not vice-versa. "Our party believes in inclusive politics. All those, including very senior SDF leaders, joining us today are doing so because they agree with the SKM ideology," he said.
The SKM president also tried to allay fears of old SKM workers that they would be sidelined because of the induction of the SDF leaders and activists.
"I want to appeal to our party workers to understand that they have not come to take your place. They are not here to score a goals, but to provide you with assists," he said, using a football analogy.
Such a large-scale switch of SDF activists to the SKM had not taken place since Golay's party had come to power in May 2019. While the SKM has been on the ascendancy since then, the SDF has been fast losing ground to its rival.
All the former senior SDF leaders who spoke at the programme said they were left with no choice but join the SKM because SDF president and former chief minister Pawan Chamling had completely disappeared from the scene.
"I as vice-president of the SDF am clueless as to where he (Chamling) is. He has disappeared. This left us with no choice but to join the SKM which has welcomed us with open arms," said O.T. Lepcha. No SDF leader could be contacted for reaction.