Meghalaya lists more than 100 disputes across the inter-state border with Assam
Heat on Assam police, govt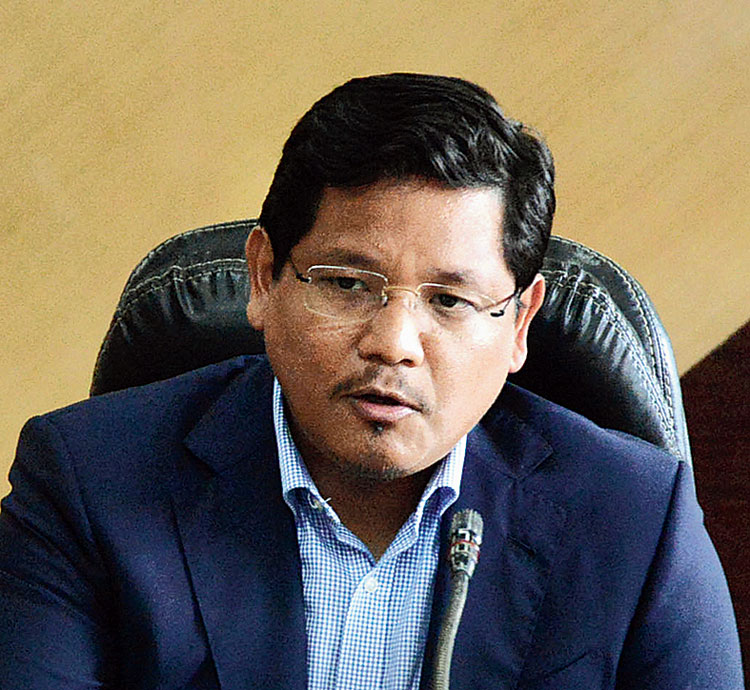 Conrad K. Sangma
Telegraph file picture
---
Shillong
|
Published 21.05.20, 11:25 PM
|
---
Meghalaya has reported more than 100 disputes across the inter-state border with Assam in the last few years ranging from harassment by Assam police personnel to raising of illegal construction.
This was informed by chief minister Conrad K. Sangma during Question Hour on the second day of the reassembled budget session on Thursday.
Replying to queries raised by legislator S.K. Sunn, Conrad said the total length of the boundary shared between Meghalaya and Assam is 884.24km.
Giving a break-up of disputes, which occurred along the inter-state boundary, the chief minister stated that 30 disputes were reported from West Khasi Hills, 55 from West Jaiñtia Hills, 18 in Ri Bhoi, and three in West Garo Hills.
These disputes, reported between 2009 and 2020, include harassment to inhabitants by Assam police, intrusion into Meghalaya territory, arrest of labourers, erection of boundary pillars by Assam, encroachment by Assam, destruction of boundary pillars, and stoppage of development work by the Assam government.
On the areas of differences between the two states, the chief minister said there were 12 such areas, but he could not provide the list of such areas as sought by the legislator.
Legislator Nujorki Sungoh asked the government to provide at least a vehicle to police personnel stationed at Tihwieh village in West Jaintia Hills. He said that the personnel have to borrow vehicles from the Raliang police outpost, which is located 15km from the village.
He also stated that whenever development works were taken up, Assam would always intervene. He urged the government to ensure that Assam does not intervene into the construction of a project located at Psiar village.
Independent legislator Saleng A. Sangma brought to the notice of the government on the alleged encroachment by people from Assam into areas under Tikrikilla by constructing houses.
ICDS delay
Inordinate delay in sanctioning Integrated Child Development Services (ICDS) centres has impacted 10,500 children in 292 villages.
Replying to queries raised by Congress legislator George B. Lyngdoh during Question Hour on the second day of the reassembled budget session on Thursday, social welfare minister Kyrmen Shylla informed that there are 292 villages, each of which require an ICDS centre.
On reasons for non-opening of ICDS centres in the uncovered villages, Shylla said being a centrally sponsored scheme, proposal of additional Anganwadi centres had been sent to the Centre, and the sanction was awaited.
He said the first proposal was sent way back on June 14, 2019. This was followed by reminders on February 12 and March 9, he said, adding till date, there has been no response from the Centre.
Shylla also said the expected number of children to be affected due to the non-availability of an ICDS centre is 10,500.