Jorhat woman weaves Xankardeb's Gunamala
I started weaving the cottage loom in January last year and completed the work this January: Jyoti Bora Dutta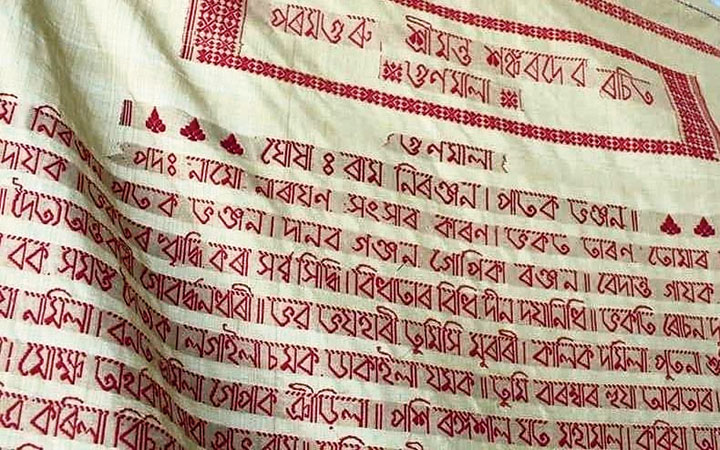 Gunamala woven on the piece of cloth
Pictures by Sanjoy Hazarika
---
Bokakhat
|
Published 23.01.20, 06:37 PM
|
---
"Assamese women weave dreams on their looms," Mahatma Gandhi had said during his first visit to Assam in 1921.
Jyoti Bora Dutta, a housewife from Jorhat, recently achieved her dream of weaving Srimanta Xankardeb's religious book Gunamala, a gist of the Bhagavat Purana, on her cottage loom. Jyoti, a resident of Charingia Bapuji Path under 46 Charingia Gaon panchayat, wove the book's text with toss muga (Assam tussar silk), a special kind of yarn, over a year with great devotion and dedication. The cloth measures 8mx1m and weighs 2kg.
"I find the scripture interesting. I started weaving it in January last year and completed the work this January. I could materialise my dream with the help of my family members," she told The Telegraph.
Her husband, Prabhat Dutta, a retired senior assistant in Upper Assam commissioner's office at Jorhat, checked the spellings of the words weaved in the loom. Her son Anjan, a graduate from ITI Jorhat, helped her by supplying the necessary material while her daughter Ankita, who is doing her graduation in arts, helped her by managing the household chores so that she could devote herself to the loom.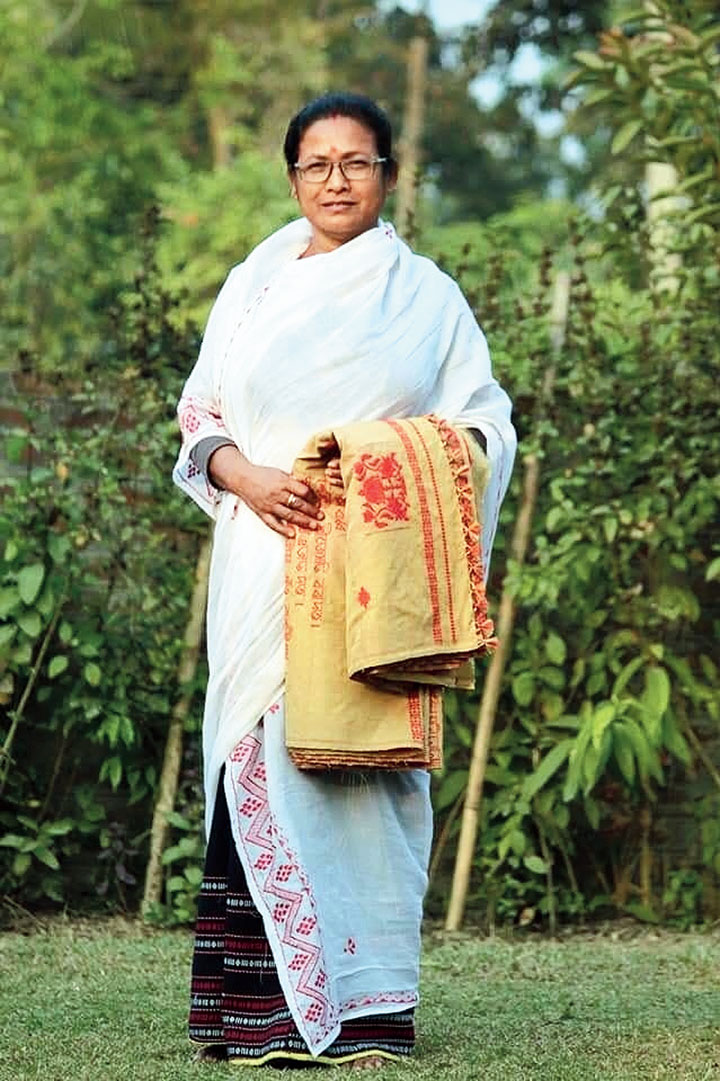 Gunamala, which is extremely popular among the Assamese, was written by the great saint of Assam in one night at the request of Koch King Nara Narayan in 1552. One day, the king asked the pandits in his court to give him in a day a condensed version of all the 10 cantos of the Bhagavat Purana. While the pundits said it was not possible to do so in such a short time, Xankardeb took up the challenge and accomplished the feat in one night, creating an abridged version (handbook) that captured the Bhagavata Purana in racy, rhyming and sonorous verses. He then put the booklet into a small wooden box and painted on it with hengul-haital (yellow and red) an elephant squeezed inside a circle. He called it Bhurukaat Hathi, meaning an elephant squeezed in the lime-pot. King Naranarayana was pleased and honoured Xankardeb.
Monimala Gogoi, assistant teacher at Government Bezbaruah Higher Secondary School, Golaghat, said, "We must salute her dedication, hard work and innovation."
Jyoti, meanwhile, has started on another project. "I am now weaving the names of Xankardeb and Madhabdeb's disciples on one cloth," she said.