Jiten Dutta sent to 14-day jail
Youth leader held for barb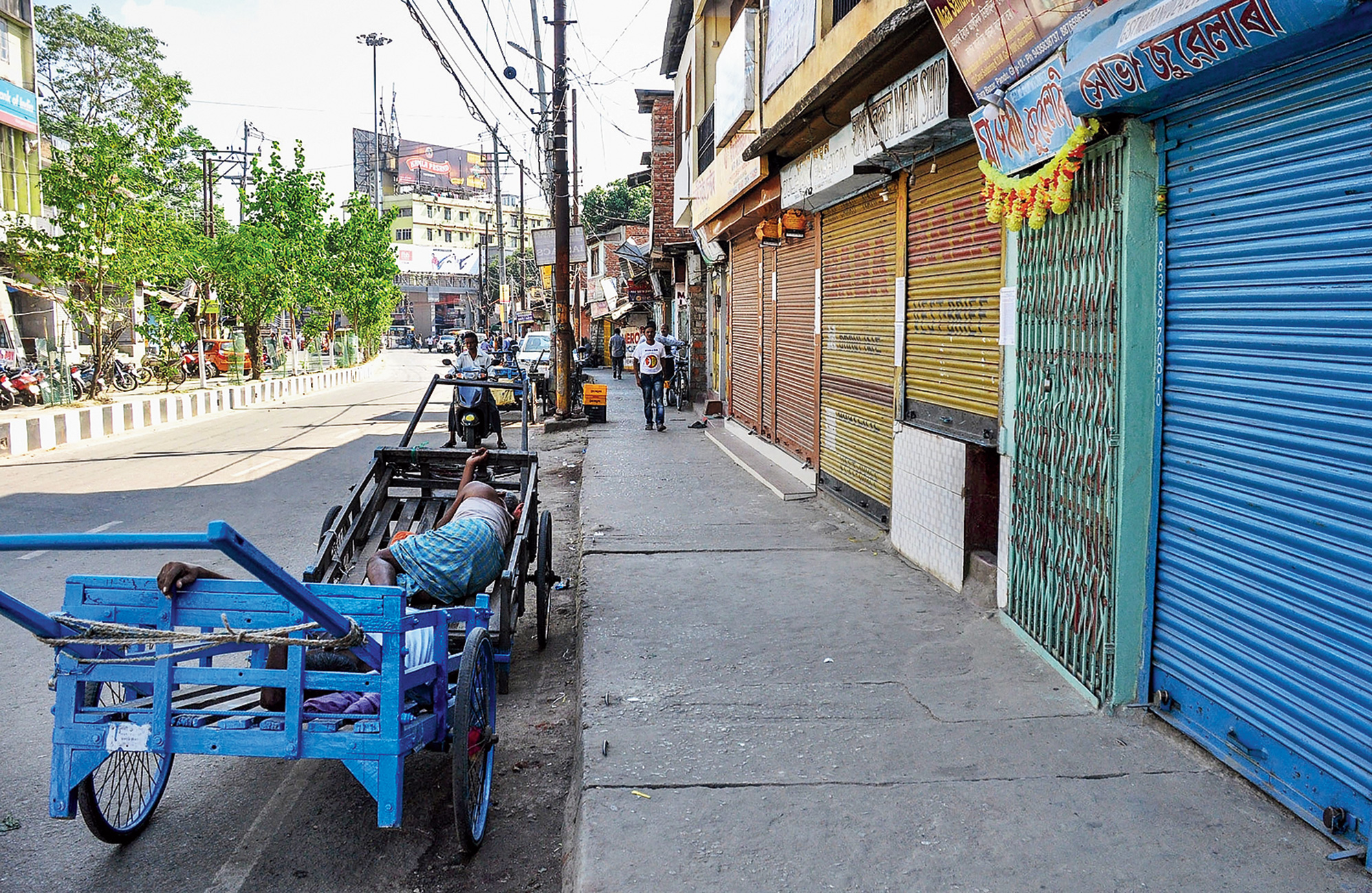 ---
|
Guwahati
|
Published 03.11.18, 06:34 PM
---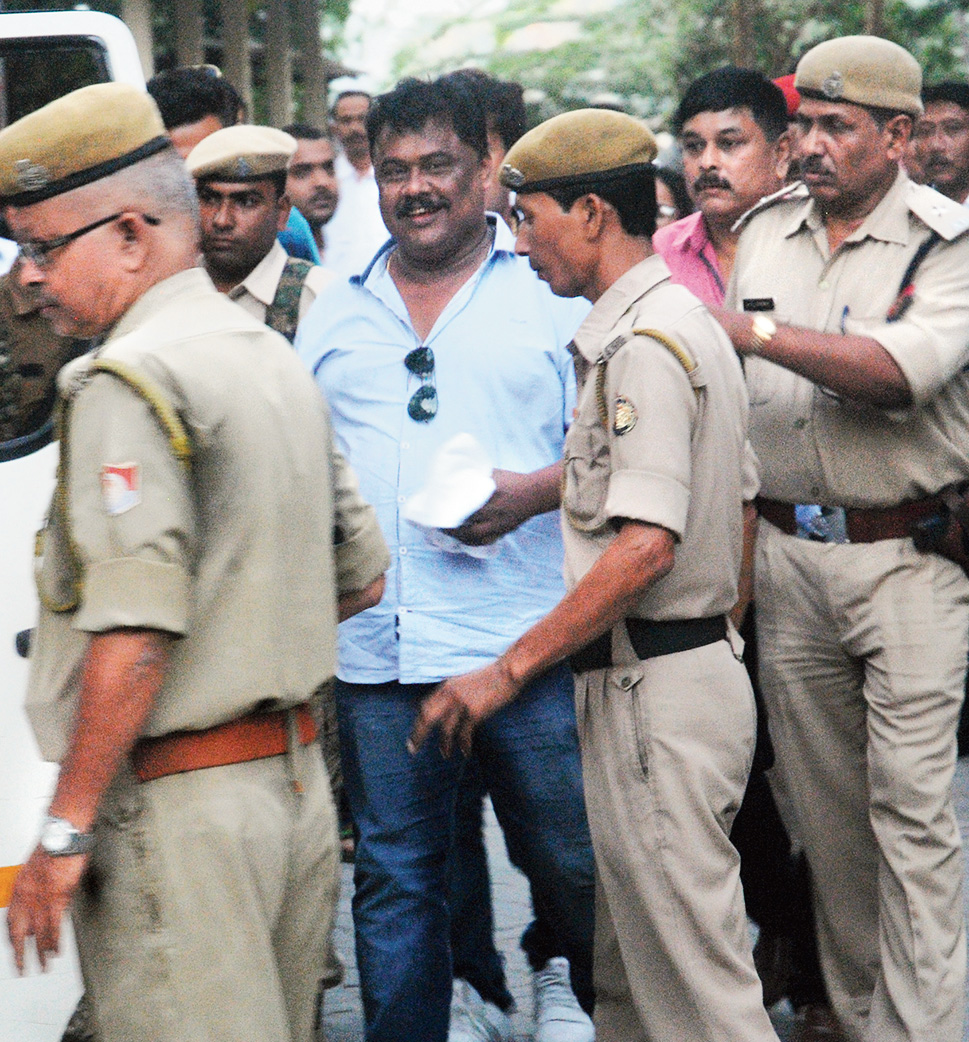 Pro-talks Ulfa leader Jiten Dutta, who was arrested on Friday on charges of making provocative statements, was remanded in judicial custody on Saturday.
Around the same time on Saturday, Sujit Sarkar, the Udalguri district president of the All Assam Bengali Youth Students' Federation, who had filed an FIR against the Ulfa leader, was arrested after he surrendered before the Bodoland Territorial Areas District's inspector-general of police Anurag Agarwal at his Kokrajhar office.
Sarkar had allegedly made an inflammatory statement against pro-talks Ulfa leaders on October 28 in Udalguri after which different groups had lodged complaints against him at various police stations.
A source said the All BTC Bengali Youth Students' Federation filed an FIR against Dutta at Bijni in Chirang district, accusing him of making inflammatory and communally-charged statements at a meeting held at Zoo Road here on October 24.
"Since the venue of the meeting comes under the jurisdiction of Geetanagar police station, the case was registered there based on that FIR," the source said. Dutta, however, said he was not present at that meeting, which was organised by Asom Songrami Mancha here on the Citizenship (Amendment) Bill, 2016.
Dutta was detained in Sivasagar district while he was on his way to Tinsukia and brought to Guwahati late on Friday. He was produced at the court of chief judicial magistrate, Kamrup (metro), here on Saturday evening. Though the police sought his custody for five days, the court turned down the plea and sent him to judicial custody for 14 days.
Advocate Bijon Mahajan appeared on behalf of Dutta.
Dutta was arrested in connection with Geetanagar police station case number 448/2018, registered under different sections of the IPC, including 153 (wantonly giving provocation with intent to cause riot) and 153-A (promoting enmity between groups on grounds of religion, race, place of birth, residence, language, etc, and doing acts prejudicial to maintenance of harmony).
On Saturday, pro-talks Ulfa leader Prabal Neog filed an FIR with Tinsukia police station against Sarkar for allegedly making inflammatory statements against the Assamese community and threatening to kill him.
In the FIR, Neog said, "On October 27, Sarkar made seditious comments, unleashing a communal clash in the state. Through news channels, he threatened to enter my house and kill me. I am terrified on hearing this and as I have surrendered my weapon for the sake of peace, I find my life in danger. I am filing this police complaint so that appropriate action is taken against the accused." After Sarkar's arrest, Kokrajhar police sent him to Tongla police station in Udalguri district in the BTAD, as its police had registered a case against him under Sections 120B, 153A, 53A and 295A of the IPC on the basis of an FIR lodged by the All Assam Students' Union.
Police had arrested another pro-talks Ulfa leader, Mrinal Hazarika, on Friday on similar charges in connection with Geetanagar police station case number 443/2018, which was registered on the basis of an FIR lodged by Mithun Ghosh at Gossaigaon police station in Kokrajhar district.
Hazarika was also remanded in judicial custody after he was produced at the CJM court here on Friday. He had allegedly made an inflammatory speech on October 24 meeting.
Ulfa general secretary Anup Chetia on Saturday asked why was no action was being taken against BJP MLA Shiladitya Dev for allegedly making provocative statements when Dutta and Hazarika were arrested for doing the same. "We hope that good sense will prevail upon the state government," he said.
KMSS leader Akhil Gogoi on Saturday condemned the arrest of Hazarika and Dutta and demanded their unconditional release. He also demanded Dev's arrest.
A meeting of around 70 organisations, held at Sonapur on the city's outskirts on Saturday under the leadership of KMSS and Asom Jatiyatabadi Yuba Chatra Parishad, decided to take up agitation programmes against the citizenship amendment bill across the state in November.
A torch procession was taken out by 23 organisations in Dibrugarh on Saturday, demanding the release of Hazarika and Dutta and arrest of Dev and Sukumar Biswas, president of Bengali Joint Co-ordination Committee.
The organisations include the All Assam Matak Yuva Chatra Sanmilan, Matak Yuva Chatra Parishad, Asom Jatiyatabadi Yuva Parishad, Tai Ahom Yuva Parishad, Tai Ahom Yuva Parishad, Asom Jatiyatabadi Yuva Sanmilan, Asom Yuva Parishad, Bir Lachit Sena, Koch Rajbonshi Yuva Chatra Sanmilan, Ahom Jatiya Gana Mancha. They took out the procession from Chowkidinghee field to Thana Chariali via Phoolbagan, AT Road, HS Road in the town. A team of NIA officials, led by superintendent of police of NIA, Guwahati branch, Bibekananda Das, visited the murder site on Saturday and spoke to the victims' family members. There is speculation that the Centre may order an NIA investigation.
Sources said a four-member delegation of Trinamul Congress will visit the murder site on Sunday and meet the victims' families and district administration officials. The team will comprise Derek O'Brien, TMC parliamentary party leader in the Rajya Sabha, Lok Sabha MP Mamata Bala Thakur, Rajya Sabha MP Nadimul Haq and MLA Mahua Moitra, sources said.
Additional reporting by Rishu Kalantri in Tinsukia and Tejesh Tripathy in Bongaigaon