Implement plans: CPCB to Assam Government
Air pollution, particularly PM10 and PM2.5, has emerged as a "major health concern" in most of the cities and towns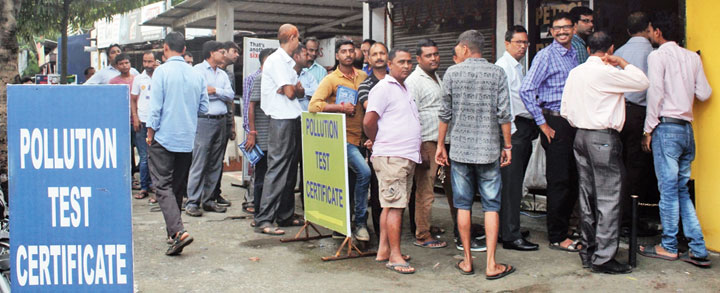 Heavy rush at a pollution certificate centre in Guwahati
File picture
---
Guwahati
|
Published 28.10.19, 06:43 PM
|
---
The Central Pollution Control Board (CPCB) has asked the Assam government to immediately implement the action plans it had submitted to improve air quality in five urban areas.
The CPCB had earlier categorised the five urban areas —Nagaon, Sivasagar, Guwahati, Nalbari and Silchar — as "non- attainment cities" for their failure to maintain air quality standards.
Citing the Air (Prevention and Control of Pollution) Act, 1981, the CPCB, in a letter to Dispur this month, said, "You are directed to implement the city action plans and submit progress report of the same to the CPCB on quarterly basis."
According to the CPCB, air pollution, particularly PM10 and PM2.5, has emerged as a "major health concern" in most of the cities and towns, with air quality reaching to "alarming" levels.
Based on the data for the period 2011-2015 and WHO report 2014/2018, it was found that 102 cities in the country, including five from Assam, failed to meet the prescribed standards and they were categorised as "non- attainment cities."
PM10 and PM2.5 are ultrafine air pollutants. A PM10 is particulate matter 10 micrometers or less in diameter while PM2.5 is particulate matter 2.5 micrometers or less in diameter.
In pursuant to the National Green Tribunal order dated October 8, 2018, all the states and Union territories with non-attainment cities were required to constitute air quality monitoring committee (AQMC).
These AQMC were to prepare appropriate action plans within two months aimed at bringing the standards of air quality with prescribed norms within six months from date of finalisation of the action plans.
Accordingly, the Assam government had submitted their action plans for the five urban areas in July.
These were rejected by the CPCB. About each of the action plans the CPCB had observed, "The plan is not properly prepared. It is general in nature and lacks specificity." It asked the state government to redo the plans.
The government then submitted another set of action plans on September 30 which were approved.
"Air pollution is one of the triggering factors for respiratory ailments and associated diseases. However, there is no conclusive data available in the country to establish direct correlation of death/disease exclusively due to air pollution," said Mahesh Sharma, Union minister for environment, forest and climate change, in February in reply to a question by Assam Rajya Sabha MP Ripun Bora.