IIM Shillong becomes Arunachal's official think tank
Functioning since 2008, the premier institute has also agreed to organise managerial capacity building programs for the state's newly-recruited officers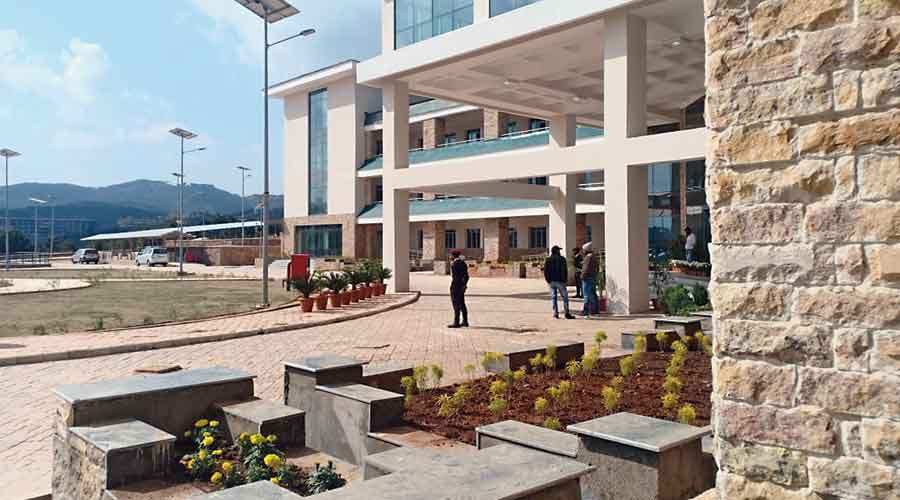 IIM Shillong
File picture
---
Guwahati
|
Published 26.07.21, 01:06 AM
|
---
The Arunachal Pradesh government has signed an MoU with IIM Shillong recognising the premier institute as its "official think tank and knowledge partner".
The MoU was signed on Friday between state chief secretary Naresh Kumar and Prof D.P. Goyal, director IIM Shillong, in presence of chief minister Pema Khandu in Shillong.
This is a first-of-its-kind collaboration between the institute and any state government in the Northeast, a move many feel could see more and more states tap into expert advice/services offered by institutes such as the IIM for holistic development.
According to the MoU, the government of Arunachal Pradesh will recognise Dr APJ Centre of IIM Shillong as an official think tank and knowledge partner of the  government in the frontier state which suffers from connectivity issues and mainly dependent on agriculture.
"IIM Shillong will assist Arunachal Pradesh in developing policies and roadmap for business development in the handloom, horticulture, tourism, logistics and BPO sectors. IIM Shillong will also facilitate the state government in implementing some of its flagship projects by providing critical managerial interventions," the IIM said.
Functioning since 2008, the premier institute has also agreed to organise managerial capacity building programs for the state's newly-recruited officers besides laying emphasis on establishing a satellite or an extension knowledge centre of IIM Shillong in Itanagar, the state capital.
This centre will help impart training to youths for entrepreneurship development and promoting start-up ecosystem, amongst others.
Khandu, who was in Shillong to attend the meeting between home minister Amit Shah and chief ministers of the Northeast on Saturday, has termed the development as "historic".
"Capacity building is the most important aspect of governance and IIM Shillong is the best in the region... This association will make IIM Shillong the think tank of the state government.… I am optimistic the collaboration would pave way for creating a rich human resource which will augment the state's development," Khandu said.
He has invited the IIM Shillong team to visit Arunachal Pradesh in August to "explore" potential areas for policy intervention.
IIM Shillong director said the frontier state's administrators would be trained in public policy and governance starting next month.