Himanta Biswa Sarma harps on birth control
Assam chief minister asks minorities to think of small families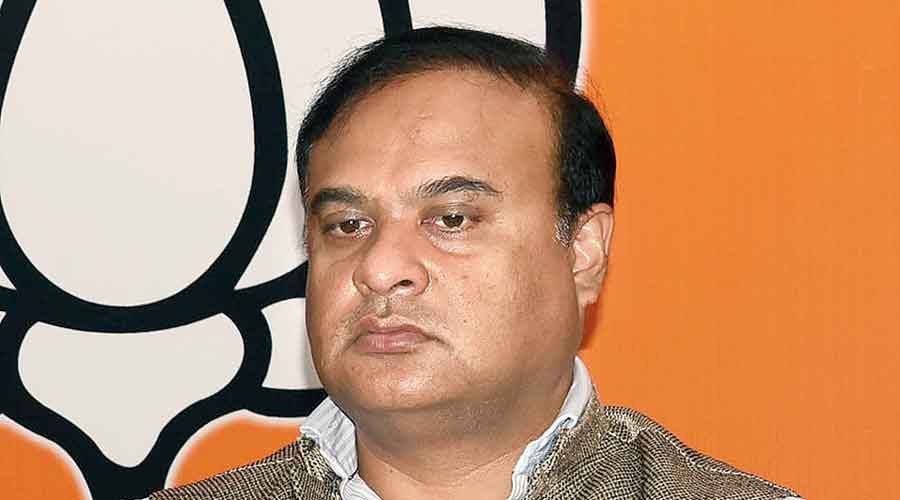 Himanta Biswa Sarma
File picture
---
Guwahati
|
Published 11.06.21, 01:43 AM
|
---
Assam chief minister Himanta Biswa Sarma on Thursday said the state government will soon take "more steps" to encourage population control and sought the help of the minority community in its endeavour.
Sarma made the comments while reacting to the demand by a few organisations to rehabilitate people evicted by the administration from Darrang, Hojai, Sonitpur and Karimganj districts.
The new government completed a month in office on Thursday, and it became clear from Sarma's views that population control will be a priority area of his government.
While justifying the recent eviction drive from government and forest land, Sarma harped on the fact that population growth was the root of many social ills such as poverty and encroachment and these can be checked only if birth control measures are adopted in the right earnest, especially by the Muslim community.
Assam's population growth between 2001 and 2011 was over 17 per cent, which government documents say may become unsustainable in the long run. Sarma also tried to convey the same with his stress on growing population pressure on land and jobs in the absence of industry.
"One section is saying there should be no eviction but we cannot allow people to encroach temple and forest land. I think organisations such as the AIUDF and AAMSU have to think about population control.… Instead of criticising the government, they (critics) should think about how to ensure small family size," Sarma said, making it clear eviction will continue. 
The AIUDF, led by Dhubri MP Badruddin Ajmal, fought the recent Assembly elections as part of the Congress-led mahajot and is often accused by the ruling BJP of espousing the cause of immigrant Muslims while the All Assam Minorities Students Union (AAMSU) is a leading student organisation representing both the religious and linguistic minorities.
Revealing the government's decision to expedite granting of land pattas (documents) to tribal people as "they are protecting our forests", Sarma said: "The Assam government is going to take few more steps which will encourage population control and I want to work with AAMSU and AIUDF on this front."
Sarma said a population policy was already in place and the government would implement it soon.
"We are working on it (population policy) but more particularly we want to work with the minority Muslim community to reduce population, the root cause of social issues such as poverty and encroachment. We can remove these if the immigrant Muslims adopt decent family planning policy. This will be my appeal to them."
Assam's Muslims are estimated to constitute over 34 per cent of its over 3.2 crore population.
Sarma added: "To reduce poverty we have to spread education among Muslim women, control population. We are there to support them (Muslim organisations) in women's education and reducing poverty but that cannot be reduced without controlling population. We are ready to work with them. They have to respect the government's thinking and work accordingly."
The state Assembly had in 2017 adopted the Population and Women Empowerment Policy of Assam. In 2019, the state cabinet headed by Sarbananda Sonowal adopted the two-child norm for government jobs and initiation of action against those with permanent jobs going for a third child. The two measures were to become effective from January 1, 2021.
AAMSU president Rejaul Karim Sarkar welcomed Sarma's appeal. "We are on the same page with government on checking population growth and according importance to the education of Muslim women. Besides education, the government should also improve health and transport in sar (sandbar) and other underdeveloped areas," he said.
Sarkar also appealed to Sarma to undertake a survey and rehabilitate the landless people before carrying out eviction drives.
"According to us there are over 25 lakh people who lost their land due to erosion. They are also Indians and they need to be rehabilitated. We have written a letter to the chief minister seeking to meet him to convey our problems. We hope we will get the appointment soon. We also hope the government implements measures to check population growth soon, " Sarkar said.