Group warns of protest
On Sunday, the Tripura unit of Amra Bangali had held a five-hour sit-in in Kanchanpur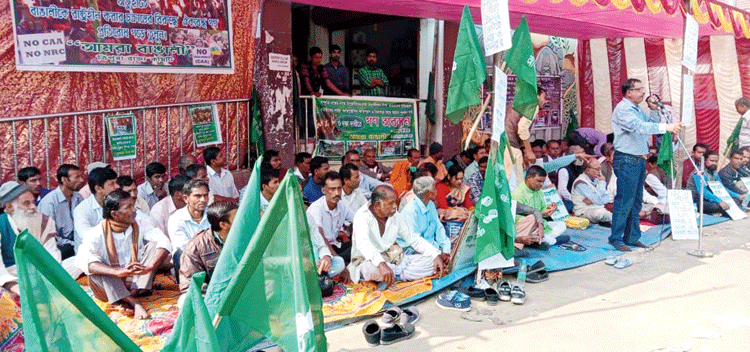 ---
|
Agartala
|
Published 20.01.20, 07:07 PM
---
The Tripura unit of Amra Bangali, a Bengali political party, on Monday threatened a massive agitation if the government doesn't fulfil its demands, including Bangalistan, a separate state for Bengalis, and exemption of the state from the purview of the Citizenship Amendment Act (CAA).
Speaking to The Telegraph on Monday, the party's state secretary, Harigopal Debnath, said, "During the period of insurgency in Tripura, and before that during Partition, a large number of Bengalis were affected. Many were rendered homeless. On December 10 last year, during a protest against CAA in Kanchanpur sub-division of North district, displaced Brus had attacked Bengalis after which some of them shifted to relief camps out of fear. Many people lost their properties but the government didn't take any action against the culprits. To protect the interest of Bengalis, we need a land exclusively for Bengalis, Bangalistan. Bengalis are an integral part of this land and should not leave it at any cost. We shall not let any Bengali be excluded from this land."
Debnath said if the government can fulfil the demands of internally displaced Bru people and settle them in Tripura permanently, then why can it not fulfil the demands of Bengalis who have been displaced.
Debnath alleged that the recent quadripartite agreement signed between the Union, Tripura and Mizoram governments and the Bru refugees to settle them permanently in Tripura was a part of the BJP's vote bank politics to grab Bru votes in the autonomous district council (ADC) election likely to be held in March-April.
He also sought compensation for the Bengali families who had been subjected to "inhuman torture and robbery" during insurgency and during a CAA protest in Kanchanpur sub-division and whose residences were robbed and ransacked by Bru refugees during their initial period in Tripura.
The party opposed the proposal to conduct NRC in the country and the CAA. "The CAA and NRC will divide the people of the country. We condemn these steps of the government," he said.
"If our demands are not met, we will organise a massive protest," he said.
On Sunday, the party had held a five-hour sit-in in Kanchanpur.