Free time? Savour books, films and rustle up dishes
During 21-day nationwide lockdown, many are reviving their habit of reading books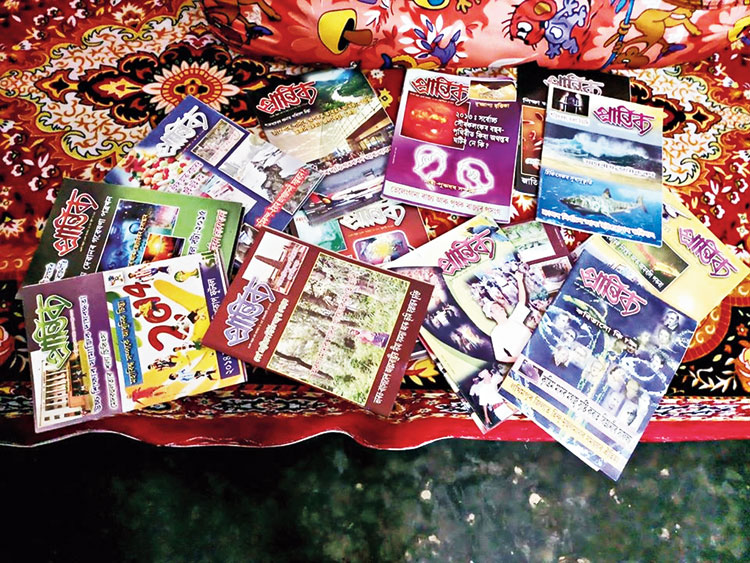 ---
|
Guwahati
|
Published 28.03.20, 07:30 PM
---
Some PDF files are doing the rounds on many WhatsApp groups in Assam. However, they are not government notifications on the coronavirus, but some classics of Assamese literature, which once adorned bookshelves of almost every household.
With people confined within the four walls of their homes during the 21-day nationwide lockdown, many are reviving their habit of reading books.
The shared PDF files include masterpieces like Jyotiprasad Agarwala's Karengar Ligiri, Rajanikanta Bordoloi's Miri Jiyari, Jatindranath Duarah's Bonful, Mamore Dhora Torowal by Mamoni Raisom Goswami, Kokadeutar Har by Nabakanta Baruah, Kathanibarir Ghat by Mahim Bora and Sagar Dekhisa, the sole anthology of poems by Debakanta Baruah, among others. Thrillers by Ranju Hazarika are also on the list.
"I had almost stopped reading books as I could not concentrate for long. But now I have enough time to read Mamore Dhora Torowal in PDF format during the lockdown," said Dwipjyoti Ray, a youth from Bongaigaon district in lower Assam.
Aseemat Jar Heral Seema by Kanchan Baruah has topped the list of favourites for generation after generation since it was published in 1945. Many readers are relishing turning the pages of the Assamese novel.
"It is my all-time favourite. I don't know how many times I have read this book. Since my university is closed, I am re-reading the novel again. I am also reading some old copies of Prantik magazine," said Kaushik Nandan Baruah, a Tezpur University student.
"We are working on a rotational basis. So, I am getting some free time. Books are my best companions while I'm at home. It keeps me refreshed at this time of crisis. Currently, I am wading through pages of Tapan Das's short story collection," said Monikankana Das, a city-based journalist.
Jintu Thakuriya of Cotton University and his friends are engaging in infotainment. "We are enjoining online quiz on WhatsApp. The questions are mostly related to Assam's history, art and culture. It has kept a vagabond like me at home," said Thakuriya.
People are also sharing YouTube links of classic Assamese films on social media.
"After exhausting the collection of Hollywood films on my laptop, I am watching Assamese movies on YouTube. Besides, I am getting adequate time to click photographs. In the last few days, I have managed to click photographs of birds with my long-abandoned camera," said Bhrigu Chakravarty, an accountant with a private firm.
Doordarshan has started telecasting Ramayan from Saturday, which has elated many viewers across the country. "Watching Ramayan is like returning to the 90s. Positive vibes is the need of the hour and this serial provides it," said Diljit Mudoi, a government employee.
Mridusmita Chakraborty, who works with a private FM channel, said, "I am working from home. During my free time, I have started making decorative items out of waste materials. It helps me forget all the apprehensions."
Joyshree Choudhury, a businesswoman from Abhayapuri in Bongaigaon district, said, "At this point of time, it is important to stay at home. I cook my family's favourite dishes. I am also giving sometime to gardening and scribbling my thoughts in my notebook."
However, shortage of vegetables and food items has emerged as a major challenge in her cooking plans, she said.
"It is a crucial time for all of us but it is also necessary to keep our minds fresh during this period," Joyshree added.