First-time voters hold trump card in Meghalaya
The first-time voters constitute about 4.06 per cent of the total electorate in Shillong and Tura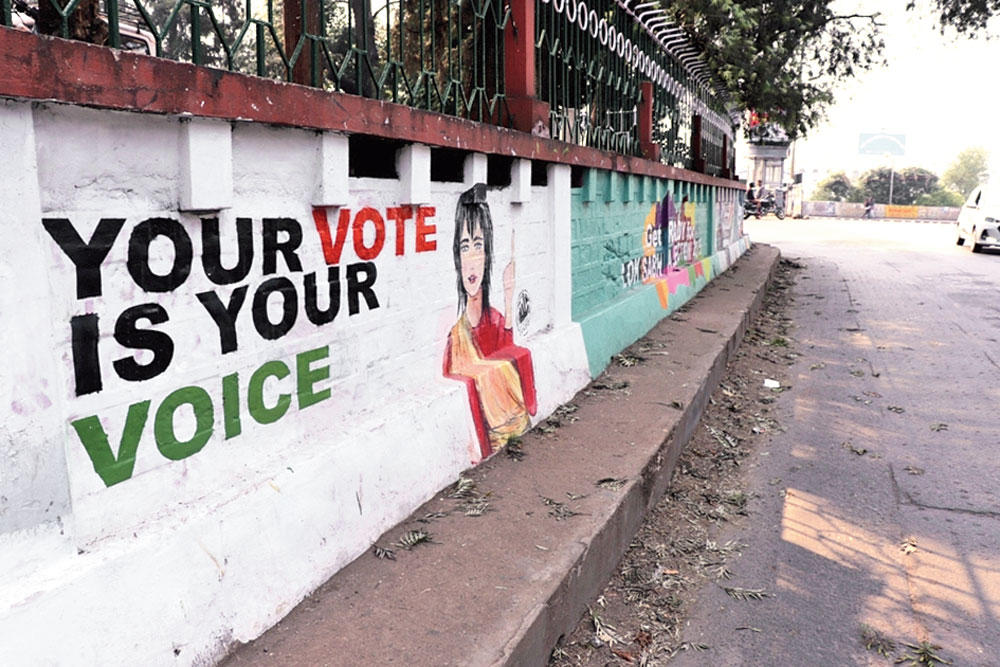 Wall graffiti in Shillong to encourage young voters
A Telegraph picture
---
Shillong
|
Published 24.03.19, 06:41 PM
|
---
First-time voters will play a decisive role in the electoral outcomes of aspiring parliamentarians from Meghalaya in this year's Lok Sabha polls.
There are 76,782 first-time voters registered so far, out of 18,92,716 enrolled voters, Meghalaya chief electoral officer F.R. Kharkongor said on Sunday.
Of the 18,92,716 voters, 9,56,137 voters are females.
The first-time voters constitute about 4.06 per cent of the total electorate in Shillong and Tura parliamentary constituencies, he said.
Under Shillong parliamentary seat, there are 11,82,725 voters while the number of electorate in the Tura Lok Sabha constituency is 7,09,991.
However, the figure of 18,92,716 is likely to increase, and could touch 19 lakh, Kharkongor added.
The number of voters this year has gone up by 3,26,896, compared to the 2014 Lok Sabha polls where there were 15,65,820 voters.
The country has over 130 million first-time voters in the Lok Sabha polls.
The Election Commission and officials are deploying various means to motivate these voters.
Kharkongor said roadshows have been held in all the major traditional markets under Shillong parliamentary seat while roadshows have been planned to cover the major areas of Tura constituency.
The election office is also trying to engage with the voters through animation arts, graffiti, music and through social media especially Facebook and WhatsApp.
Kharkongor said animations are now being played in movie halls.
"We are trying to use animations, music and audio-visual clips to engage the voters, particularly the young ones, as nearly everyone has a smartphone. It is contemporary and the young feel it is more trendy," he said.
He said traditional publicity and hoardings do not engage the voter or citizen to the extent desired. He added that two citizen engagement programmes will be held in Shillong and Tura to engage the voters in general and young voters in particular.
In the run-up to the 2014 Lok Sabha polls, various programmes were organised to educate and encourage voters. The state had then registered a voter turn-out of 68.8 per cent, higher than the national average turn-out of 66.44 per cent.
As the state prepares to vote on April 11 across 60 Assembly segments, election officials are hoping that there would be a higher participation of voters in deciding the fate of aspiring parliamentarians.