Fancy Bazar sealed after Covid-19 case
At least 10 direct contacts of the infected person have been isolated: Assam health minister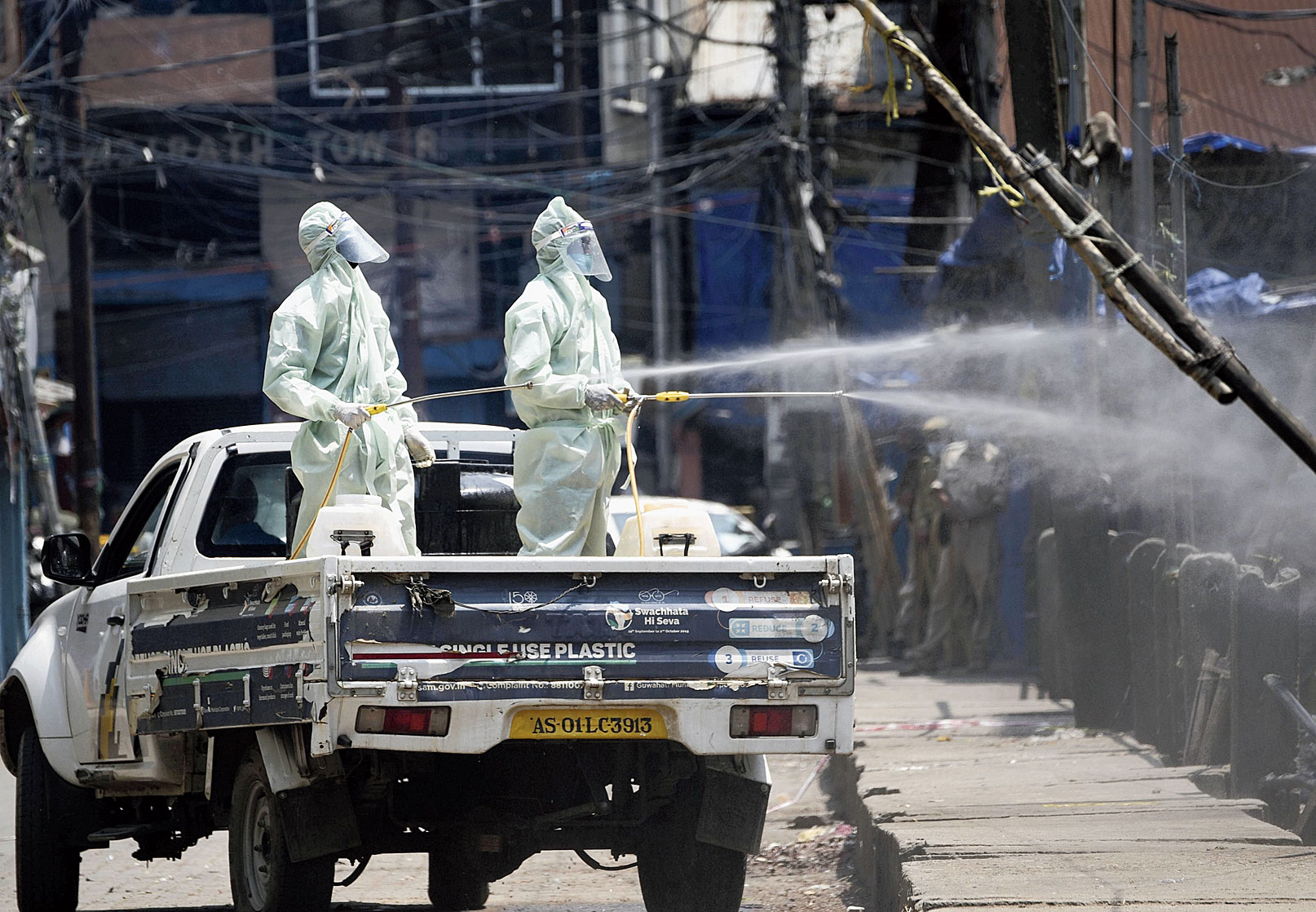 Municipal workers sanitise an area at Fancy Bazar in Guwahati on Tuesday.
(PTI)
---
Guwahati
|
Published 12.05.20, 07:45 PM
|
---
The biggest business hub in the Northeast, Fancy Bazar, was hit by Covid-19 after a worker of the locality here tested positive on Monday night, affecting business activities in the region.
Following the easing of the lockdown regulations, Fancy Bazar, like always, was serving as the prime transit point for distribution of essential supplies and food stocks for the region.
Assam health minister Himanta Biswa Sarma said, "At least 10 direct contacts of the infected person have been isolated. Besides, swab samples were also collected from 19 others, including a doctor."
The 50-year-old patient, a migrant worker from Azamgarh in Uttar Pradesh, was residing at a hotel in the area. Immediately, the Kamrup (metro) district administration declared the area around the hotel as a containment zone.
According to the district administration, the containment zone spreads from MG Road in the north to Tarun Ram Phukan Road in the south, SRCB Road in the east to MS Road on the western side.
After the latest Covid-19 case, the city now has six containment zones, including three in Gauhati Medical College and Hospital (GMCH), where two doctors tested positive earlier. The staff colony of B. Borooah Cancer Institute and Amiyo Nagar in Chandmari have also been declared as containment zones.
Taking no chances, the district administration also decided to shut down all activities at the municipal market complex in Fancy Bazar.
An order from the administration said, "As the entrance of Guwahati Municipal Corporation market complex falling under the Tarun Ram Phukan Road, which is within the notified area of the containment zone, hence, to curb the spread of Covid-19 strains in the busy market complex area, entire activity in the market complex is hereby prohibited with immediate effect from today till the notification of containment zone is in force." (sic)
The district administration has ordered that all statutory and other directions regarding maintenance of social distancing will be strictly enforced in the sealed area.
A potato godown located at Changsari in lower Assam's Kamrup district, where the worker had visited recently, was also declared a containment zone.
Following the sealing of the market, consumers and traders seemed worried about the supply of essential commodities.
However, the district administration informed that it had 73,795 quintals of rice, 93,830 quintals of pulses, 6,000 quintals of potato and around 5,000 quintals of onion in stock.