Delhi minister faces protest over ILP
Centre boost to education in region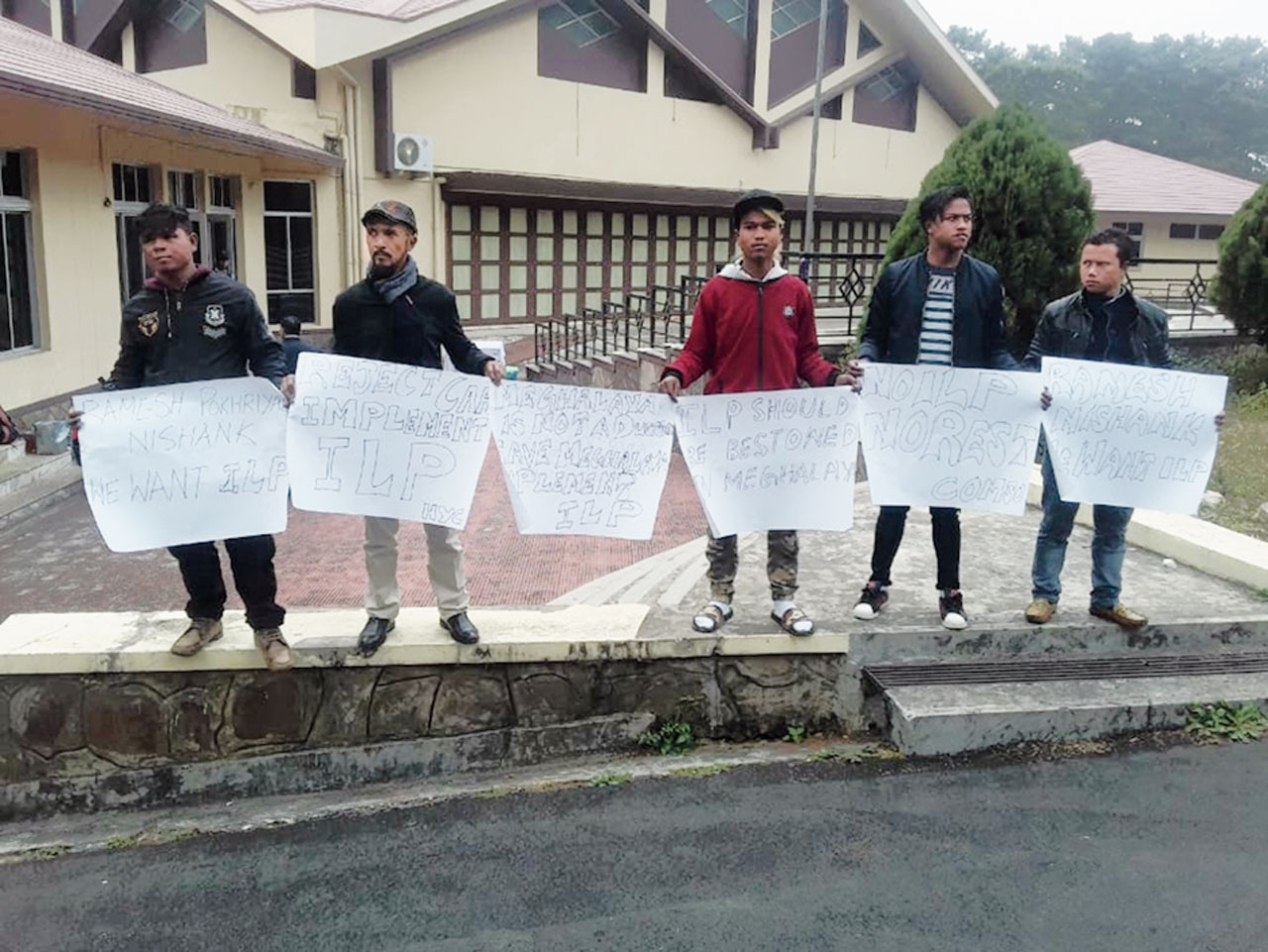 ---
|
Guwahati
|
Published 14.02.20, 08:10 PM
---
Union human resources development minister Ramesh Pokhriyal "Nishank" inaugurated five education centres in Meghalaya on Friday and faced protests by pro-inner-line permit groups in Shillong.
Pokhriyal visited North Eastern Hill University (Nehu) at Mawlai Umshing here and inaugurated Anath Ashram Secondary School, a language lab under the Rashtriya Uchchatar Shiksha Abhiyan and three incubation centres on its campus. He e-inaugurated the incubation centres, including an agri-business clinic, at the central university's Tura campus.
State education minister Lahkmen Rymbui, Nehu vice-chancellor S.K. Srivastava, senior state government officials and heads of several higher education institutions in the state were present.
"These centres will help Meghalaya in education and agriculture," Pokhriyal said.
He urged Nehu to take the leadership in educational, economic and social development of Meghalaya. He said the region's youths are honest and talented and the government is working to ensure their proper training through skill-development schemes. He emphasised the need to strengthen local economy by promoting local products. He encouraged global marketing of products produced by Indian entrepreneurs. He focused on Make in India initiative.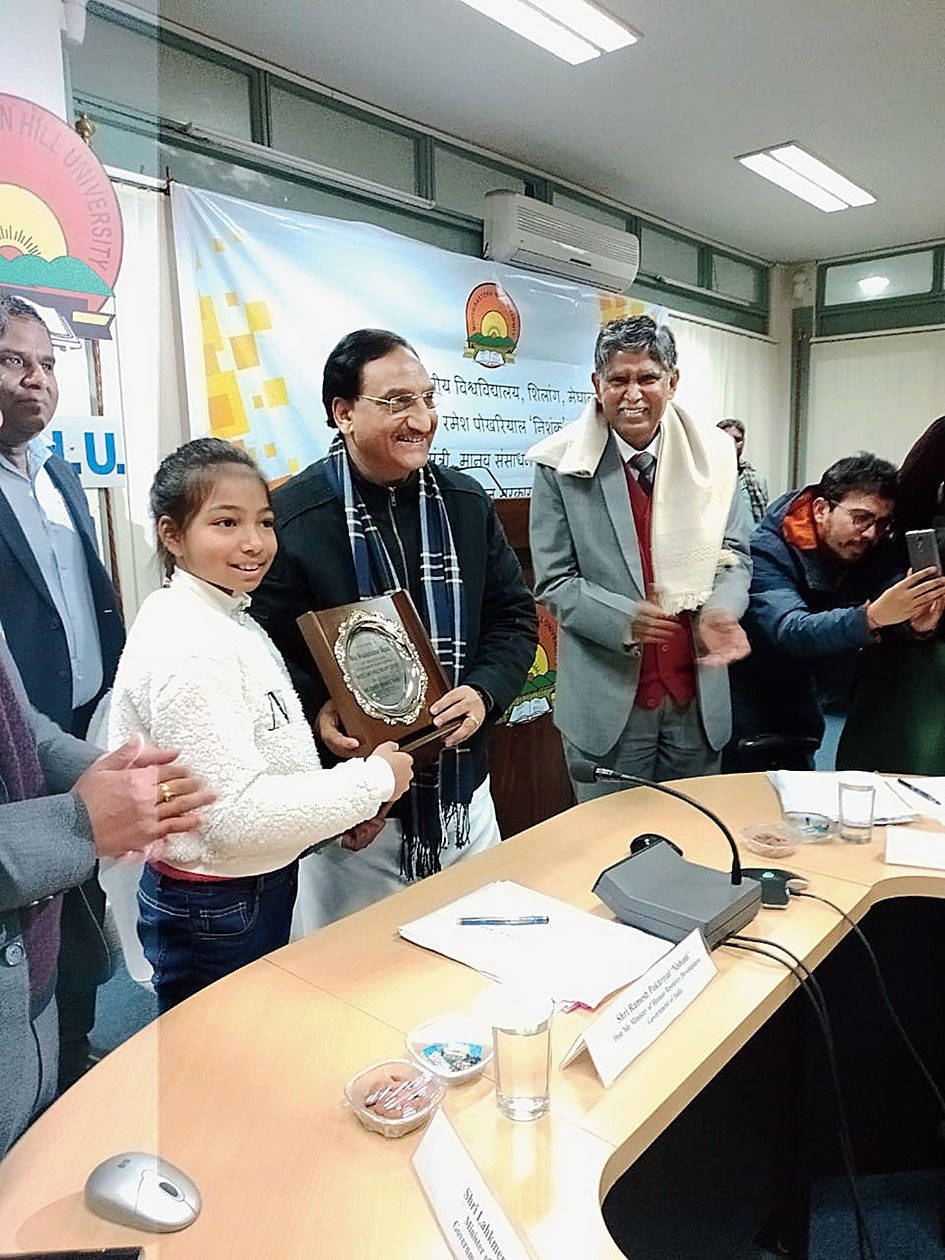 He presented an appreciation certificate and memento to Meaidabahun Majaw, a class IV student from Shillong, who has developed an anti-bullying mobile application.
Later, Pokhriyal, accompanied by Rymbui, met senior officials of the state education department and heads of higher educational institutions and discussed implementation of government schemes. He also visited National Institute of Technology's temporary campus at Laitumkhrah here.
During his visit to Nehu and NIT, activists of the Confederation of Meghalaya Social Organisation raised placards, demanding implementation of ILP. However, their attempts to march close to the function venue were foiled by security personnel who stopped them and took away their banners and placards.
Interacting with students in a session, Yuva Sambad, organised by the Central Board of Secondary Education, he emphasised on stress-free education. He urged students to prepare for a stronger tomorrow and contribute to the nation's development.
In Guwahati, Pokhriyal inaugurated Estate Building at IIT Guwahati and NRL Centre of Excellence for Sustainable Materials. At IITG, he urged students and researchers to focus on innovation and research and Make in India so that the country can shine in the world. He dedicated to the nation some technologies developed at IITG like 'Magic box' multi-diagnostic kit to provide affordable healthcare, portable bacteria detection kit, the method for removal of fluoride, iron, arsenic and microorganisms from contaminated water, a non-invasive therapeutic option for treatment of Alzheimer's disease and low-cost milk testing kit.