Student volunteers combat coronavirus scare in Assam
Mask-is-must campaign initiated in tinsukia district forest village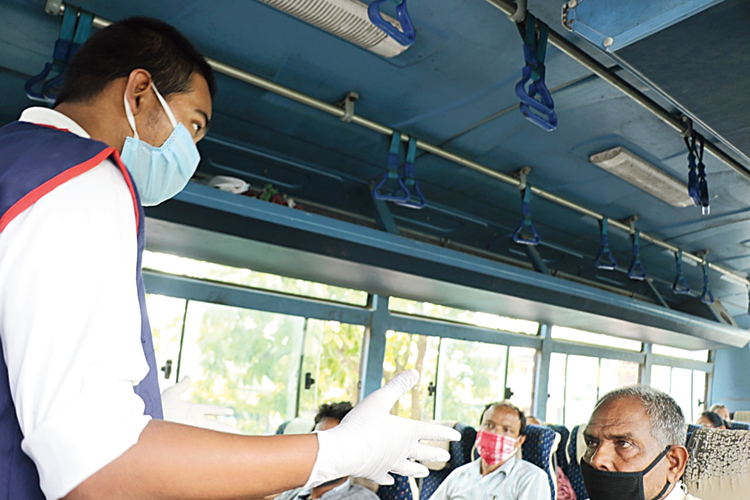 A student volunteer speaks on the importance of precautions in a bus.
Picture by Manoj Kumar Ojha
---
Doomdooma
|
Published 17.05.20, 07:51 PM
|
---
Efforts are under way to ensure that a remote forest village in Assam becomes the first such habitation where the entire population wears masks.

The student volunteers of the National Service Scheme (NSS) have launched a "Mask is Must" campaign in Tinsukia district of Upper Assam to prevent coronavirus infection in the remote villages.
They have initiated voice call messages to various villages through audio WhatsApp in Assamese, Hindi, Bengali, Nepali and Adivasi.
The students also spread messages through audio-visual short clips, YouTube channels, Facebook and other social media. Moreover, they also produced several educative animations and dramas from home, generating awarenesss among viewers across Assam.
The NSS unit of Digboi College in Tinsukia district also participated in the "Mask is Must" campaign with the Margherita subdivisional administration for two days at Digboi.
The NSS student volunteers were engaged as Covid-19 warriors to keep an eye on those who were not wearing masks and telling them why it is important.
They washed the passengers' hands through remote hand-washing machine provided by the Digboi town committee. Free masks provided by the Rotary Club of Digboi were distributed among passengers at the ASTC bus stops.
The entire drill was conducted keeping social distancing in mind.
The NSS student volunteers of Digboi College also drew circles at bus stands, shops, banks and ATMs for maintaining social distance norms. A team of 11 student volunteers took these initiatives to ensure that people observe safety regulations.
On Friday, a door-to-door campaign with 88 families was completed on a single day at Saraipung forest village to make everyone know about Covid-19 precautionary measures .
The NSS unit also distributed soaps to every households to ensure the hand washing ritual diligently. The entire mission was led by Rajib Rudra Tariang, the NSS programme officer of Digboi College.
"Probably Saraipung forest village will be the first village in the state where everybody will wear masks," said Rudra.
A video of a jawan purchasing masks and distributing those among poor children in lower Assam has earned praised from thousands of people.