Infection source not traced yet
So far, the department has traced 112 people who came in contact with the businessman after he came back to Assam on March 1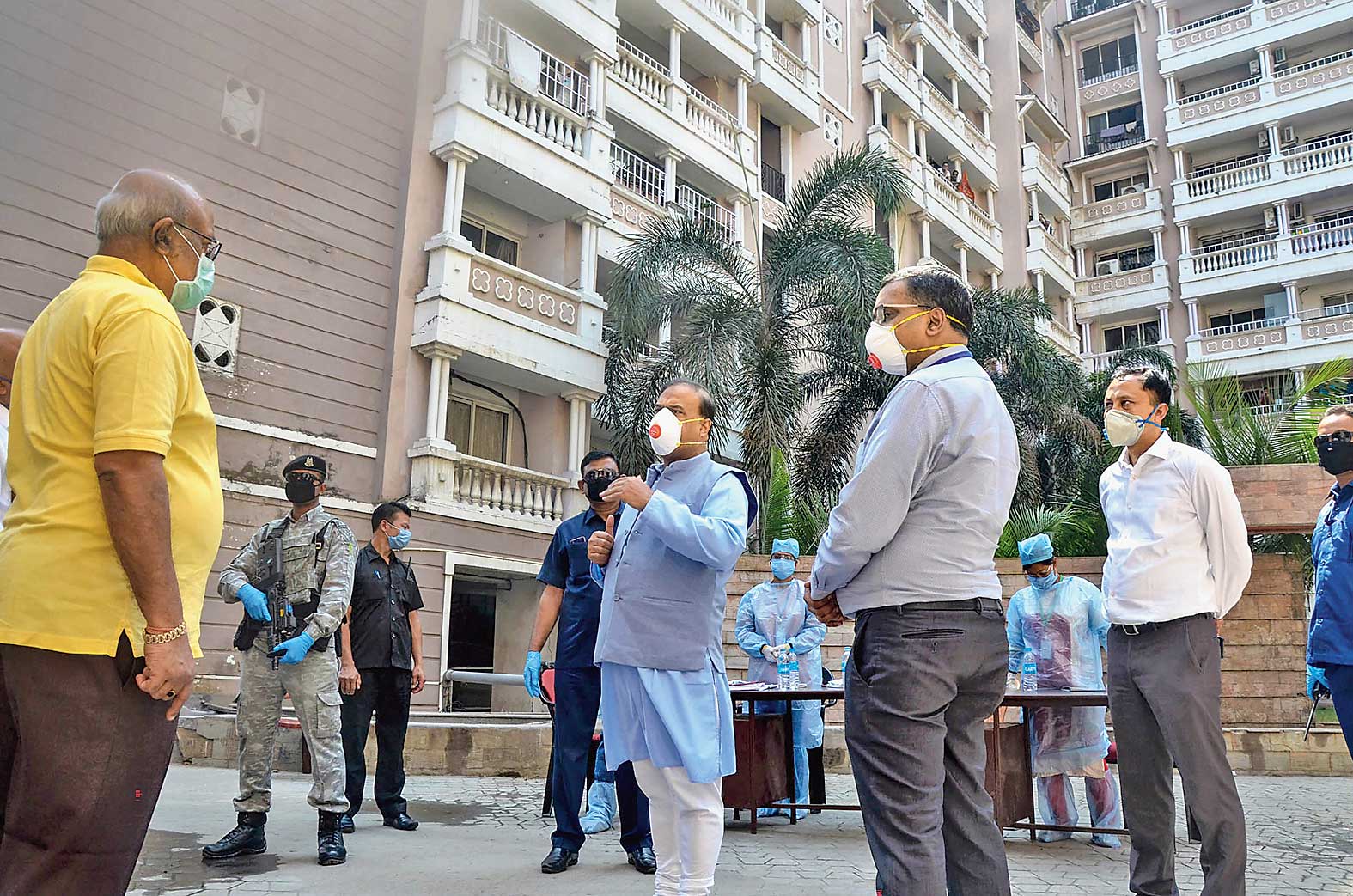 Assam finance Himanta Biswa Sarma interacts with the residents of Spanish Garden in Guwahati on Monday.
(PTI)
---
Guwahati
|
Published 06.04.20, 06:52 PM
|
---
The Assam health department is yet to find the source of coronavirus infection of the Guwahati-based businessman who is the first Covid-19 positive patient in the city.
Health minister Himanta Biswa Sarma visited the Spanish Garden apartments on Monday to take stock of the situation in the complex. The patient is a resident of one of the apartments.
Sarma said the department was trying to trace the source of infection. So far, the department has traced 112 people who came in contact with the businessman after he came back to Assam on March 1.
Out of 112 samples, 98 samples, including that of the trader's wife, have been collected. Among them, 85 tested negative while 13 samples are still being processed.
Sarma added that samples of 14 people, who came in contact with the businessman, were yet to be taken. He added that the samples would be acquired by Tuesday. He said he people of the Spanish Garden apartments were cooperating with the government and all sort of support from them had been extended. Only a few members of the complex can come out of the building to collect essential supplies and for that special arrangements had been made.
Sarma added that in the past 48 hours only one case in Assam was reported.
The Guwahati Municipal Corporation (GMC) is now taking extensive measures to sanitise every possible area near the apartments and also the Midland Hospital on RG Baruah Road where the businessman was said to have undergone treatment between March 12 and 14.
The GMC has restricted movement of people in the hospital as a precautionary step. The entire building has been sanitised. The health department has quarantined six hospital staff, including doctors, who were in direct contact with the businessman.
The trader, who had taken to social media to announce his status, had visited New Delhi on February 28 with his family and came back to Guwahati on March 1.
Sarma said he had also been to Shillong and Nagaon after his return and further source of transmission might also be traced in these two places, but things were yet to be confirmed. The health department, however, is confident of finding the source soon.